OMRON Formulates "Employee Health Management Declaration", and Launches Sleep Improvement Initiative as First Stage of Personnel Wellness Program
July 3, 2017
OMRON Corporation (Headquarters: Shimogyo-Ku, Kyoto; President and CEO: Yoshihito Yamada) today announced that it has formulated "Employee Health Management Declaration" for employees. The company also announced the concurrent launch of a sleep improvement initiative as the first stage of a personnel wellness program called Hakaru Koto Karada (body metrics).
OMRON unveiled the declaration and program in light of a long-held commitment to solving social issues by putting the OMRON Principles into practice. The company considers it is essential to maintain the vitality and enhance the potential of diverse talents to drive ongoing innovation that addresses the challenges of a fast-changing world.
OMRON regards employees' health as one of the key factors to achieve the missions, and thus "Employee Health Management Declaration" has been formulated.
OMRON Employee Health Management Declaration
OMRON aims to be a pioneer in creating social needs, and the health of our employees is accordingly fundamental to our business. We OMRON Group will unite to do our utmost to create positive working environments full of smiles and vitality so all of our people can innovate to solve various social issues.
Health Management Measures
OMRON established an action agenda for "Exercise", "Sleep" "Mental Health", "Diet", and "Smoking" as five key factors in workplace to enhance not only employees' health and concentration, but also the quality of their private lives. The company rolled out the Hakaru Koto Karadai program to help employees by informing them about health goals and showing their progress.
Sleep Improvement Stage of Hakaru Koto Karada
For the first stage of the program, Hakaru Koto Karada will be implemented as sleep deprivation has become a major impediment to productivity. In one study, for instance, 43% of women in Japan aged between 20 and 70 reported daytime drowsinessii.
OMRON will have in-house medical professionals to educate personnel about the importance of healthy sleep practices. Interested employees will also be able to receive a MOVEBAND® 3iii from docomo Healthcare, Inc., that can monitor activity levels and sleep. As well as educating employees, OMRON will also provide daily tracking data through the WM (Watashi-Move) mobile health platform to change their daily behavior into a healthier one.

MOVEBAND® 3 fitness tracker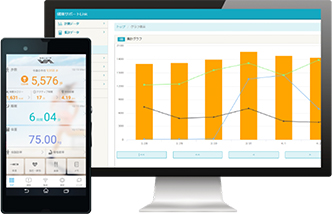 WM app and health support link
Future Initiatives
OMRON intends to undertake sleep improvement and other health management endeavors at each Group business site. OMRON Healthcare Co., Ltd., for example, plans to embark on an effort to manage blood pressure for each of the employees.
About OMRON Corporation
OMRON Corporation is a global leader in the field of automation based on its core technology of Sensing & Control + Think. OMRON's business fields cover a broad spectrum, ranging from industrial automation and electronic components to automotive electronic components, social infrastructure systems, healthcare, and environmental solutions. Established in 1933, OMRON has over 36,000 employees worldwide, working to provide products and services in more than 110 countries and regions. In the field of industrial automation, OMRON supports manufacturing innovation by providing advanced automation technologies and products, as well as through extensive customer support, to help create a better society. For further information, please visit OMRON's website at: https://www.omron.com/.
Contact (media):

Corporate Communications Department
OMRON Corporation
: +81-75-344-7175