OMRON Won an iF DESIGN AWARD 2017 for 1S-series AC Servo System
February 22, 2017
OMRON Corporation (HQ: Shimogyo-Ku, Kyoto. CEO: Yoshihito Yamada) received the iF DESIGN AWARD for 1S-series AC Servo System (hereinafter "1S series") in this year's competition.
The iF DESIGN AWARD, presented by iF International Forum Design GmbH, is one of the world's most prestigious design awards. Products are rated on uniqueness, innovation, aesthetic appearance, usefulness and eco-friendliness as well as performance, quality and price.
1S series won over the 58-member jury with its unique selling point or benefit of the product. The competition was intense: over 5,500 entries were submitted from 59 countries in hopes of receiving the seal of quality.
Received Award
iF DESIGN AWARD 2017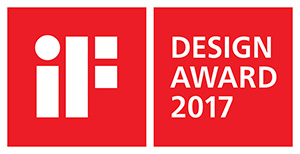 Award-winning Product
1S-series AC Servo System
1S series provides a unique manufacturing environment which realizes the high speed and high accuracy control and achieves from design to installation with "one software" in combination with NX/NJ series and Sysmac Studio, and contributes to an improved machine performance and efficiency of installation. The drive was designed also to simplify safety system design and optimize design efficiency in the control panel.
Recently, with growing needs for simultaneously startup of production line globally and enhancement of product quality in the production lines of automotive and electronics industries, quick startup for high speed and high accuracy production machine is required. Under this circumstance, OMRON developed 1S series. Its excellent design - the same height throughout the whole power range, the pin layout based on effective wiring, and the space-saving battery-free ABS encoder - provides smooth installation and good-looking wiring inside the panel.
For details of 1S series, visit
http://www.ia.omron.com/products/family/3549/.
Sysmac is a trademark or registered trademark of OMRON Corporation in Japan and other countries for OMRON factory automation products.
Other company names and product names in this document are the trademarks or registered trademarks of their respective companies.