OMRON to Introduce 15,583 Models in 7 Categories to World, Second Wave of FA Devices Built on Common Design Platform
September 30, 2016
OMRON Corp., Kyoto City, will introduce to the world on October 3, 2016, a total of 15,583 models, in 7 categories, as the second wave of factory automation (FA) control devices built on a common design platform for unified product specifications.
Based on a wide range of products, OMRON has been continuing to work for the innovation of making control panels which house and control FA devices on the production front line.
OMRON unified the design and size of FA devices, and introduced products in April 2016 which are built with the company's proprietary wiring technology "Push-In Plus Terminal Block" for device and control panel makers in need of "downsizing and space-saving" of FA devices and control panels, "expedited delivery," and "response to globalization."
They have been adopted on the front line of manufacturing by more than 3,000 global companies and received a high evaluation.
The expansion of the FA devices built on the unified design platform will have a great combined effect achieved by providing a wide variety of devices. OMRON aims at innovating control panels for customers.
In particular, we expanded the common platform to the FA devices mounted on the front of control panels and will introduce A22N-P/A30N-P Pushbutton Switches, M22N-P Indicators, and KM-N3 Power Monitors. We also applied the common platform to P7SA-PU Sockets for Relays with Forcibly Guided Contacts which are safety components and NX1P Machine Automation Controllers. Also, the 240-/480-W models of S8VK-S, the world's smallest class of Switch Mode Power Supplies, are made under the common platform as well.
OMRON is working on the innovation of manufacturing on the front line of production by the automation in the "integrated," "intelligent" and "interactive" spheres. OMRON currently has the most comprehensive automation product portfolio in the world that spans the spectrum of ILO+S (input, logic, output+safety) and robotics, providing the foundation for the innovation of manufacturing by the automation.
With a wide range of FA devices with the unified design platform, OMRON will continue to work with manufacturers for the innovation of manufacturing by meeting a variety of challenges in manufacturing control panels.
For product details, please visit:
http://www.ia.omron.com/solution/panel/
New products to be sold and their features:
World's smallest-class (*) switch mode power supply series: S8VK-S (high-capacity models)
The S8VK-S Switch Mode Power Supply has a compact body with 50% less volume than previous OMRON products for 480-W models, made possible by using OMRON's unique technologies.
The S8VK-S high-capacity models allow side-by-side mounting in close contact on DIN rails to reduce the footprint, which helps downsize control panels.
It also meets a broad scope of certification standards and ensures stable operation in a wide range of environments with greater environmental resistance such as a wide operating temperature range of -40 to 70 degree Celsius.
* According to OMRON survey in September 2016.
Specifications:

Connection method: Push-In Plus terminal blocks
Power rating: 240W, 480W
Dimension (WHD):
240 W type: 38 mm/124 mm/117.8 mm
480 W type: 60 mm/124 mm/117.8 mm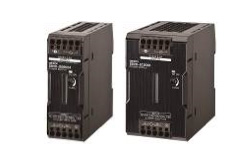 Push-In Plus terminal block relay series: (Sockets for Relays with Forcibly Guided Contacts)
Sockets for G7SA Relays with Forcibly Guided Contacts (P7SA-PU, 4 poles and 6 poles) joined the Push-In Plus Terminal Block Relay Series introduced in April 2016. Featuring the push-in mechanism on Sockets for Relays with Forcibly Guided Contacts unifies the wiring method of the whole control panels. It also reduces wiring when used together with Safety Controllers which also have push-in terminals.
Moreover, the 6-pole sockets are slimmer than the previous screw type sockets (the industry's slimmest design*) and control panel sizes can be kept to a minimum.
Short bars are available for crossover wiring of contact terminals in the same socket. This helps further work reduction.
* According to OMRON survey in July 2016.
Series:

P7SA-PU (Sockets for G7SA Relays with Forcibly Guided Contacts)

Specifications:

Connection method: Push-In Plus terminal blocks
No. of poles: 4 poles, 6 poles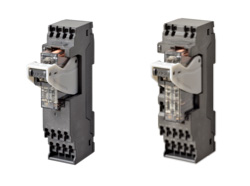 Pushbutton switches with Push-In Plus terminal blocks and indicators: A22N-P/A30N-P/M22N-P
The A22N-P, A30N-P, and M22N-P are Pushbutton Switches and Indicators with mounting holes of 22.0 dia. and 30 dia. using Push-In Plus terminal blocks.
OMRON's proprietary technologies reduced the depth drastically and the volume by 20 to 30% in comparison with the previous models.
Lighting Units were difficult to shorten its bodies, but the size of the Lighting Units is reduced in the same ways as Contact Blocks.
* For 4 to 6 contacts, the previous depth of 66.8 mm is reduced down to 55 mm.
Push-In Plus terminal blocks with rear insertion eliminate the need for securing side space. It also saves space which was difficult with the screw terminal block type. This helps reduce workability and increase the freedom in design.
Specifications

Connection method: Push-In Plus terminal blocks
Size (inside depth including the panel):
39.5 mm (for 1 to 3 contacts, same size when using the Lighting Units)
55 mm (when a double-contact unit is mounted)
41.6 mm (Indicators)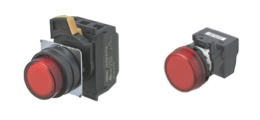 Globally applicable (*3) power monitor series: KM-N3
The KM-N3 is an on-panel installation type of KM-N2 Power Monitors, for in-panel installation.
The use of general-purpose CTs (current transformers) enables the power monitor to be used at a variety of manufacturing sites as well as KM-N2. The wide-range design including single-phase to three-phase 4-wire power monitors is compatible with power supplies around the world, and provides measurements of up to four circuits in one unit.
The power monitor also features precise measurements (IEC class 0.5S), reduction of installation work thanks to incorrect wiring detection and easy setting, and large, easy-to-read, white and green LCD characters, thus offering solutions from designing to startup.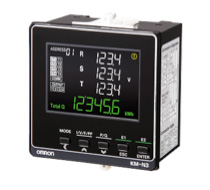 * VTs are required in some regions. UL pending.
Specifications

Applicable phase-wiring methods: Single-phase two-wire, single-phase three-wire, three-phase three-wire, three-phase four-wire systems
Maximum number of measured circuits: Single-phase two-wire system: 4 circuits; single-phase three-wire or three-phase three-wire system: 2 circuits; three-phase four-wire system: 1 circuit
Connection method: Power supply terminals, communication and pulse output terminals: Push-in Plus terminal blocks; others: M3 terminal screws
Machine Automation Controller: NX1P
The NX1P is the Sysmac*1 entry level controller which integrates EtherNet/IP and EtherCAT connectivity, motion control, and I/O in a compact package, bringing advanced motion control and IoT to small-middle size machines.
Electronic cam and interpolation increase machine speed and precision, which leads to improvement in productivity and quality. Data collected from devices via the built-in EtherCAT port and mounted IO-Link master unit can be shared between machines via the built-in EtherNet/IP port. This helps reduce machine downtime and increase productivity.
Specifications

LD instruction execution time: 3.3 ns, program capacity: 1.5 MB
Built-in EtherNet/IP port, EtherCAT port, and SD memory card interface
Used real axes: Up to 8 axes (including up to 4 axes of motion control)
NX Units connectable
Connection method: Push-in Plus terminal blocks

*1. Sysmac automation platform:
OMRON's integrated automation platform is dedicated to providing complete control and management of an automation plant under one unit of software. Programming based on global standards and global open networks allows for building the globally standardized system. At the core of this platform, the machine controller series offers synchronous control of all machine devices and advanced functionality such as motion, robotics and database connectivity. This multidisciplinary concept allows you to simplify solution architecture, reduce programming and optimize productivity.
Sysmac is a trademark or registered trademark of OMRON Corporation in Japan and other countries for OMRON factory automation products.
EtherCAT® is a registered trademark and patented technology, licensed by Beckhoff Automation GmbH, Germany.
EtherNet/IP™ is a trademark of ODVA.
About OMRON Corporation
OMRON Corporation is a global leader in the field of automation based on its core technology of sensing and control. OMRON's business fields cover a broad spectrum, ranging from industrial automation and electronic components to automotive electronic components, social infrastructure systems, healthcare, and environmental solutions. Established in 1933, OMRON has over 38,000 employees worldwide, working to provide products and services in more than 110 countries and regions. In the field of industrial automation, OMRON supports manufacturing innovation by providing advanced automation technologies and products, as well as through extensive customer support, in order to help create a better society. For more information, visit OMRON's website at: https://www.omron.com/
Contact (media):

Corporate Communications Department
OMRON Corporation
Tel: +81-75-344-7175

Contact (product information):

Switch Mode Power Supplies, Push-In Plus Terminal Block Relay series, Pushbutton Switches, and Indicators
Component Division, Product Business Division HQ,
Industrial Automation Company, OMRON Corporation
TEL: + 81-75-344-7231
Power Monitors
Strategic Marketing Department,
ENVIRONMENTAL SOLUTINOS BUSINESS HQ, OMRON Corporation
TEL: +81-75-344-8160
Machine Automation Controllers
Controller Division, Product Business Division HQ,
Industrial Automation Company,
OMRON Corporation
TEL: +81-75-344-7173