OMRON to Globally Release Entry-Level Controller "NX1P" Which Makes Small-Midsize Production Machine More Productive and Smarter
September 29, 2016
OMRON Corporation (HQ: Shimogyo-Ku, Kyoto. CEO: Yoshihito Yamada) announced on September 28 the global release in October of its new product - NX1P - to further expand the lineup of Machine Automation Controllers which are at the heart of the Sysmac automation platform*1 (hereinafter "Sysmac").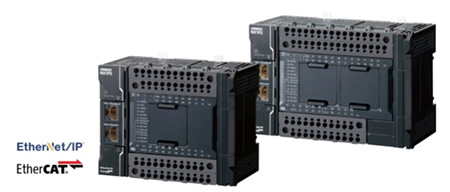 NX1P Machine Automation Controller
OMRON brings innovation to manufacturing sites through automation with "integrated", "intelligent" and "interactive" concepts. Sysmac makes production sites "integrated" and "intelligent" by creating a variety of application functionalities with software.
OMRON has delivered solutions to improve production processes by leveraging our expertise in advanced fine-tuning control that has been gained through the NJ/NX Series used for state-of-the-art large-scale equipment and next-generation equipment. The entry-level Machine Automation Controller NX1P allows these solutions to be applied to small and middle sized production machines.
In today's manufacturing environment, demand for the stable and efficient production of high-quality products is increasing because the trend toward high-mix low-volume production and optimally located production is accelerating on a global scale. In order to increase processing speed and accuracy and to use production data for predictive maintenance, equipment manufacturers need to add advanced and smart functionalities to small and middle- size production machines as well as state-of-the-art production equipment.
To meet their needs, the NX1P provides both advanced motion control and a network environment for IoT at production sites, applying the know-how in advanced fine-tuning control to small-middle-size machines.
Features
Advanced motion control
The NX1P comes equipped with the built-in EtherCAT port and controls up to eight servo systems. Motion control for up to four synchronized axes increases machine speed and precision.


Electronic cam for continuous and high-speed machine operation and interpolation for precise machining improve productivity and manufacturing quality.

Networks for IoT at production sites
Data can be collected from devices via EtherCAT and IO-Link for high value-added manufacturing.


EtherNet/IP enables data sharing with a host PC and between controllers on different machines.
EtherCAT connects I/O devices, motion devices, vision systems, and safety controllers with a single cable. Machine information can be checked by monitoring the status of the connected components.
The NX1P can monitor sensor data through the IO-Link master unit to reduce downtime by detecting errors and to perform predictive maintenance by monitoring status.

High-performance and easy-to-use all-in-one compact controller

LD instruction execution time is 3.3 ns - the fastest in its class*2.
The built-in EtherCAT master functionality allows the NX1P CPU Unit to perform high-speed motion control and remote I/O control.
Sequence control and motion control are integrated in one controller. The built-in position control functionality reduces not only loss of communication time between the CPU unit and position control unit but also complexity of communication settings between the units.
The NX1P conforms to IEC 61131-3 standard programming and PLCopen® Function Blocks for motion control. Programming with variables allows users to create complex programs efficiently. All instructions used for the NX7/NJ5/NJ3/NJ1 can be used for the NX1P, which cuts programming time.
The Push-In Plus terminals used for the CPU unit and NX I/O Units save wiring time.
The NX1P retains user programs, set values, and variables during power interruption in the built-in non-volatile memory. No battery, no maintenance.
*1. Sysmac automation platform:
OMRON's integrated automation platform is dedicated to providing complete control and management of an automation plant under one software. Programming based on global standards and global open networks allows for building the globally standardized system. At the core of this platform, the machine controller series offers synchronous control of all machine devices and advanced functionality such as motion, robotics and database connectivity. This multidisciplinary concept allows you to simplify solution architecture, reduce programming and optimize productivity.
*2. 30 times faster than the all-in-one compact PLC CP1H (compared with OMRON's previous model).
(OMRON survey as of September 2016)
Main specifications
Product name
Machine Automation Controller NX-series NX1P2 CPU Unit
Appearance

Model
NX1P2-1140DT
NX1P2-1140DT1
NX1P2-1040DT
NX1P2-1040DT1
NX1P2-9024DT
NX1P2-9024DT1
Instruction execution times
LD instructions
3.3 ns
Math instructions
(for long real data)
70 ns or more
Program capacity
1.5 MB
Memory capacity for variables
32 KB (Retained during power interruptions)/2 MB (Not retained during power interruptions)
Maximum number of used real axes
8
6
4
Used motion control servo axes
4
2
0
Used single-axis position control servo axes
4
4
4
Total number of built-in I/O points
40
40
24
Number of input points
24
24
14
Number of output points
NX1P2-1140DT:
16, NPN transistor
NX1P2-1140DT1:
16, PNP transistor
NX1P2-1040DT:
16, NPN transistor
NX1P2-1040DT1:
16, PNP transistor
NX1P2-9024DT:
10, NPN transistor
NX1P2-9024DT1:
10, PNP transistor
Maximum number of NX Units that can be mounted to the CPU Unit
8
Maximum number of connectable EtherCAT Slaves
16
External memory
SD memory card
Software
Automation Software Sysmac Studio
Sysmac is a trademark or registered trademark of OMRON Corporation in Japan and other countries for OMRON factory automation products.
EtherCAT® is a registered trademark and patented technology, licensed by Beckhoff Automation GmbH, Germany.
EtherNet/IP™ is a trademark of ODVA.
Other company names and product names in this document are the trademarks or registered trademarks of their respective companies.
About OMRON Corporation
OMRON Corporation is a global leader in the field of automation based on its core technology of sensing and control. OMRON's business fields cover a broad spectrum, ranging from industrial automation and electronic components to automotive electronic components, social infrastructure systems, healthcare, and environmental solutions. Established in 1933, OMRON has over 38,000 employees worldwide, working to provide products and services in more than 110 countries and regions. In the field of industrial automation, OMRON supports manufacturing innovation by providing advanced automation technologies and products, as well as through extensive customer support, in order to help create a better society. For more information, visit OMRON's website at: https://www.omron.com/
Contact (media):

Corporate Communications Department
OMRON Corporation
TEL: +81-75-344-7175

Contact (product information):

Controller Division,
Product Business Division HQ.
Industrial Automation Company,
OMRON Corporation
TEL: +81-75-344-7173