Global release of AC Servo System "1S Series" which innovates performance and optimized installation and setup of production line.
June 28, 2016
OMRON Corporation (HQ: Shimogyo-Ku, Kyoto. CEO: Yoshihito Yamada) will make a global release of 16 models of "Middle-range AC servo system with Built-in EtherCAT communications R88D-1SNx-ECT" and of 184 models of "Servo Motor R88M-1x" (hereinafter "1S series") from July 1st, 2016, to further expands the lineup of Sysmac automation platform*1 (hereinafter "Sysmac").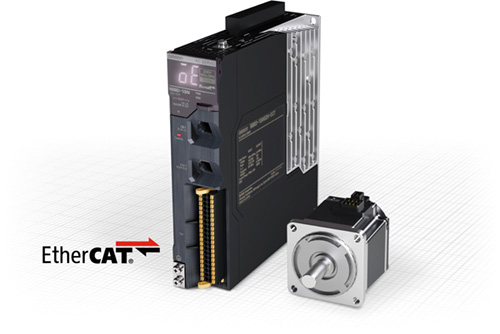 OMRON offers an innovative manufacturing environment to realize the advanced control easily by creating a variety of application functionalities with software and connecting a variety of controller devices. 1S series provides an innovative solution for improving the machine performance and making it easy from design to installation with Automation software "Sysmac Studio" by connecting through machine automation controller "NX/NJ series" and open network "EtherCAT".
Recently, with growing needs for simultaneously startup of production line globally and enhancement of product quality in the production lines of automotive and electronics industries, quick startup for high speed and high accurate production machine is required. Faced on global production sites and a variety of works, the importance of safety measures for production equipment is growing. Under this circumstance, in accordance with application requirements for each customer, each of equipment manufacturers is installing servo system which is key factor for machine performance through design of complicated safety measures and wiring tasks.
1S series provides a unique manufacturing environment which realizes the high speed and high accurate control and achieves from design to installation with "one software" in combination with NX/NJ series and Sysmac Studio, and contributes to an improved machine performance and efficiency of installation.
Key features
Improved machine design
Machine design time is reduced by 50% in in-house comparison with previous model with Automation Software" Sysmac Studio"
High-speed and High accuracy control
The combination of NX701 and 1S series provide 125us system cycle which is 1/2 in in-house comparison with previous model and industry-leading levels of high speed control.
The 23 bit high resolution encoder which is 8 times compared with previous model is available and1S series contributes the development for ultra-high accurate process machine.
Simplification of safety system design
FailSafe over EtherCAT (FSoE) is realized by connecting safety control units "NX series" and 1S series via open network "EtherCAT". Safety system can be built easily without wiring for emergency stop of each axis for servo.
Optimization in the control panel
Wiring works are reduced by same height throughout the whole power range and the pin layout based on effective wiring.
With Battery-free ABS encoder as standard, the mounting of battery is not required and rapid installation of servo system is available.
OMRON brings innovation to manufacturing sites through automation with "integrated," "intelligent" and "interactive" concepts. OMRON is going to work on manufacturing innovation of production site with manufacturers by expanding product lineup for Sysmac and making a world-leading Input-Logic-Output-Robotics + Safety (ILOR+S) technology evolved.
*1 Sysmac automation platform:
OMRON's latest integrated automation platform is dedicated to providing complete control and management of automation plant under one software. Programming based on global standards and global open networks allows for building the globally standardized system. At the core of this platform, the Machine Controller series offers synchronous control of all machine devices and advanced functionality such as motion, robotics and database connectivity. This multidisciplinary concept allows you to simplify solution architecture, reduce programming and optimize productivity.
Main specifications
AC Servo Drives with Built-in EtherCAT communications (1S series)

100 VAC Applicable motor capacity/force
100 to 400W
200 VAC Applicable motor capacity/force
100 to 3kW
400 VAC Applicable motor capacity/force
600 to 3kW
Applicable servomotor
1S servomotor
Control mode
Position, speed and torque control
Safety approvals
ISO13849-1 (PL-e/PL-d),EN61508 (SIL3/SIL2)
EN62061 (SIL3/SIL2),IEC61800-5-2 (STO)
1S series Servo Motor

Rated rotation speed
3,000r/min
2,000r/min
1,000r/min
Momentary maximum rotation speed
5000 to 6000r/min
3000r/min
2000r/min
Rated torque
0.318 to 9.55N·m
4.77 to 14.3N·m
8.59 to 28.7N·m
Capacity
100W to 3kW
400W to 3kW
900W to 3kW
Applicable servo drive
1S Servo Drive
Encoder resolution
23-bit absolute
23-bit absolute
23-bit absolute
Protective structure
IP67
IP67
IP67
* Motor which rated rotation speed is 3,000rpm and capacity is 1kW to 3kW will be released soon.
Sysmac is a trademark or registered trademark of OMRON Corporation in Japan and other countries for OMRON factory automation products.
EtherCAT® is registered trademark and patented technology, licensed by Beckhoff Automation GmbH, Germany.
Safety over EtherCAT® is registered trademark and patented technology, licensed by Beckhoff Automation GmbH, Germany.
Other company names and product names in this document are the trademarks or registered trademarks of their respective companies.
About OMRON Corporation
OMRON Corporation is a global leader in the field of automation based on its core technology of sensing and control. OMRON's business fields cover a broad spectrum, ranging from industrial automation and electronic components to automotive electronic components, social infrastructure systems, healthcare, and environmental solutions. Established in 1933, OMRON has about 38,000 employees worldwide, working to provide products and services in more than 110 countries. In the field of industrial automation, OMRON supports manufacturing innovation by providing advanced automation technologies and products, as well as through extensive customer support, in order to help create a better society. For more information, visit OMRON's website: https://www.omron.com/
Contact: media

Corporate Communications Department
OMRON Corporation
TEL: +81-75-344-7175

Contact: product information

Drive Division
Product Business Division HQ,
Industrial Automation Company,
OMRON Corporation
TEL: +81-75-344-7233