OMRON to Expand Product Lineups of Control Devices Altogether to Minimize Control Panels
May 7, 2015
OMRON Corporation announced on May 7 that it is expanding product lineups of slim and compact control devices altogether and starting to provide solutions which contribute to downsizing manufacturing equipment and control panels and to bringing total costs down. To be more precise, OMRON is releasing DIN-rail-mountable uninterruptible power supplies (UPSs) S8BA, which are the smallest in their class, and short-bodied pushbutton switches A22N in addition to the slim industrial relays G2RV and G3RV which are already available for sale. Besides Zuken of the E3 series and EPLAN Software & Service of EPLAN, OMRON is establishing a relationship of cooperation with Wacom Co. in the ECAD dio field for the electrical control CAD, the system design support tool for control panels and the like.
OMRON has one of the world's largest product lineups of control devices including I/O devices and safety devices. They are used at manufacturing sites worldwide and installed in control panels to control manufacturing equipment and whole production systems. Expanding slim and compact product lineups is an approach to achieve downsizing control panels and their space-saving design, which is one of the top priority issues for manufacturers.
OMRON focuses on the development of slim and compact control devices and supports design simulation of parts arrangement through the use of the electrical control CAD in cooperation with the partners. Therefore it contributes to downsizing devices and bringing total costs down by reducing the size of control panels by more than 20%.
In recent years, manufacturing lines such as of automobiles have been expected to be compact and capable of frequent setup changes due to the increase in multiproduct variable quantity production. In the field of digital equipment, multiproduct production has been increasing and facilities and devices have been downsized while the rapid production launch and effectiveness of investment recovery become increasingly important due to reduction in product cycle time.
As a result, along with downsizing devices and control panels, their manufacturers are required to maximize the space in panels in order to cope flexibly with specification changes. Control panel manufacturers' urgent challenges are to shorten time required to design and produce control panels and to lower transportation costs through downsizing.
OMRON has engaged in producing slim and compact control devices such as temperature controllers, timers, and safety relay units by using technologies of its unique thermal design simulation in order to fulfill manufacturers' needs for downsizing control panels and their space-saving design.
Under the development of ICT utilization at manufacturing sites and the increase in demand for UPSs, OMRON has reduced the size and weight of the new UPSs S8BA to be able to install them in control panels. Moreover, it contributes to downsizing an entire control panel by reducing the thickness of devices installed in front of a panel such as pushbutton switches A22N whose bodies are shortened by 30% compared with our previous product.
In addition, OMRON provides 3D CAD information as parts libraries for electrical-control-CAD manufacturers in and outside Japan in order for the information of over 5,000 control devices to be used on the electrical control CAD. OMRON also develops its unique services to make designing more efficient by taking advantage of the wide range of product lineups from general-purpose equipment which is essential to control devices to the most advanced equipment.
OMRON continues to provide products and services which address a variety of challenges such as downsizing control devices encountered in control panel production and to bring manufacturing innovation in concert with other manufacturers based on its wide variety of product lineups.
New Products and their Features
Uninterruptible Power Supplies (UPSs) S8BA Series
This highly compact UPS will be released in the most challenging Japan market first. Global available range is planned to be released at the earliest opportunity. The easy DIN-rail mountable, DC-DC type UPS is ideal countermeasure for momentary voltage drops and power failures of industrial computers (IPCs) and controllers. They secure full functional reliability of systems by backing up the supply of 24 VDC power source for a guaranteed period of time. The use of highly efficient lithium-ion batteries enables the UPSs to be outstanding compact and lightweight combined with an industry grade batteries life time. Innovative time saving connection is realized by push-in terminal block used for the I/O interface. The S8BA UPS is equipped with advanced set of communication interfaces (USB, RS-232C) and offers I/O signals to allow easy realization of interlock shutdowns with IPCs and controllers.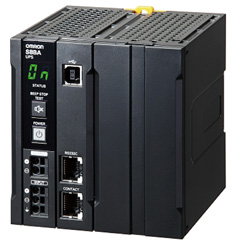 Specifications

Output capacity: 120 W, 240 W, 360 W, or 480 W (4 models)
I/O voltage: 24 VDC
Backup time: 6 min. (rated load)
Dimensions: H 100 mm/D 100 mm/W 94 mm (120 W), 148 mm (240 W), 270 mm (360 W, 480 W)
Pushbutton Switches A22N Series
These pushbutton switches are for control panels, switchboards and operation panels on industrial equipment. The body is shortened by 30% compared with our previous product. The short body with multiple contacts contributes to compact and slim control panels. These switches have the lock mechanism; just slide the lever to mount the operation part and perform two actions to unlock the part with the safety design. The products are suitable for global use with a wide variety to choose from such as being compatible with panel-hole diameters of 22, 25, or 30 mm, shapes and colors of the buttons, LED lighting voltages and safety standards.

Specifications

Product type: pushbutton switch (lighted/non-lighted models), selector switch (lighted/non-lighted models), key selector switch, and indicator lamp
Bezel: resin, metal color (2 types)
Button color: red, green, yellow, white, blue, orange, milky white (only when it is not lit)
LED voltage: 6, 12, 24 VAC/DC, 100/110/120 and 200/220/230/240 VAC
Safety standards: cULus listed, TUV, CE, CCC
Degree of protection: IP66, NEMA 13
Products That Contribute to Downsizing Control Panels Along with These New Products:
Slim I/O Relays G2RV Series / Solid-state Relays G3RV Series
Slim I/O Relays G2RV and G3RV have a slim shape of 6.2 mm width and the thickness is reduced by 70% compared with our previous product, which give flexibility in designing control panels. The maximum switching current of contacts is 6 A for the general purpose relays and 3 A for the solid-state relays. Relays with latching levers that permit easy operation checks, relays for microload switching with gold-plating contacts, and solid-state relays (SSR) with output to achieve highly frequent switching at high speed are available to deal with a wide range of applications at manufacturers. The use of push-in terminals for connection enables the time required for wiring to be reduced by 25 seconds max per terminal compared with conventional screw terminals (or round terminals). The G2RV and G3RV have been sold globally, mainly in Europe, more than four million units since the 2006 fiscal year.
Specifications

Contact form G2RV: SPDT / G3RV: 1 a (1 element)
Rated load
G2RV (resistive load): 250 VAC/6 A, 30 VDC/6 A, 36 VAC/50 mA, 30 VDC/50 mA
G3RV: 100 to 240 VAC/2 A, 5 to 24 VDC/3A
Dimensions: W 6.2 mm / D 97.4 mm / H 106.7 mm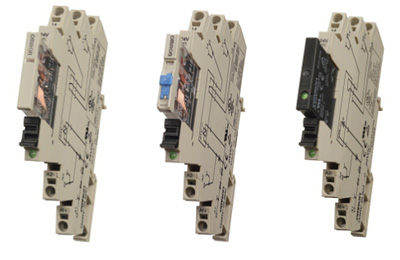 About OMRON Corporation
OMRON Corporation is a global leader in the field of automation based on its core technology of sensing and control. OMRON's business fields cover a broad spectrum, ranging from industrial automation and electronic components to automotive electronic components, social infrastructure systems, healthcare, and environmental solutions. Established in 1933, OMRON has about 39,000 employees worldwide, working to provide products and services in more than 110 countries and regions. In the field of industrial automation, OMRON supports manufacturing innovation by providing advanced automation technologies and products, as well as through extensive customer support, in order to help create a better society. For more information, visit OMRON's website at: https://www.omron.com/
Contact (product information):

Components Division
Product Business Division HQ
Industrial Automation Company
OMRON Corporation
Tel: +81-75-344-7231

Contact (media):

Arihiro Yokota
Corporate Communications Department
OMRON Corporation
Tel: +81-75-344-7175
Email: arihiro_yokota@omron.co.jp