OMRON Releases Industry's Fastest* Machine Automation Controller NX701

- Also Adds NJ101 to Expand Sysmac Automation Platform Lineup -
April 1, 2015
OMRON Corporation (TSE: 6645, ADR: OMRNY) on April 1 announced the global release in April of its new products - NX701 and NJ101 - to further expands the lineup of Machine Automation Controllers which are at the heart of Sysmac automation platform (hereinafter "Sysmac") .
The release of NX701 and NJ101 enables a wide range of solutions from cutting-edge production systems to link to simple machines to be provided.
Having the architecture that can quickly incorporate the latest information communication technology (ICT), Sysmac offers an innovative manufacturing environment by creating a variety of application functionalities with software and connecting OMRON and third party factory automation (FA) hardware and design tools such as 3D simulator.
The new NX701 is the flagship model that offers speed without compromising on the traditional reliability and robustness, providing the industry's fastest processing speed thanks to the Intel (R) Core (TM) i7 quad-core processor and the large memory capacity. Focusing on the future of sophisticated production sites using IoT, OMRON developed this integrated controller that provides users with scalability beyond the framework of previous controllers such as PLC.
The entry model NJ101 with a simple hardware performance enables application functionalities and solutions of Sysmac to be adopted in existing production equipment and general systems.
In today's globalized manufacturing environment, diverse and complex challenges arise and need to be overcome. The global market rapidly changes, and manufacturing companies are under increasing pressure to supply products in a timely manner that satisfy a wide variety of consumer needs. The trend to aim for innovative manufacturing by leveraging IoT, Big Data, and other latest ICT at production sites is spreading around the world. Anticipating changes in needs of manufacturing companies, OMRON is committing to developing Sysmac and other latest FA devices and enhancing its service and engineering support that manufacturers require.
OMRON has offered application engines including database connectivity and robotics and expanded the lineup of peripheral devices such as high-speed I/O Units, Drive, Safety Components, and Vision Sensors since the release of NJ501 in 2011. Machine builders embarking on new manufacturing all over the world use Sysmac with enhanced application libraries for temperature control and vibration suppression control and the capability to create OMRON's unique solutions
This release of new Machine Automation Controllers and peripheral devices enables Sysmac to be adopted at every production site. Leveraging the benefits of Sysmac, OMRON creates the latest solutions through the Sensing and Control technology, accumulated know-how and knowledge, and collaboration with third parties to keep innovating manufacturing together with manufacturers.

*Processing speed. Based on OMRON investigation in March 2015.
Products and Features
NX-series Machine Automation Controller NX701
The NX701 is the flagship model with the industry's fastest (*1) processing speed and large memory capacity for variables of 260 MB (*2) and ideal for large-scale, fast, and highly-accurate control with up to 256 axes. The architecture is based on the Intel (R) Core ( TM) i7 quad-core processor for fast execution of double precision floating point arithmetic instructions as well as basic instructions. Two 1 Gbps EtherNet/IP (TM) ports are embedded. The large-capacity memory for variables, 260 MB, enables data collection and analysis in parallel with device control.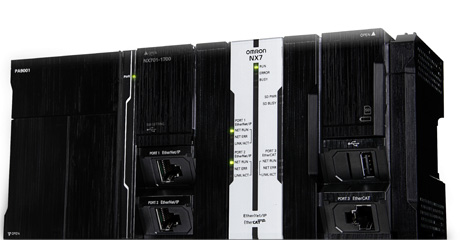 *1. Based on OMRON investigation in March 2015.
*2. The total number of bytes of retained and non-retained variables
NJ-series Machine Automation Controller NJ101
The NJ101 is the first basic Machine Automation Controller with up to 2 axes or no axis and fully compatible with the NJ501/301 Machine Automation Controllers. Having the same concept, dimensions, general specifications, and functions, the NJ101 is ideal for machines without or with a low number of axes.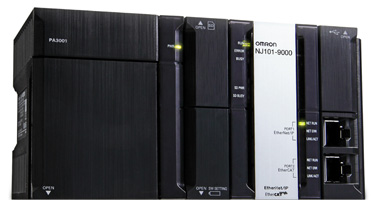 Programmable Terminal NA5
The NA5 is the latest next generation of machine interface released in November 2014. The new troubleshooter enables controller errors and events to be checked and cleared. The NA5 can be connected with the NX701 and NJ101 as well as the NJ301/NJ501. Use as Human Machine Interface for a wide range of machines.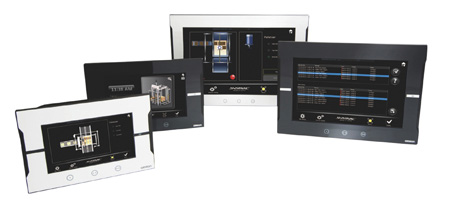 EtherCAT Slave Terminal NX-ID/IA/OD/OC/MD
The Connector Type and M3 Screw Type have been added to the NX I/O for high-speed synchronized control.
They can be used for wiring to various I/O devices. Connector Type helps reduce the time required for wiring.
Vision System FH-MT12
The Touch Panel Monitor has been added to the high-speed, high-precision Vision System FH Series. The panel/VESA mountable monitor is equipped with a 12.1-inch screen. On-site operation can be done just by touching the screen, without a mouse.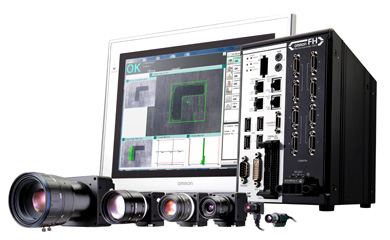 RFID System V680S Series
Space saving installation and built-in Ethernet reduce production line set-up time. This industrial RFID system with built-in EtherNet/IP facilitates the handling of large amounts of data. The Reader/Writer measures the communications signal and ambient noise levels to diagnose its stability, then indicates in LED and report to the Host System. In Interrogation Zone Extended Mode, up to eight Reader/Writers can be controlled by sending just one command.
EtherCAT Slave Unit CJ1W-ECT21
The NJ/CJ-series Controller is available as the subsystem controller on EtherCAT by using this Slave Unit that makes fast data exchange between the EtherCAT master and CPU Unit possible.
Smart Camera FQ2 Series
Simulation software that enables online verification without connecting a Sensor is added. User interface can be customized using .NET controls that allow to flexibly change the image and text sizes to suit the screen of a PC or panel computer.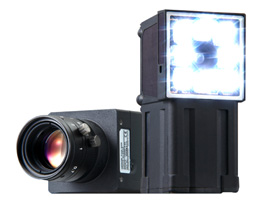 * Sysmac automation platform:
OMRON's latest integrated automation platform is dedicated to providing complete control and management of automation plant under one software. Programming based on global standards and global open networks allows for building the globally standardized system.
At the core of this platform, the Machine Controller series offers synchronous control of all machine devices and advanced functionality such as motion, robotics and database connectivity. This multidisciplinary concept allows you to simplify solution architecture, reduce programming and optimize productivity.
About OMRON Corporation
Headquartered in Kyoto, Japan, OMRON Corporation is a global leader in the field of automation. Established in 1933, and headed by President Yoshihito Yamada, OMRON has more than 37,000 employees in over 35 countries working to provide products and services to customers in a variety of fields including industrial automation, electronic components, social systems, and healthcare. The company has five regional head offices in Kyoto (Japan), Singapore (Asia Pacific), Shanghai (Greater China), Amsterdam (Europe, Africa, and the Middle East), and Chicago (the Americas). For more information, visit OMRON's website: https://www.omron.com/
* Sysmac is a trademark or registered trademark of OMRON Corporation in Japan and other countries for OMRON factory automation products.
* Intel and Intel Core are trademarks of Intel Corporation in the U.S. and/or other countries.
* EtherCAT (R) is a registered trademark and patented technology, licensed by Beckhoff Automation GmbH, Germany.
* EtherNet/IP (TM) is a trademark of ODVA.
* Other company names and product names in this document are the trademarks or registered trademarks of their respective companies.
For more press information, please contact:

Controller Div.
Product Business Division HQ
OMRON Corporation
Tel: +81-75-344-7173