OMRON Releases New NJ Series Machine Automation Controller with built-in SECS/GEM*1
- Reducing Design Time by 60% -
October 6, 2014
Kyoto, Japan -- OMRON Corporation (TSE: 6645, ADR: OMRNY) today announced the September release of its new NJ series NJ501 SECS/GEM CPU Unit NJ501-1340 and associated software, SECS/GEM Configurator WS02-GCTL1.
The semiconductor, FPD, LED and solar panel manufacturing industries are demanding the development of equipment using industry standard SECS/GEM communications. When a Controller for machine control, such as a PLC, is connected with the host computer to perform SECS/GEM communications, the hardware design is complicated as a separate computer or special communication unit/software is required. This results in higher equipment development costs and long lead times.
The new NJ501-1340 CPU unit integrates both machine control and communication functionality, meaning the NJ controller can be directly connected with the existing host to establish SECS/GEM communications, eliminating the need of a separate computer or special communications unit. Unlike previous CPU units, the NJ series uses variables for programming and is free from complicated address setting and management, and in addition the SECS/GEM Configurator helps perform SECS/GEM communications quicker and easier. This means a significant reduction in the time required for setting SECS/GEM communications by more than 60%*2 compared to the previous method.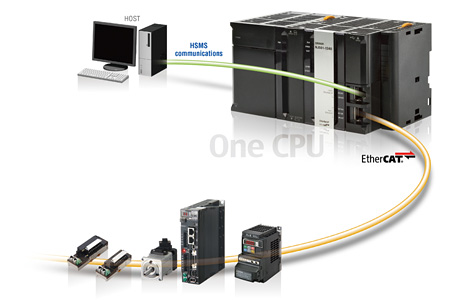 Features
Cost-effective SECS/GEM communicatons

No separate computer, special unit or software is required for communications with the host.
Direct connection of the CPU unit with the host enables equipment to be downsized.
Simple system configuration increases maintainability of equipment.

Easy design with SECS/GEM Configurator

Programming with variables eliminates the need to specify memory addresses.
SECS/GEM communications can be established using only one CPU unit, without communications between separate computer and machine controller.
The SECS/GEM Configurator facilitates project design and reduces development time.

Conforming to international SEMI standards

Conformity to SEMI standards for the semiconductor, FPD, LED, and PV manufacturing industries allows users to develop equipment globally.
SEMI standards - full-GEM support
Ordering Information
NJ501 SECS/GEM CPU Unit
Product Name
Specifications
Current
consumption (A)
Model
Standards
I/O capacity/
maximum number of
configuration Units
(Expansion Racks)
Program
capacity
Memory capacity for variables
Number of
motion axes
5 VDC
24 VDC
NJ501 SECS/GEM CPU
Unit
2560 points/40 Units
(3 Expansion Racks)
20 MB
2 MB:
Retained during power interruption
4 MB:
Not retained during power interruption
16
1.90
-
NJ501-1340
UC1, N, L,
CE, KC
SECS/GEM Configurator
Please purchase the required number of SECS/GEM Configurator licenses and a Sysmac Studio Standard Edition DVD the first time you purchase the SECS/GEM Configurator.
The Sysmac Studio Standard Edition DVD includes the SECS/GEM Configurator. The license does not include the DVD.
Product Name
Specifications
Model
Standards
Number of licenses
Media
SECS/GEM
Configurator
Ver.1.[][]
The SECS/GEM Configurator is the software to make HSMS,SECSII and GEM settings for NJ501 SECS/GEM CPU Units.

The SECS/GEM Configurator runs on the following OS.
Windows XP (Service Pack3 or higher, 32-bit version), Windows Vista (32-bit version), or Windows 7 (32-bit or 64-bit version)

This software is included in the Sysmac Studio Standard Edition DVD.
1 license
-
WS02-GCTL1
-
In July 2011, OMRON launched the Sysmac automation platform*3, contributing to innovation in manufacturing around the world. The NJ series machine automation controller integrates logic sequencing, motion, safety and vision. The Sysmac automation platform achieves this level of integration via a single seamless connection with various I/O devices such as servo drives and vision sensors.
For more press information, please contact:
Tomohito Honjo
Yinglong Tu
OMRON Corporation
INDUSTRIAL AUTOMATION COMPANY
GROUP 1, BUSINESS DEVELOPMENT DEPT. NO.2
CONTROL DIV., AUTOMATION SYSTEMS DIVISION HQ
Tel: +81-75-344-7149
About OMRON Corporation
OMRON Corporation is a global leader in the field of automation based on its core technology of sensing and control. OMRON's business fields cover a broad spectrum, ranging from industrial automation and electronic components to automotive electronic components, social infrastructure systems, healthcare, and environmental solutions. Established in 1933, OMRON has over 36,000 employees worldwide, working to provide products and services in more than 110 countries and regions.
In the field of industrial automation, OMRON supports manufacturing innovation by providing advanced automation technologies and products, as well as through extensive customer support, in order to help create a better society. For more information, visit OMRON's website at: https://www.omron.com/.
*1. SECS/GEM
SECS (SEMI Equipment Communications Standard)/GEM (Generic Equipment Model) is a SEMI standard compliant communications protocol that is used in the global semiconductor manufacturing industry and defines the communications interface between semiconductor equipment and the host computer.
*2. Based on OMRON investigation
*3. Sysmac automation platform
Complete machine control through one software and one seamless connection with a variety of I/O devices. Machine and motion programming is fully compliant with IEC 61131-3, and the dedicated software suite features functions such as programming, motion designing and network setting meaning simplified control of all connected devices and freeing users to engage in further innovation.
Sysmac is a trademark or registered trademark of OMRON Corporation in Japan and other countries for OMRON factory automation products.
SEMI® is a trademark or registered trademark of Semiconductor Equipment and Materials International in the United States and other countries.
Windows is a registered trademark of Microsoft Corporation in the United States and other countries.
EtherCAT® is registered trademark and patented technology, licensed by Beckhoff Automation GmbH, Germany.
EtherNet/IPTM and DeviceNetTM are the trademarks of ODVA.
Other company names and product names in this document are the trademarks or registered trademarks of their respective companies.
Contact:

Arihiro Yokota
Corporate Communications Department
OMRON Corporation
Tel: +81-75-344-7175
e-mail: arihiro_yokota@omron.co.jp