- Image Sensing Components to Recognize a Person's Condition and Send to Smart Phone -

Release of "Human Vision Components - Consumer model"
October 14, 2014
OMRON Corporation will release a new series of products called "Human Vision Components - Consumer model" ("HVC-C") in December 2014. This series of products integrates OMRON's proprietary face image sensing technology, "OKAO Vision"(*1), and a camera module into a single, compact unit that can send sensing results to smartphones or tablets over Wi-Fi or Bluetooth so that this information can be easily accessed by apps on those devices.

HVC-C is small enough to fit in the palm of your hand and can sense 10 different characteristics (*1) of someone's condition or movement, such as facial expression, gender, age, line of sight and gestures. The HVC-C series of sensors can be fitted to all kinds of equipment and devices to be the "eyes" of the Internet of Things (IoT), working towards creating a new sensing network environment that can be an integral part of our daily life.
OMRON will make HVC-C application development information openly available from its website and will also actively provide this information to hackathons and ideathons (*2) so that application developers around the world can create new ways to use the HVC-C and promote open innovation for the IoT.
OMRON released HVC to corporations in March 2014 for supply as an integral part of residential electrical appliances and other products. With the release of HVC-C, we want a wide range of application developers and general consumers to directly use this new technology to create new value and opportunities matched to their individual lifestyles through small office appliances and components and personal use devices.
OMRON will have HVC-C on display at CEATEC JAPAN 2014 to be held October 7 (Tue.) - 11 (Sat.) at Makuhari Messe in Chiba.At OMRON's booth in the Lifestyle & Society Stage in Hall 3, we will have a working demonstration of the "Smart House". In this demonstration, we will use "Smile Training" and a combination of the HVC-C sensor and smartphone apps to automatically adjust living room lighting to perfectly match facial expression.
Main Benefits
Pursuit of Ease of Use
Sensing information can be sent to smartphones and tablets over Bluetooth and Wi-Fi. This information can be used by the apps on these devices, and these apps can then control other devices based on the sensing information, creating new kinds of ways to interact and live.
Open Innovation
OMRON will supply a development environment that makes it easy to create new innovative ways to use the devices from smartphones. Information will be distributed from the website and at hackathons to help any number of developers make all kinds of new apps.
Specifications
Size: 79 mm (W) x 61 mm (D) x 21 mm (H)
Power Supply: 5V (100V - 240V capable AC adaptor included)
Power Consumption: 0.25A max
I/O Interface: Bluetooth LE
Application Examples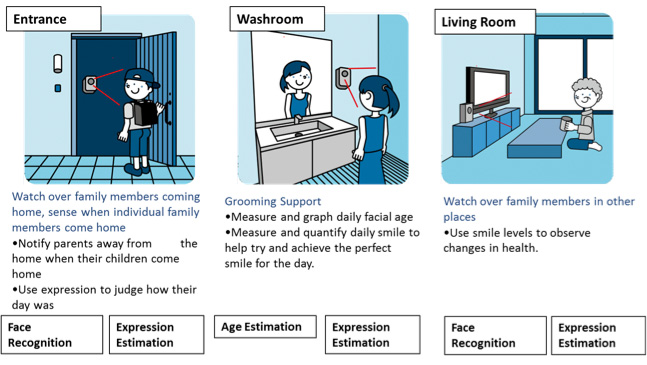 *1. OMRON's unique image recognition technology to detect someone's condition. There are ten different functions included in HVC-C:
1)Face Detection, 2) Human Body Detection, 3) Gender Estimation, 4) Age Estimation, 5) Gaze Estimation, 6) Facial Pose Estimation, 7) Face Recognition, 8) Expression Estimation (satisfied, unsatisfied, five different expressions: happiness, surprise, anger, sadness, and neutral), 9) Hand Detection, and 10) Blink Estimation.
*2. These are words created by combining "hack" and "marathon", or "idea" and "marathon". These are concentrated cooperative development events where participants share ideas and technology over a defined period of time, and have become common in a number of bodies and corporations around the world as part of open-innovation activities.
About OMRON Corporation
OMRON Corporation is a global leader in the field of automation based on its core technology of sensing and control. OMRON's business fields cover a broad spectrum, ranging from industrial automation and electronic components to automotive electronic components, social infrastructure systems, healthcare, and environmental solutions. Established in 1933, OMRON has over 36,000 employees worldwide, working to provide products and services in more than 110 countries and regions.
In the field of industrial automation, OMRON supports manufacturing innovation by providing advanced automation technologies and products, as well as through extensive customer support, in order to help create a better society. For more information, visit OMRON's website at: https://www.omron.com/.
Headquarters: Shimogyo-ku, Kyoto, Kyoto Prefecture, Japan
President and CEO: Yoshihito Yamada
"OKAO Vision", "OKAO" names and logos are the registered trademark or trademark of OMRON Corporation both in Japan and worldwide.
"Bluetooth" is the registered trademark of Bluetooth SIG, Inc.
"Wi-Fi" is the registered trademark of The Wi-Fi Alliance.
Contact:

Arihiro Yokota
Corporate Communications Department
OMRON Corporation
Tel: +81-75-344-7175
e-mail: arihiro_yokota@omron.co.jp