OMRON Releases New Temperature Controller to join the E5_C series which has been popular for its readability and usability.
The new E5GC has a compact and short body of 24mm X 48mm
April 1, 2014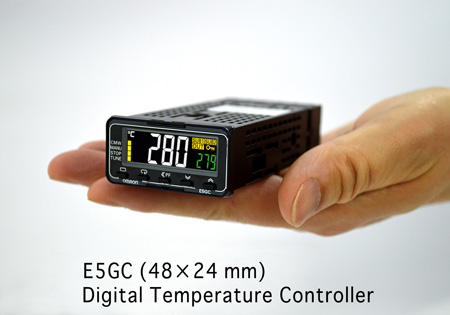 OMRON Corporation (TSE: 6645, ADR: OMRNY) announced on March 31 that it will release the following new product on April 1.
Digital Temperature Controller E5GC (24mm X 48mm)
The new temperature controller E5GC joins the E5_C Temperature Controller series, which has been popular since its release in December 2011because of its performance as well as readability and usability. The E5GC has a compact body of 24mm X 48mm, the result of our constant drive to miniaturize.
There is an increasing need for downsizing machines and control panels. Especially, desk-top type or portable type small machines have limited space for internal devices, therefore, the control devices are required to be compact as well.
The newly released temperature controller E5GC inherits the high level of readability, operability and basic performance of the E5_C series in a 24mm X 48mm compact body. The E5_C series had won the "iF product design award 2013" (*1). The body is 10% shorter than the previous OMRON temperature controller, and vertical and horizontal group mounting are possible (*2) to meet the needs of customers who require to downsize laboratory instruments or desktop small furnace. Furthermore, the E5GC adopted a white PV display to achieve high visibility, and the character size is the largest in the industry as dual display type (*3). You can easily set programs and manage data by using the special software (sold separately).
(*1) For E5CC and E5EC
(*2) Vertical mounting has limited ambient operating temperature and mountable number of units. This is possible only for screwless cramp terminal blocks.
(*3) According to OMRON investigation, March 2014
Main Specifications
Item
Specification
Input sampling period
50msec
Indication accuracy
±0.3%PV
Sensor input
Universal input
Thermocouple: K,J,T,E,L,U,N,R,S,B,W,PLII
Platinum resistance thermometer: Pt100, JPt100
Analog current: 4 to20 mA, 0 to 20 mA
Analog voltage: 1 to 5 V, 0 to 5 V, 0 to 10 V
Control output
Select from Relay output, Voltage output for driving SSR, Linear Current output
Auxiliary output
2 points max.
Event input
2 points max.
Standards
UL, CE, KC mark
Guarantee period
Three years
(Period and Terms of Guarantee changes depends on the ambient environment)
About OMRON
Headquartered in Kyoto, Japan, OMRON Corporation is a global leader in the field of automation. Established in 1933, OMRON has more than 35,000 employees in over 35 countries working to provide products and services to customers in a variety of fields including industrial automation, electronic components, social systems, healthcare, and the environment. The company has regional head offices in Singapore (Asia Pacific), Beijing (Greater China), Amsterdam (Europe, Africa, and the Middle East), Chicago (the Americas), Gurgaon (India), and Sao Paulo (Brazil).
For more information, visit OMRON's website at https://www.omron.com/
Contact:

Tatsuya Ueda
Industrial Components Div. HQ
Industrial Automation Company
OMRON Corporation
Tel: +81-75-344-7231