OMRON Industrial Automation (China)'s Customer Service Center Wins Three "Best Customer Service in China" Awards
July 29, 2013
Kyoto, Japan -- OMRON Corporation (TOKYO: 6645, ADR: OMRNY) announced that the Customer Service Center of OMRON Industrial Automation (China) Co., Ltd. (OCT) recently won three awards in the eighth annual "Best Customer Service in China" assessment program. OCT is a subsidiary of OMRON Corporation's Industrial Automation Company. Specifically, OCT's Customer Service Center was honored with the "Best Customer Service Center in China," "Best After-sales Service in China" and "Best Customer Service Manager in China" awards.
The "2012-2013 Best Customer Service in China" assessment program is co-organized by the China Information Industry Association and the China Association of Trade in Services. It is one of the most prestigious awards programs in China, in which companies that provide exemplary customer service practices are recognized and commended by the National Development and Reform Commission of the State Council of the People's Republic of China, the Ministry of Industry and Information Technology, the Ministry of Commerce, and the Ministry of Science and Technology. After having undergone eight months of strict auditing, customer satisfaction surveys, and other evaluation and screening processes, award-winning companies are selected. OCT's Customer Service Center was given a high mark from the organizing committee, who stated, "The OMRON Customer Service Center is equipped with an advanced support system and high-caliber staff members with abundant knowledge and skill, both inside and outside of the company, who work in tandem to provide excellent service. As a result, OMRON's customer service team offers maximum satisfaction to customers and is highly praised by them."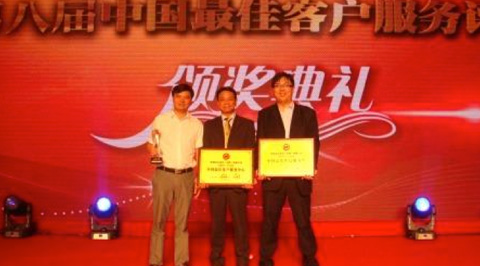 Since 1986 when OMRON first established its agent in China, OMRON in China has grown into an entity fully equipped with production, marketing, R&D and planning functions, necessary for manufacturing operations. Deeply rooted in the Chinese community, OMRON has been committed to developing and offering products and customer support, by sincerely listening to the voice of our customers and fully reflecting their feedback. In 2005, OMRON set up its first Customer Service Center in China at the premises of OMRON (Shanghai) Co., Ltd., OMRON's core development and production base. Since then, OMRON has steadily expanded its customer support locations throughout China, to include Shanghai and also Guangzhou, Beijing, Shenyang, Chengdu, Tsingtao, Wuhan, Xi'an, and Xiamen.
Under the slogan of "Offering high-value-added, first-rate service for customers," these centers provide a full range of services, including telephone counseling service for technology-related inquiries from 8:30 to 19:00 on weekdays, and a full 24-hour/365-day-a-year automatic inquiry response service. The Customer Service Centers also organize 17 types of face-to-face training seminars using actual equipment, and 40 online training courses accessible by tablets and other mobile devices. OMRON's website enables customers to access up-to-date product information, and trace and track repair status of their orders. Free pickup (within an hour) of products needing repair, and results of initial inspection within 24 hours, are also available. All these services help customers eliminate downtime in their manufacturing operations.
OMRON Customer Service Centers are committed to refining their expertise in customer support and service to enhance customer satisfaction, while also relaying input from many customers gathered at the centers to the production, marketing, development and planning sectors. By doing so, OMRON will strive to create more valuable products, services, and support for customers as a reliable automation partner for the global manufacturing industry.
| | |
| --- | --- |
| OMRON (Shanghai) Co., Ltd. | Customer Service Center |
Customer Service Center's website (Chinese)
About OMRON
Headquartered in Kyoto, Japan, OMRON Corporation is a global leader in the field of automation. Established in 1933, and headed by President Yoshihito Yamada, OMRON has more than 36,000 employees in over 35 countries working to provide products and services to customers in a variety of fields including industrial automation, electronic components, social systems, healthcare, and the environment. The company has regional head offices in Singapore (Asia Pacific), Beijing (Greater China), Amsterdam (Europe, Africa, and the Middle East), Chicago (the Americas), Gurgaon (India), and Sao Paulo (Brazil).
For more information, visit OMRON's website at https://www.omron.com/
For more press information, please contact:

Satoko Murakoshi satoko_murakoshi@omron.co.jp
Public Relations
Strategy Planning Division HQ
OMRON Industrial Automation
OMRON Corporation
Tel: +81-3-6718-3581