OMRON Celebrates its 80th Anniversary
May 17, 2013
Kyoto, Japan – OMRON Corporation (TOKYO: 6645, ADR: OMRNY) held its 80th anniversary commemoration ceremony on May 10. President Yoshihito Yamada addressed OMRON's global team of 35,000 employees, declaring his resolve to set OMRON on a course to become a true world-leader by the time the company celebrates its 100th anniversary, in order to be able to contribute more than ever to communities around the globe. The OMRON Global Awards prize-giving ceremony, broadcast to all OMRON Group staff worldwide, was also held as part of the anniversary commemorations, with five teams winning the gold prize.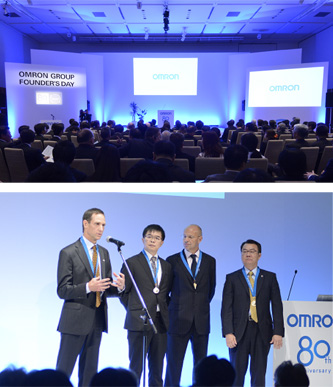 As a leader in automation technology, OMRON's business activities cover a wide range of fields, including manufacturing, healthcare, transport infrastructure, and environmental solutions, and its products and services are available in more than 110 countries. Since its founding, OMRON has tirelessly pursued technological innovation with the aim of contributing to society through automation technology. Some of these innovations include fully automated train station systems, online automatic cash dispensers, and automatic traffic control signal systems, to name a few. These technologies are all now indispensable to the daily lives of millions of people.
In his address, President Yamada first expressed his appreciation of the work of employees past and present, saying, "the fact that we are able to celebrate this proud day is proof that we have earned the approval of our stakeholders over the past 80 years. The support we have received from so many people, and the efforts of all current and former OMRON Group staff members are what have allowed us to reach this milestone. We need to ensure that OMRON continues to be a corporate group that people can depend on – a group that continues to live up to the high expectations that people around the world have of us."
Overseas employees now make up over two-thirds of OMRON Group's workforce. In order to provide employees with the same shared values to guide them in their work no matter where they are based, OMRON is focusing on instilling OMRON's corporate philosophy in staff worldwide. The OMRON Global Awards program is part of efforts to educate staff about this corporate philosophy, which is based on the core value of working for the benefit of society.
The OMRON Global Awards program is designed to recognize and commend practices that represent exemplary implementation of aspects of OMRON's corporate philosophy. The program encourages teams of employees to compete with one another in terms of how well they implement the corporate philosophy in the projects in which they are involved. 2,481 teams with a total of 20,828 members participated in the program.

In his speech during the awards presentation, President Yamada spoke of how he decided to launch the OMRON Global Awards program based on the hope that each staff member would realize "that you can achieve more than you ever thought possible when your day-to-day efforts are based on OMRON's core value of contributing to society. World-leading companies have their own legends handed down from generation to generation. The same is true for OMRON as well. No extraordinary actions are necessary in becoming the subject of such legends. All that is required is to continually challenge yourself to do better with the aim of working for the benefit of society to motivate you."
About OMRON
Headquartered in Kyoto, Japan, OMRON Corporation is a global leader in the field of automation. Established in 1933, OMRON has more than 37,000 employees in over 35 countries working to provide products and services to customers in a variety of fields including industrial automation, electronic components, social systems, healthcare, and the environment. The company has regional head offices in Singapore (Asia Pacific), Beijing (Greater China), Amsterdam (Europe, Africa, and the Middle East), Chicago (the Americas), Gurgaon (India), and Sao Paulo (Brazil).
For more information, visit OMRON's website at https://www.omron.com/