OMRON Releases "D6F-D" 2-Axis MEMS Flow Sensor Designed to Help Optimize Air Conditioning Energy Efficiency
December 5, 2012
KYOTO, Japan -- OMRON Corporation (TSE: 6645, ADR: OMRNY) today announced the release on December 10, 2012 of a 2-axis MEMS flow sensor designed for high-precision measurement of airflow velocity and direction aimed at contributing to reducing the electricity consumption of air conditioning systems.
Air conditioning accounts for 30% to 40% of the power consumed by cleanrooms and data centers, so the ability to provide optimal air conditioning while consuming the minimum possible amount of power in such facilities can make a substantial difference to overall power consumption. However, it is not currently possible to fully grasp the environmental parameters needed to optimize air conditioning settings.
OMRON's newly developed D6F-D 2-axis flow sensors give you a very clear picture of air flow velocity and direction within air-conditioned spaces. By installing D6F-D sensors near server racks in data centers it is possible to ensure that air conditioning is always set at optimum levels and thereby keep energy wastage to a minimum. When air flows diagonally in cleanrooms, particles tend to repeatedly accumulate in certain set places. The manner in which air moves through cleanrooms has a substantial impact on the level of cleanliness that can be maintained. Gaining a detailed picture of airflow within clean environments can also therefore provide the information needed to optimize their integrity.
Features
High precision airflow direction measurement
2-axis flow sensors are able to not only detect airflow velocity but also direction. Continuously monitoring airflow direction makes it possible to ensure that air is always flowing exactly where it ought to, thereby making optimization of air conditioner efficiency possible.
Dust-resistant design means the sensors can be installed in a wide range of environments
OMRON's unique 3D flow channel sensor module design, created with flow analysis technology, means that dust particles are isolated from the sensor, reducing the impact of dust on the sensor chip and thereby securing a high level of reliability.
Miniature size also increases the range of possible installation locations
The sensor is smaller than currently available airflow velocity and direction meters with a diameter of 60mm and height of 34.7mm.
32 sensors can be interconnected and operated simultaneously
32 2-axis flow sensors can be connected to a single system concurrently to send information to a single monitor. By using multiple flow sensors in one space, it is possible to accurately represent the airflow conditions of the space visually on screen in order to optimize air conditioning by accurately determining areas to which air is not flowing properly.
3D measurement
An optional three-dimensional measurement tool is also available, which, by installing two 2-axis flow sensors angled 90 degrees away from each other, makes it possible to measure three-dimensional airflow conditions.
Specifications/performance
| | |
| --- | --- |
| Operating voltage | 4.5V to 5.5V |
| Communications interface | 2-wire RS-485 |
| Communications protocol | Modbus-RTU |
| Output data type | Momentary value, moving average deviations, maximum value, minimum value |
| Airspeed detection range | 1.0m/s for each axis |
| Airspeed detection accuracy | +/- 3%FS |
| Airflow direction detection range | 0 to 360 degrees |
| Airflow direction accuracy | +/- 15 degrees (when airspeed is 0.3 m/s) |
Sales Target
500 million yen in 2015
Production plant
Yasu Plant, OMRON Corporation
D6F-D 2-axis flow sensor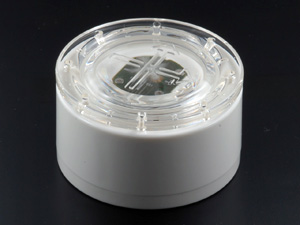 About OMRON
Headquartered in Kyoto, Japan, OMRON Corporation is a global leader in the field of automation. Established in 1933, and headed by President Yoshihito Yamada, OMRON has more than 37,000 employees in over 35 countries working to provide products and services to customers in a variety of fields including industrial automation, electronic components, social systems, and healthcare. The company has five regional head offices in Kyoto (Japan), Singapore (Asia Pacific), Shanghai (Greater China), Amsterdam (Europe, Africa, and the Middle East), and Chicago (the Americas). For more information, visit OMRON's website: https://www.omron.com/