OMRON Develops New NX Series Integrated I/O Safety System - Sysmac Automation Platform *1 -
November 19, 2012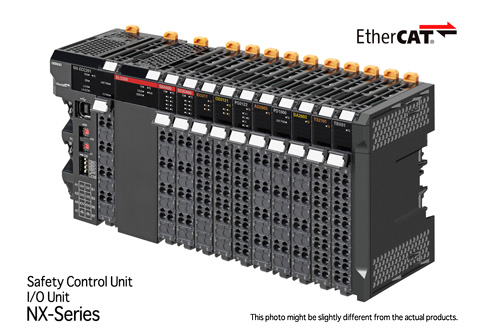 Kyoto, Japan -- OMRON Corporation (TSE: 6645, ADR: OMRNY) today announced the development of its new NX series I/O and safety system. The products below will be exhibited at SPS/IPC/DRIVES 2012 to be held in Germany from November 27 to 29 and SEMICON Japan 2012 to be held from December 5 to 7*2.
NX series I/O units (Scheduled for release in spring 2013)
NX series safety controllers (Scheduled for release in spring 2013)
The products are all fully compatible with the Sysmac automation platform*1 launched in July 2011. This is a new EtherCAT-compatible modular I/O system that allows sequence, motion, and safety control to be integrated into machine control systems.
The new NX series I/O system offers simple and flexible design for high-speed, high-precision motion control and safety control in an integrated engineering environment when used in conjunction with the NJ series machine automation controller and the automation software Sysmac Studio. This contributes to productivity improvements and assurance of safety conforming to international standards.
Machine designers are now required to design globally competitive production machinery for global manufacturing sites with systems appropriate for flexible production methods and quantities, and to shorten lead times.
Under such circumstances, the designers must design sequence, motion, and safety control simultaneously, while increasing their knowledge of machine design in order to conform to international safety standards, resulting in a heavy workload. Moreover, functionality and flexibility are required even in the safety control domain, and a system to ensure safety while maintaining productivity is expected. OMRON's new NX series I/O system was designed to meet these needs.
The NX series I/O system was developed based on the Sysmac concept:
"One Connection" enables the NJ series machine automation controller to be connected with safety control units and standard I/O units in one single EtherCAT system. This contributes to simple system construction and greater work efficiency.
"One Software" enables integrated programming for control systems including sequence, motion, and safety control with the Sysmac Studio automation engineering environment. This standardizes design assets and increases reusability, thereby significantly improving machine control design efficiency.
*1. Sysmac automation platform
Complete machine control through one software suite and one seamless connection with a variety of I/O devices. Machine and motion programming is fully compliant with IEC 61131-3, and the dedicated software suite features functions such as programming, motion designing, and network setting allowing easy control of all connected devices and freeing users to engage in further production innovation.
*2. The NX series will be exhibited in the EtherCAT Technology Group's booth.
Features
Safety control now integrated into the Sysmac "One Connection" concept
EtherCAT slaves with an easily expandable modular design allow connection to all devices: standard I/O devices and high-speed I/O devices for sequence control, as well as safety controllers and safety I/O devices for safety control. This simplifies flexible system design to meet variable end-user specifications.

Engineering Safety also integrated into the Sysmac "One Software" concept
Previously, safety control was designed separately from sequence and motion control through the design cycles including design, verification, debugging, test operation, startup, improvement, and addition of functions. Now the automation software Sysmac Studio enables the same operability and GUI as those of machine control design to be used for safety control design, which simplifies the design process.
Modular structures can be built up for each program when designing safety control. The modularized safety programs can be reused for other designs, and the amount of device verification work required for validation can be reduced.

IEC 61131-3 programming language for safety controller
The safety controller uses IEC 61131-3 programming language (function block diagram), as recommended by PLCopen. This provides a design environment that can be used as standard all over the world. It drastically reduces the time required for designers to master design procedures and programming rules, and simplifies the sharing of programs globally.

Space-saving modular I/O system
The NX series has a modular structure. The width of the standard I/O unit is 12 mm or 24 mm (safety CPU unit: 30 mm, safety I/O unit: 12 mm). The required width of the new unit is reduced by approximately 70% compared to OMRON's existing remote I/Os*3 for EtherCAT with terminal blocks, which reduces the size of the system and the control panel. The detachable screwless clamp terminal blocks contribute to reducing wiring work.

*3. OMRON's GX series DI/DO: 16 points, AI: 4 points

Ultra-high-speed, high-precision control through synchronous I/O refreshing
In the existing remote I/O system, I/O refreshing*4 in the CPU of the NJ series machine controller and the master and slave communications units for remote I/O control was performed at different times, so high-speed and high-precision control in fixed time cycles was difficult due to the time difference of I/O refreshing. The distributed clock that synchronizes time among devices connected via EtherCAT ensures complete synchronization of I/O refresh cycles between the CPU of the NJ series machine controller and the NX series I/O units, which allows high-speed and high-precision control required for motion applications.
*4. I/O refreshing: Packages of external data from sensors/switches that are directly connected to the PLC or the basic I/O unit are exchanged with data in the PLC internal I/O Memory.
About OMRON
Headquartered in Kyoto, Japan, OMRON Corporation is a global leader in the field of automation. Established in 1933, OMRON has more than 37,000 employees in over 35 countries working to provide products and services to customers in a variety of fields including industrial automation, electronic components, social systems, healthcare, and the environment. The company has regional head offices in Singapore (Asia Pacific), Beijing (Greater China), Amsterdam (Europe, Africa, and the Middle East), Chicago (the Americas), Gurgaon (India), and Sao Paulo (Brazil). For more information, visit OMRON's website: https://www.omron.com/
Sysmac is a registered trademark of OMRON Corporation.
EtherCAT® is a registered trademark and patented technology, licensed by Beckhoff Automation GmbH, Germany.
Other company names and product names in this document are the trademarks or registered trademarks of their respective companies.
PLCopen is an organization that promotes IEC 61131-3, the global standard for PLC programming and recommends reducing costs for education, operation, maintenance, and engineering by standardization of programming.
For more press information, please contact:

Eiji Bando
Automation Systems Division HQ
OMRON Industrial Automation
OMRON Corporation
Tel: +81-75-344-7176