OMRON to release world's smallest and lightest high capacity DC power relay
August 21, 2012
Kyoto, Japan — OMRON Corporation (TOKYO: 6645; ADR: OMRNY) today announced the release on October 1, 2012 of the G9EN DC power relay, the world's smallest and lightest high capacity DC power relay of its class (*1). The relay is 50% smaller and lighter than OMRON's previous comparable relays thanks to the use of newly developed proprietary sealing technologies and new magnetic control methods (*2).
With the global expansion of the market for environmentally-friendly clean energy vehicles such as hybrid and fuel-cell cars, there is quickly growing demand for mileage extension and new high-capacity battery DC load control technologies. OMRON has been working over the last decade to meet the needs of clean energy car manufacturers for greater circuit design flexibility and components that enable down-sizing and weight reduction of onboard electrical equipment. With the G9EN (60A), OMRON is taking down-sizing and weight reduction to the next level, and the company is also preparing for the release of other advanced new products including a 150A main relay, and an air-break switch pre-charge relay (*3).
(*1) OMRON's internal investigation, August 2012
(*2) OMRON's original magnet arrangement for blow-out magnets and switchgear design
(*3) Not gas-enclosed type
Features of the G9EN DC power relay
50% reduction in volume (28x40x50mm) and weight (140g) compared with previous OMRON models in the same product class.
Non-polarized contact circuit (contact terminal) (the first model in this class to feature this). This contributes not only to device downsizing and weight-reduction, but also makes wiring and mounting much simpler.
Main applications
Main relays and pre-charge relays for vehicles with high voltage batteries such as hybrid and electric vehicles (in BDUs - Battery Disconnect Units).
Chargers, feeders, and accessories for electric vehicles and plug-in hybrid cars.
Feeder circuits and condensers for fuel cell cogeneration systems and solar power systems
Industrial equipment (elevators, industrial robots, testing devices, etc.)
Technical information
Air-tight seal construction
DC power relays enclose pressurized gas which enables them to hinder arc formation (*4) by cooling. Typically, a ceramic housing is used to keep the pressurized gas sealed in, but OMRON has achieved down-sizing and weight reduction of the relay body by changing the ceramic sealing construction from a conventional box-shaped ceramic case to a combination of ceramic plating and metal casing.
This makes it possible to maintain or increase the interior volume of the air-tight space of the main contact circuit (main terminal) structure compared with existing comparable products.
(*4) An arc is a type of discharge which occurs in a gas between electric poles with low voltage and high current. Arcing damages contacts and worsens the interruption characteristics by creating a temporary current flow between contacts resulting in considerable localized heating.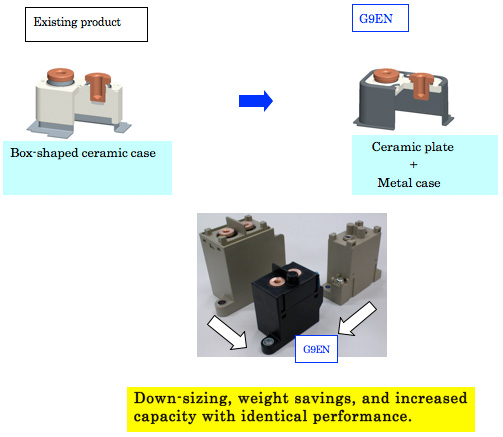 New magnetic control and arc extinguishing methods
OMRON has designed the layout, spacing, and shape of the switching circuit and the permanent magnet circuit specifically to extinguish the arcing which occurs during DC load interruption across narrow contact gaps.
This enables high-speed arc interruption regardless of current direction, and has resulted in a non-polarized main contact circuit (main terminal) which up till now has been difficult to achieve with direct-current type relays using arc interruption via magnetic blow-out.
This non-polarization means the device is suitable for use in applications requiring two-way current flow. It also means it is not necessary to consider the mounting direction or the orientation of the device, making wiring and mounting much easier, and reducing the risk of incorrect wiring.
Visit this website for more information: https://www.omron.com/ecb/products/pry/
Sales target
Type G9EN only
2013 & 2014: 500,000pcs (annually)
2015 onwards: 1,000,000pcs (annually)
Production plant
Kumamoto Headquarters of OMRON RELAY & DEVICES Corporation, Kumamoto, Japan
List of OMRON relays and specifications
Basic
model
number
Specific
model
number
Maximum
switching
voltage
Maximum
switching
current
Rated
carry
current
Power
consumption
Dimensions


D:
W:
H:

Main
applications
G9EN
G9EN-1
(to be released in October, 2012)
400V
60A
60A
Approx. 5W
28mm
40mm
50mm

HEV/FCEV (for main & pre-charge circuits)
Electric power, general-purpose industrial equipment (condensers, etc.)
G9EJ
G9EJ-1
(To be released soon)
400V
25A
-
Approx. 2W
27mm
31mm
30mm

HEV/FCEV (for main & pre-charge circuits)
Electric power, general-purpose industrial equipment (condensers, etc.)
G9EM
G9EM-1
(Under development)
400V
150A
150A
Approx. 5W
28mm
50mm
70mm

HEV/FCEV (for main & pre-charge circuits)
Electric power, general-purpose industrial equipment (condensers, etc.)
G9EA
G9EA-1(-B)
(Already released)
400V
100A
60A
Approx. 5~5.4W
36mm
73mm
67.2mm

Electric power, general-purpose industrial equipment (condensers, etc.)
G9EA-1(-B)-CA
(Already released)
400V
30A
100A
G9EA-1(-B)-AQ
(Already released)
400V
80A
80A
Approx. 5.5W
Automotive use
(main circuits and HEV/FCEV)
G9EB
G9EB-1(-B)
(Already released)
250V
25A
25A
Approx. 2W
25mm
60mm
58mm

Electric power, general-purpose industrial equipment (condensers, etc.)
G9EB-1(-B)-AQ
(Already released)
400V
25A
25A
(ambient operating temperature 70 degrees Celsius)
/20A
(ambient operating temperature 85 degrees Celsius)
Approx. 2.5W
Automotive use
(HEV/FCEV and pre-charge circuits)
G9EC
G9EC-1(-B)
(Already released)
400V
200A
200A
Approx. 11W
44mm
98mm
86.7mm

Electric power, general-purpose industrial equipment (condensers, etc.)
G9EC-1(-B)-AQ
(Already released)
400V
200A
200A
Approx. 7W
44mm
98mm
86.2mm

Automotive use
(main circuits and HEV/FCEV)
G9ED
G9ED-1(-B)-AQ
(Already released)
400V
150A
150A
Approx. 4W
36mm
73mm
67.2mm

Automotive use
(main circuits and HEV/FCEV)
G9EH
G9EH-1
(Already released)
400V
300A
300A
Approx. 7W
60mm
111mm
76.7mm

Automotive use
(main circuits and HEV/FCEV)
About OMRON
Headquartered in Kyoto, Japan, OMRON Corporation is a global leader in the field of automation. Established in 1933, OMRON has more than 36,000 employees in over 35 countries working to provide products and services to customers in a variety of fields including industrial automation, electronic components, social systems, healthcare, and the environment. The company has regional head offices in Singapore (Asia Pacific), Beijing (Greater China), Amsterdam (Europe, Africa, and the Middle East), Chicago (the Americas), Gurgaon (India), and Sao Paulo (Brazil). For more information, visit OMRON's website at https://www.omron.com/
Product Inquiries

OMRON RELAY & DEVICES Corporation
Koichi Udo, +81-968-44-4118
DC Relay Department
Email: koichi_udo@oer.omron.co.jp
Media Inquiries

OMRON RELAY & DEVICES Corporation
Masahiko Ezaki, +81-968-44-4101
Corporate Planning Division
Email: masahiko_ezaki@oer.omron.co.jp