OMRON Releases New CP1L Programmable Controllers with Built-in Ethernet
April 3, 2012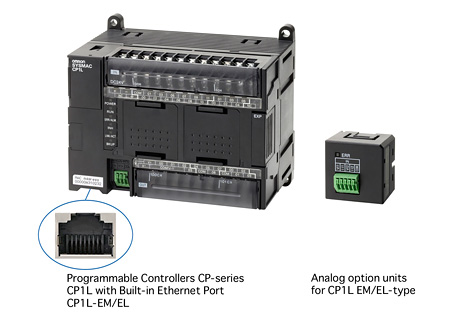 OMRON Corporation today announced the release in March of a new group of CP1L CPU units all featuring Ethernet connectivity, the latest additions to its CP series of programmable controllers.
CP1L-EL/EM-type programable controllers

CP1L-EM-[]D[]-D      6 models
CP1L-EL-20D[]-D      3 models
Analog option units for CP1L EM/EL-type programable controllers

CP1W-[][][]2[][]      3 models
Ethernet technology is increasingly being utilized in the factory automation field to facilitate communications between computers and PLCs (programmable controllers). This has resulted in a growing need for Ethernet capability even in programable controllers with 10 to 200 I/O points used in small-scale control applications. The demand for Ethernet as an interface for programable controllers is also rapidly increasing in other fields such as in sewerage monitoring systems and building automation, in which scattered programable controllers in remote locations are monitored by computers through wireless and Ethernet networks.
The CP1L-EL/EM-type CPU units released today are programable controllers with built-in Ethernet ports enabling low-cost Ethernet connection and designed to meet a wide variety of Ethernet connectivity needs in a wide range of fields.
The ability to send and receive messages means it is possible for a host computer to monitor the status of controllers and also receive feedback from the controllers about any onsite abnormalities they detect. The controllers also feature socket communications capability meaning it is possible to connect them with a wide variety of Ethernet-enabled control equipment.
The added function block memory (10K steps) improves reusability of user program assets and supports design standardization. The function blocks aid efficient creation of reusable programs used in various devices such as ladder programs used for Ethernet communications.
All the CP1L-EL/EM-type CPU units incorporate two analog inputs meaning that stand-alone CPU units can handle various applications such as monitoring for fluid level detection. For applications that require more than two analog inputs, up to six analog inputs and four analog outputs can be controlled by mounting analog option units without the need for an expansion unit.
Features
All "CP1L-EM" and "CP1L-EL" CPU unit feature Ethernet ports.
CP1L-EM/EL employ Ethernet technology to meet communication needs over different protocols simultaneously and to allow easy connection for remote access.
Pulse output for two axes for advanced high-precision positioning control.
Controlling is simple with function block or standard functions without the need for special motion boards or expansion units. Additionally, thanks to high-speed serial ports, CP1L units are capable of performing simple motion control tasks.
High-speed single-phase four axis counters are standard.
Multi axis control can be carried out easily with one control device.
Two serial communication ports. Option boards can be selected for either RS-232C or RS-485 communications.
RS-232C or RS-422A/485 communications ports can be added to CPU units (not available for the L10-type) to connect components such as inverters.
The Structured Text (ST) language makes calculation functions easier to execute.
Ladder programming still remains the easiest language for many people to use, but for more complex mathematical calculations 'Structured Text' language can be more suitable and easy to use.
Product Lineup
Programmable Controller CP1L CPU Units
CPU Unit
Model
Specifications
CP1L-EM type
CP1L-EM40DR-D
Memory capacity: 10K steps
Built-in I/O points: 40
CP1L-EM40DT-D
CP1L-EM40DT1-D
CP1L-EM30DR-D
Memory capacity: 10K steps
Built-in I/O points: 30
CP1L-EM30DT-D
CP1L-EM30DT1-D
CP1L-EL type
CP1L- EL20DR-D
Memory capacity: 5K steps
Built-in I/O points: 20
CP1L- EL20DT-D
CP1L- EL20DT1-D
Analog Option Units for CP1L-EM/EL
Product type
Model
Specifications
Analog Input
Option Board
CP1W-ADB21
2 analog inputs
0-10V (Resolution: 1/4000),
0-20mA (Resolution: 1/2000)
Analog Output
Option Board
CP1W-DAB21V
2 analog outputs
0-10V (Resolution: 1/4000)
Analog I/O
Option Board
CP1W-MAB221 
2 analog inputs
0-10V (Resolution: 1/4000),
0-20mA (Resolution: 1/2000)
2 analog outputs
0-10V (Resolution: 1/4000)
About OMRON
Headquartered in Kyoto, Japan, OMRON Corporation is a global leader in the field of automation. Established in 1933, and headed by President Yoshihito Yamada, OMRON has an extensive sales and service network that reaches across some 100 countries, and has more than 36,000 employees working to provide products and services to customers in a variety of fields including industrial automation, electronic components, social systems, healthcare, and the environment. The company has regional head offices in Singapore (Asia Pacific), Shanghai (Greater China), Amsterdam (Europe, Africa, and the Middle East), Chicago (the Americas), and Gurgaon (India). For more information, visit OMRON's website at https://www.omron.com/
For more press information, please contact:

Tomohito Honjo
Automation Systems Division HQ
Industrial Automation Business Company
OMRON Corporation
Tel: +81-75-344-7173   Fax: +81-75-344-7149
Satoko Murakoshi satoko_murakoshi@omron.co.jp
Public Relations
Strategy Planning Division HQ
OMRON Industrial Automation
OMRON Corporation
Tel: +81-3-6718-3581   Fax: +81-3-6718-3586