OMRON releases cutting-edge fiber amplifier with unparalleled usability
December 22, 2011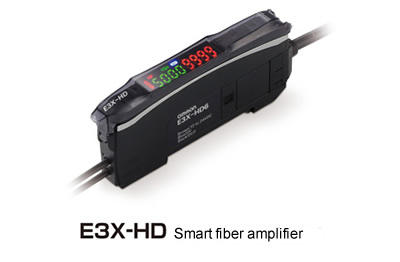 KYOTO, Japan-- OMRON Corporation (TOKYO:6645)(ADR:OMRNY) announces the release on December 1 of the following new fiber amplifier series and open network fiber amplifier sensor communication units.
Smart fiber amplifier: E3X-HD series
Open network sensor communication units (for use with fiber amplifiers): E3X-CRT & E3X-ECT
Exponentially improved usability thanks to unique smart tuning function and complete redesign
With the recent rapid expansion of manufacturing into new markets and regions, there is a growing need to train ever-increasing numbers of technicians how to operate fiber amplifiers, yet technological advancements mean such devices are becoming increasingly complicated and difficult to operate, leading to an increase in human error.
OMRON's new next-generation E3X-HD fiber amplifiers are vastly easier to operate than conventional devices.
OMRON's proprietary smart tuning function means that anyone can accurately adjust sensor threshold and light intensity settings to ensure stable detection conditions with the press of a button. It is also possible to confirm settings at a glance with a setting visualization screen and symbolic indicators on control buttons.
Additionally, the smart power control function ensures the long-term stability of detection accuracy by sensing and automatically compensating for LED light intensity deterioration and decreases in light incident level due to build-up of grime.
The GIGA RAY II lighting element is now 1.5 times more power efficient - and a 25% overall reduction in power consumption compared with previous models means you can not only operate your equipment with a higher level of stability, but also reduce energy consumption at the same time.
The fiber amplifier sensor communication units that are being released simultaneously with E3X-HDs are able to communicate over high-speed open networks such as "EtherCAT™," and "CompoNet" - the popularity of which, is expected to continue increasing rapidly. This means that not only can the amount of cabling and wiring be reduced, configuration and monitoring can also be easily carried out using programmable logic controllers and display monitors.
Main features
Optimal configuration can be carried out easily by anyone at the press of a button
Optimal light intensity and threshold configurations can be set for any target object simply by pressing the smart tuning button twice. Optimal configurations can therefore be set easily even by newly recruited operators.

Simple operation and easy-to-understand indicators bring vast productivity improvements
E3X-HDs are equipped with a display that allows operators to see setting values, setting categories, and detection conditions, at a glance. Additionally, the adoption of universal design has improved usability yet further. Buttons on the operation panel feature easy-to-remember symbols (circle, square, triangle, plus and minus). Instruction manuals are available in English, Japanese, and simplified Mandarin.

"Smart power control" for long-term detection stability
Even if LED light intensity deteriorates or light incident levels decrease due to build-up of grime, OMRON's proprietary "smart power control" automatically compensates for this to ensure long-term, stable, high-precision detection. Warning lights indicate when equipment inspection is required, simplifying maintenance management.

"Smart eco drive design" contributes to energy-saving
The new circuit design and the 150% increase in power efficiency of the newly developed GIGA RAY II, allow a 25% reduction in power consumption compared with previous models. This means you can save energy without making any changes to sensing distances or response time settings.

Ability to use open networks means less cabling and wiring
Using E3X-CRT or E3X-ECT open network sensor communication units in conjunction with E3X-HD zero-line fiber amplifiers allows the use of the open networks CompoNet and EtherCAT™. This means you can use less cabling and wiring, change configurations using PLCs and display monitors, and generally do more with your equipment.
Main Specifications
Light source (wavelength)
Red, 4-element LED (625 nm)
Power supply voltage
12 to 24VDC ;+/-10%, ripple (p-p) 10% max.
Power consumption
ormal Mode: 720 mW max.
Eco Mode: 530 mW max.
Response time
Super-high-speed mode (SHS):
50 μs (NPN output)
55 μs (PNP output)
High-speed mode (HS): 250 μs
Standard mode (STND): 1 ms
Giga-power mode (GIGA): 16 ms
Mutual interference prevention
Possible for up to 10 units (optically synchronized)
Auto Power Control (APC)
Always ON
Maximum connectable units
16 (for communication units: 30 units)
*"EtherCAT™" is a registered trademark of Beckhoff Automation GmbH (Germany).
Contact:

Kazuhisa Asaumi
Industrial Components Div. HQ,
Industrial Automation Company
OMRON Corporation
Email: kazuhisa_asaumi@omron.co.jp