OMRON Introduces EPC Gen2 Global "Loop" Inlay
- Versatile inlay ideal in material and orientation sensitive applications for worldwide frequency (860 to 960MHz) use -
FOR IMMEDIATE RELEASEJuly 11, 2006
TOKYO, Japan, July 11, 2006 - OMRON Corporation (TSE: 6645, NYSE: OMRNY) today announced availability of the V750 series Gen2 "Global Loop" inlay which can be used under North American, European and Japanese radio frequency bands in a single tag design.Aimed at consumer electronics manufacturers and suppliers to major retailers, the new inlay will be ready for shipment from early August 2006.
The Gen2 Loop is optimized to ensure robust read performance when the tag is applied to items containing materials unfriendly to RFID, for example, the metallic components used in electronics equipment and products with high moisture content.With non-metallic objects, the Gen2 Loop realizes the same high read performance as the Class 1 Loop inlay currently available from OMRON (see Figure 1 below).In addition, the new inlay delivers a read performance of approximately 1 meter even when in close proximity to metal objects (see Figure 2 below). The "Loop" tag also delivers reliable read ranges when the orientation on the product is not fixed or could change after application. As a direct result, the "Loop" inlay can improve pallet tag read rates.
OMRON Gen2 global loop inlays can be used with all international UHF RFID frequencies from 860 to 960MHz with little or no performance degradation. The addition of the "Global Loop" inlay to the already announced "Wave" tag expands OMRON's ability to meet a wide range of applications for today's international supply chain needs. Potential applications of the new inlay include tags and labels for use in the electrical appliance and pharmaceutical industries, where the ability to read large shipments of products speedily, simultaneously and from a distance will realize significant cost reductions.
"With RFID deployments expanding both globally and to a wider range of SKU's, a global tag that performs across all UHF frequency bands and is less sensitive to materials and orientation is clearly a benefit for our customers," says Bill Arnold, chief strategist at OMRON RFID. "If a company uses the OMRON global inlay, then it has no need to handle the complexity of different tag selection for each region or SKU requirements. This means our Gen2 global loop inlays help to reduce total RFID tag application costs and operation time."
Table 1
Model
V750-D22M02-IM
Minimum delivery lot
5000 pcs/roll
Inlay price
Open price
Protocol
EPCglobal Class 1 Generation 2
Operating frequency
UHF band: 860MHz to 960MHz
(Japan, U.S., Europe, China, Asia, etc.)
Memory
240 bits NVM(EPC: 96 bits)
Dimensions
68mm×70mm
Operating temperature
-20˚C to 55˚C (no icing, no condensation)
Storage temperature
-20˚C to 55˚C (no icing, no condensation)
Storage humidity (maximum)
60% RH
External view of V750 Series Gen2 Loop Inlay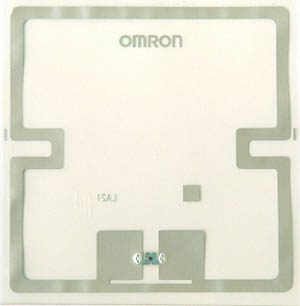 About OMRON RFID
OMRON's RFID Division has been in the RFID business for over 20 years and is headquartered in Tokyo, Japan, with US operations in Schaumburg, Illinois. As an EPCglobal member, OMRON offers a wide range of RFID products including inlays and readers for HF (13.56 MHz), UHF (915 MHz) and other frequencies. Also offered are one-day EPC compliance kits fully scalable from one device to an enterprise-wide deployment. The kits include cables and RFID tags, require a minimal investment to arrange for initial testing and are fully upgradeable to Gen 2, the latest RFID standard from EPCglobal, the organization managing UPC numbers and other EPC standards. For more information, write to info@omronrfid.com or visit the Web site at www.omronrfid.com
About OMRON
Headquartered in Kyoto, Japan, OMRON Corporation is a US$5.5bn global leader in the field of automation. Established in 1933 and headed by President and CEO Hisao Sakuta, OMRON has more than 27,000 employees in over 35 countries working to provide products and services to customers in a variety of fields including industrial automation, electronic components, social systems (ticket gate machines, ticket vending machines, and traffic control), and healthcare. The company is divided into five regions and head offices are in Japan (Kyoto), Asia Pacific (Singapore), China (Shanghai), Europe (Amsterdam) and US (Chicago). For more information, visit OMRON's website at www.omron.com
For media related enquiries, please contact:

James Seddon (james_seddon@omron.co.jp)
at OMRON Corporate Communications Department
Telephone: +81 3 3436 7202