Dramatically Improving the Effectiveness of Mobile Robot Installation Launch of "FLOW Core 2.1" Fleet Management Software

- Smart factory support through installation simulation and driving data analysis -
OMRON Corporation (Headquarters: Shimogyo-ku, Kyoto, Japan; President and CEO: Yoshihito Yamada) will launch Fleet Operations Workspace (FLOW) Core 2.1, software that enables short-term introduction of mobile robots through simulation functions, integrated control of multiple robot types, and continuous improvement of running efficiency through running data analysis. The software will be available globally from September 1, 2021. With the growing need for further automation at manufacturing sites to avoid the worsening manpower shortage and dense and close infection control, we will realize easier and more efficient automation of the transfer process.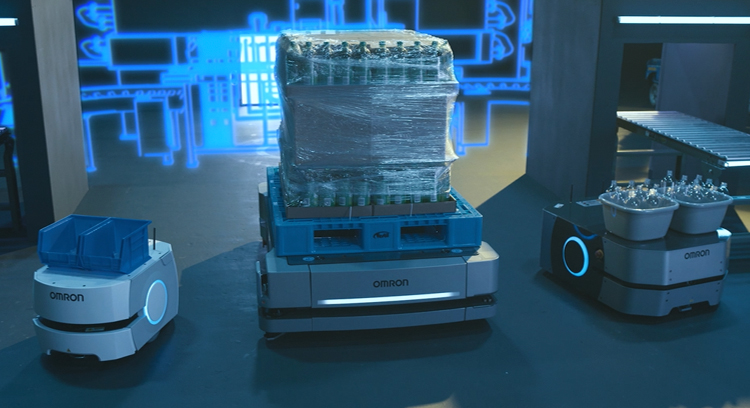 【Software for optimal control of multiple models of mobile robots】
In recent years, mobile robots have been introduced to efficiently and safely automate the conveyance process with the aim of solving the increasingly serious labor shortage at manufacturing sites and freeing workers from heavy labor. There is also a growing need to use robots with different payloads and sizes for a series of transport processes, from material transport to processing and product shipment. On the other hand, there are few human resources with mobile robot know-how, which makes it difficult to verify the effectiveness of the system and design the line before introducing it. Fleet management software is also needed for the integration of various types of mobile robots. In addition, the data collection required to optimize the relationship between each robot and each process takes a long time, and it is difficult to visualize the running data on the manufacturing floor where production lots, processes, equipment, and people change frequently, making it difficult to make continuous improvements.
The "FLOW Core 2.1" software that OMRON will begin offering will clarify installation efficiency and issues before the actual installation of mobile robots through a fleet simulation function, enabling a quick start-up. It also enables integrated control of multiple types of mobile robots with different payloads, eliminating the complexity of building a system for each type. Even after the system is installed, it is easy to collect and visualize travel data and identify bottlenecks, making it possible to visualize the gap between the effects of the system and those targeted at the time of installation, and improve travel efficiency. This shortens the adjustment and verification period of the mobile robot, and allows the user to immediately experience the effects of transport automation, supporting the shift to smart factories in the manufacturing industry. These functions can also be used with mobile robots that have already been installed by updating the existing software to "FLOW Core 2.1".
Under the banner of the strategic concept "innovative-Automation," which consists of the "three i's," namely, "integrated (evolution in control)," "intelligent (intelligence developed through ICT)," and "interactive (new harmonization between humans and machines)," OMRON is driving innovations on the production floor. As part of this effort, we have been developing our products by utilizing our long experience in manufacturing and selling mobile robots and the knowledge we have gained from our own factories, so that robot technology can be used to achieve advanced and flexible automation in manufacturing sites. By evolving mobile robots and fleet management software together, we will continue to contribute to the innovation of manufacturing by freeing people from the simple, monotonous, and hard labor of moving things and allowing them to engage in more creative work.
Main Features of the Newly Expanded Software
1. Travel data visualization and analysis functions (FLOW iQ)
FLOW iQ visualizes information such as heat maps (where autonomous transfer robots are stagnating), path maps (where automated transfer robots are traveling), and robot usage rates (activity analysis) based on travel results. FLOW iQ makes it easy to troubleshoot complex fleets and supports continuous improvement.
2. Fleet simulation function
Simulate the workflow and travel volume of a fleet of autonomous transport robots (the ability to control multiple mobile robots as a swarm) in digital space without actually deploying the robots. Potential bottlenecks can be identified, implementation time can be shortened, and workflows can be optimized.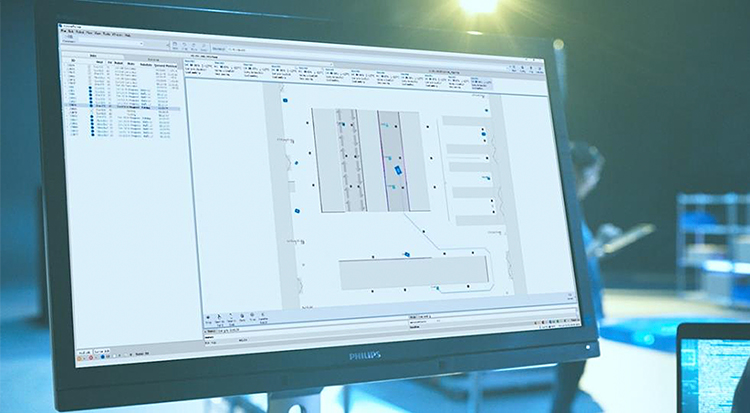 3. Integrated Fleet Control Function for Multiple Models (MobilePlanner6)
Enables customers to easily build fleets that combine multiple sizes and payloads, and improve manufacturing throughput by controlling them in an integrated manner.
About innovative-Automation
Recently, OMRON has developed a manufacturing innovation concept, called "innovative-Automation" With this concept, OMRON is currently committed to bringing innovation to manufacturing sites through three key innovations, or three "i's." Through these innovations in the area of automation, OMRON aims to enable significant productivity improvements in manufacturing sites in order to achieve high-value-added manufacturing. With the first "i," "integrated" (control evolution), OMRON will seek to advance automated control technology so that virtually any operator, even inexperienced operators, can effortlessly perform work that previously required the expert skills of experienced workers. With the second "i," "intelligent" (development of intelligence by ICT), OMRON seeks to create constantly evolving equipment and production lines. By adopting a wide range of control devices and artificial intelligence (AI), machines can learn through experience and maintain themselves in optimal condition. For the third "i," "interactive" (new harmonization between people and machines), OMRON pursues the development of a new harmonious relationship between human operators and machines; as they work together in the same workspace, machines will be able to assist human operators by recognizing human thoughts and behavior in a way that only OMRON, a specialist control equipment manufacturer who knows production floors inside and out, can realize.
About OMRON Corporation
OMRON Corporation is a global leader in the field of automation based on its core technology of "Sensing & Control + Think". OMRON's business fields cover a broad spectrum, ranging from industrial automation and electronic components to social systems, healthcare, and environmental solutions.
Established in 1933, OMRON has about 30,000 employees worldwide, working to provide products and services in around 120 countries and regions. In the field of industrial automation, OMRON supports manufacturing innovation by providing advanced automation technology and products, as well as through extensive customer support, in order to help create a better society. For more information, visit
OMRON's website: http://www.omron.com/
Contact (media)

Brand Communications Department
OMRON Corporation
Tel: +81-75-344-7175

Contact (product information)

OMRON Robotics and Safety Technologies, Inc.
Email: ORT-Marketing@omron.com