OMRON Included in the "Health & Productivity Stock Selection" for the Second Consecutive Year
- Promoting Employees' Wellbeing through Events and Providing Information that Encourage Behavioral Change -
OMRON Corporation (HQ: Shimogyo-ku, Kyoto; President and CEO: Yoshihito Yamada) announced today that it has been selected, for the second time, for inclusion in the 2020 Health & Productivity Stock Selection, which is jointly selected by the Ministry of Economy, Trade and Industry (METI) and the Tokyo Stock Exchange (TSE). Under the Health & Productivity Stock Selection program, companies are selected from within TSE-listed enterprises engaging in a health and productivity management program in which they focus on and strategically carry out efforts with regard to their employees' health from a management perspective. OMRON has been selected again in recognition of its health and productivity management practices with regard to "Management Philosophy and Policies," "Systems for Ensuring Health-conscious Management as well as Measures for Implementing Them," and "Measures for Assessing and Improving such Practices."

With the belief that the health of individual employees is fundamental to our business, OMRON issued "OMRON Health Management Declaration" in 2017, according to which top managers are taking the lead in promoting health and productivity. We also chose "Improve Awareness of Wellness Management" as one of our sustainability targets, which link to the VG2.0 Medium-Term Management Plan, and established quantitative targets Boost5. At the same time, we proactively disclose information on our initiatives to achieve the targets and their results by way of "The OMRON Health White Paper" and other avenues, thus continuously improving our activities.
Selected Initiatives for Health and Productivity in FY2019
We organize "Stop Smoking Marathon Event" to help employees to quit smoking with support from their team members. Our goal is to lower the percentage of employees who smoke to 14.6% by July, 2021.
We invite outside lecturers to organize experience-oriented exercise seminars on yoga, muscle training, and stretching in order to provide employees with opportunities to work out, in the hopes that it will lead to the formation of the habit to exercise at least twice a week.
To encourage positive behavioral changes in our employees, we put up posters in bathrooms and elevators and on printers, with information on how to form fitness habits easily, as well as health tips, so that employees will start taking health actions in their everyday life without being conscious of them.
Under the OMRON Principles based on the spirit, "to improve lives and contribute to a better society through our business," which was established by OMRON founder Kazuma Tateishi, OMRON will continue to accelerate contributing to better society, more prosperous society where its members are empowered and create innovations by developing positive working environments full of smiles and vitality.
About "Boost5"
"Boost5" are five key indicators for improving employees' health, namely, "Exercise," "Sleep," "Mental Health," "Nutrition," and "Smoking." These behavioral objectives not only prevent and mitigate illness and help us to focus while at work, but also allow us to lead fulfilled private lives. For each indicator, specific targets are set. We monitor progress in each indicator by gathering data from medical checkups, stress checks, and other means, to provide feedback to the planning of future policies and report the results in the annual OMRON Health White Paper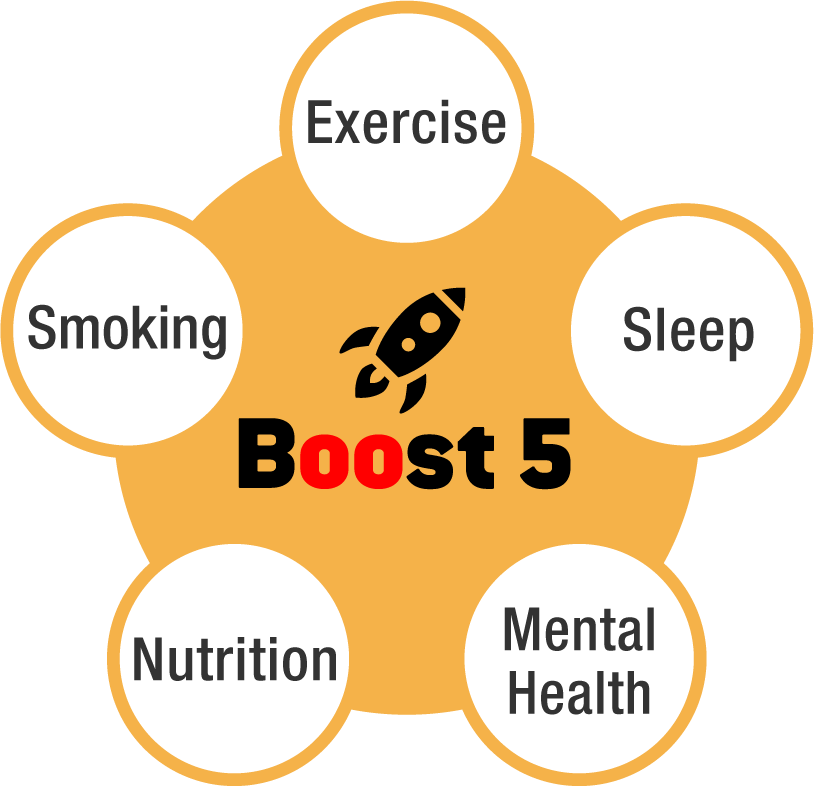 About OMRON Corporation
OMRON Corporation is a global leader in the field of automation based on its core technology of "Sensing & Control + Think." OMRON's business fields cover a broad spectrum, ranging from industrial automation and electronic components to social systems, healthcare, and environmental solutions. Established in 1933, OMRON has about 30,000 employees worldwide, working to provide products and services in around 120 countries and regions. For more information, visit OMRON's website: https://www.omron.com/
Contact (media):

Brand Communications Department
OMRON Corporation
Tel: +81-75-344-7175