The development of defect extraction AI that reproduces human sensibility and expert experience
-An image processing system to be launched in the spring of 2020 that, like an experienced visual appearance inspector, becomes more familiar with defects and achieves higher defect detection rates-
OMRON Corporation (HQ: Shimogyo-Ku, Kyoto. President and CEO: Yoshihito Yamada) has developed a unique defect extraction AI technology that recognizes defects by reproducing "human sensibility" and "expert experience" in order to automate the appearance inspection at the manufacturing site. By providing stable detection of defects that up to now have been difficult to detect with machines, it enables further automation of appearance inspections that currently rely on human vision. This AI functionality will be added to the existing OMRON image processing system "FH Series" and will be released in the spring of 2020.
In recent years, the shortage of skilled technicians and rising labor costs have become more critical, and in the manufacturing industry there is a tremendous reliance on human experience and human senses. Therefore automation of the transporting, assembly, and inspection processes that depend on people has become an urgent task for businesses. In particular, for visual appearance inspection of products that have wide variability, it is necessary to have the sensibilities of an experienced inspector to be able to recognize defects of various colors and sizes, and discriminate between "defective product" and variability within "non-defective" product. There is an increasing expectation for AI to address this need; AI that is capable of recognizing features of an object like a person can and able to automatically learn judgment criteria. However, for practical use of AI in this role, it has been necessary to prime and prepare it with a huge amount of image data from which to learn. In addition, there are problems such as securing AI engineers and installing special AI hardware in the field. All these things have been roadblocks that have slowed down the progress of introducing AI.





[An inspection example where detection is difficult with an image processing system due to low contrast and background variations]
In order to solve these problems, OMRON has developed a defect extraction AI that reproduces the inspection methods of a skilled inspector, as well as the technology to implement it within an existing image processing system. Applying the deep knowledge of image processing and of the content of appearance inspections it has cultivated for over 30 years, the technology OMRON has developed can automatically determines which images it needs to select for optimal learning. A high inspection performance could be achieved with only about 10 images.
Furthermore, because this AI has been designed to be also light enough for operation in a normal PC environment, it is possible to start up and make adjustments on-site without even without an engineer with AI expertise.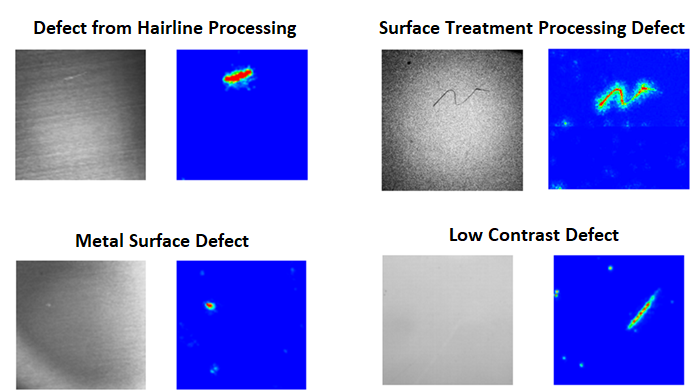 An "FH Series" image processing system, equipped with this AI, will be exhibited for the first time at the IIFES industry fair in Tokyo Big Sight trade fair (Tokyo International Exhibition Center) from November 27 (Wednesday) to November 29 (Friday) 2019.
As OMRON strives to "get close to, and then go beyond, the human eye", we continue to further accumulate data and conduct research and development of the latest AI technology to achieve an AI image processing system that is both closer to human sensitivity and which can be easily used. Where does this lead? By expanding the scope of what can be automated in visual inspection, we free people from simple and monotonous work so they can become more engaged in the creative work that truly advances innovation in manufacturing.
About "innovative-Automation"
As a leader in industrial automation, OMRON has extensive lines of control components and equipment, ranging from image-processing sensors and other input devices to various controllers and output devices such as servo motors, as well as a range of safety devices and industrial robots. By combining these devices via software, OMRON has developed a variety of unique and highly effective automation solutions for manufacturers worldwide. Based on its reservoir of advanced technologies and comprehensive range of devices, OMRON set forth a strategic concept called "innovative-Automation" consisting of three innovations or "i's"--"integrated" (control evolution), "intelligent" (development of intelligence by ICT), and "interactive" (new harmonization between people and machines). OMRON is now committed to bringing innovation to manufacturing sites by materializing this concept.
About OMRON Corporation
OMRON Corporation is a global leader in the field of automation based on its core technology of "Sensing & Control + Think." OMRON's business fields cover a broad spectrum, ranging from industrial automation and electronic components to social infrastructure systems, healthcare, and environmental solutions. Established in 1933, OMRON has about 35,000 employees worldwide, working to provide products and services in around 120 countries and regions. For more information, visit OMRON's website: https://www.omron.com/.
Contact (media):

Brand Communications Department
OMRON Corporation
TEL: +81-75-344-7175

Contact (product information):

Sensor Division, Product Business Division HQ.
Industrial Automation Company
OMRON Corporation
TEL: +81-75-344-7022