OMRON Develops Industry's Fastest 3D Vision Sensing Technology for Robot Hands
-Realizing a Picking System for Human-independent, Automated Bulk Parts Assembly-
OMRON Corporation (HQ: Shimogyo-Ku, Kyoto. President and CEO: Yoshihito Yamada) has developed the industry's fastest*1 3D vision sensing technology for compact vision sensors to three-dimensionally recognize the position and orientation of target objects. Incorporating this technology with robots will enable fast and accurate assembly of bulk parts by automating the conventional human-intensive process. The commercialization of a compact 3D vision sensor based on this technology is slated for 2020.
The automation of processes such as assembly, inspection and transportation that very much rely on people's experience and senses is imperative amid deepening labor shortage and increasing labor costs of recent years. However, to automate the picking of bulk parts performed by humans in an assembly process, robots need to be equipped with "eyes", and that requires high-speed 3D vision sensing technology capable of instantly recognizing the position and orientation of parts. To this end, both of the two component technologies of 3D measurement to generate 3D images of a shape, and 3D recognition to recognize the position and orientation of the target object need to be faster.
To address this need, OMRON developed a 3D vision sensing technology. This new technology enables high-speed, high-accuracy three-dimensional object recognition and provides a compact and lightweight vision sensor that can be mounted onto robot hands. Whereas measurement by conventional 3D measurement technology using the phase-shifting method*2 requires time since 10 or more images need to be captured, OMRON developed a 3D measurement technology capable of generating a 3D image of a target object in a single shot using a proprietary pattern illumination. In addition, by extending the high-speed 2D search technology*3 it accumulated in the image processing field to 3D, OMRON developed a high-speed object position and orientation recognition algorithm for the 3D recognition technology. These technologies allow for high-speed part recognition for fluid part picking in approximately 0.5 seconds*4. Furthermore, mounting cameras onto compact robot hands became possible as OMRON's proprietary pattern illumination reduced the camera size and weight to approximately 500 g. The 3D vision sensor's visual point can be moved in accordance with the part setup, allowing for flexible picking of parts in various positions and orientations.
OMRON offers this sensor for high-speed, flexible picking systems to realize manufacturing sites where humans and machines work together in harmony.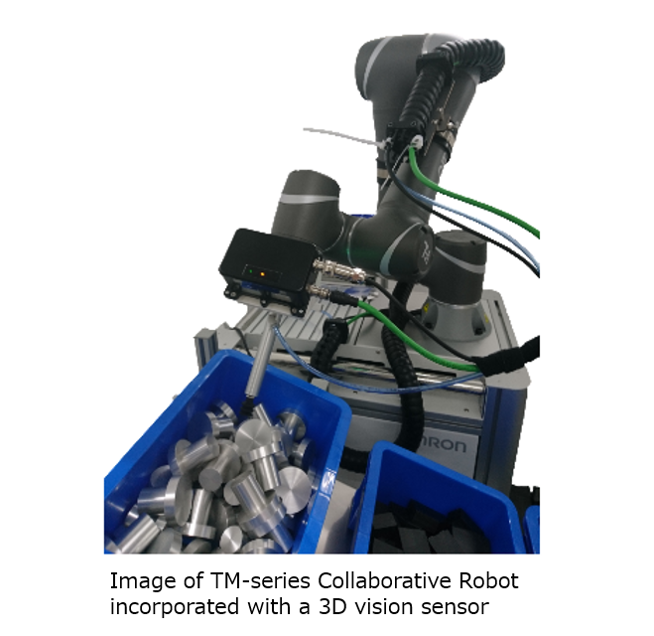 OMRON will unveil a picking system based on the TM-series Collaborative Robot and 3D vision sensor which will contribute to the realization of a flexible manufacturing site where humans and machines work together in harmony, at the "IIFES2019" to be held at Tokyo Big Sight (Tokyo International Exhibition Center) from Wednesday November 27 to Friday November 29, 2019. A further exhibit at "iREX2019" is scheduled at the same Tokyo Big Sight from Wednesday December 18 to Saturday December 21, 2019.
Features of the 3D Vision Sensing Technology
A robot incorporated with a 3D vision sensor can pick bulk parts in multiple parts containers. It takes approximately 0.5 seconds*4 for it to take the image of a part and recognize its position and orientation.
OMRON set forth a concept called "innovative-Automation" consisting of three innovations or "i's"--"integrated" (control evolution), "intelligent" (development of intelligence by ICT), and "interactive" (new harmonization between people and machines). OMRON is now committed to bringing innovation to manufacturing sites by materializing this concept. By realizing flexible and high-speed robot picking with its unique 3D vision sensing technology for robots, OMRON accelerates the materialization of "interactive", which is the key to realizing "innovative-Automation", together with its client companies.
*1. Industry's fastest in industrial 3D vision sensors that, as component devices, perform from measurement to recognition based on OMRON investigation in October 2019.
*2. A method in which a phase-shifted stripe pattern is projected to an object for its measurement.
*3. Noise and variation resistant shape search algorithm to detect objects.
*4. Total time for 3D measurement and 3D recognition under OMRON's specified conditions.
About OMRON Corporation
OMRON Corporation is a global leader in the field of automation based on its core technology of "Sensing & Control + Think." OMRON's business fields cover a broad spectrum, ranging from industrial automation and electronic components to automotive electronic components, social infrastructure systems, healthcare, and environmental solutions. Established in 1933, OMRON has about 35,000 employees worldwide, working to provide products and services in around 120 countries and regions. In the field of industrial automation, OMRON supports manufacturing innovation by providing advanced automation technology and products, as well as through extensive customer support, in order to help create a better society. For more information, visit OMRON's website: https://www.omron.com/.
Contact (media):

Brand Communications Department
OMRON Corporation
TEL: +81-75-344-7175

Contact (product information):

Sensor Division, Product Business Division HQ.
Industrial Automation Company
OMRON Corporation
TEL: +81-75-344-7022