Part 1: The Early Years
Introduction
It is difficult to sum up what OMRON does. To say that we are an electronics company is to exclude a wide range of our businesses. In the same way, it is not easy to describe OMRON's founder, Kazuma Tateisi, in just a few words.
Over the course of his 90 years, Mr. Tateisi was constantly innovating, developing new management techniques and seeking out new challenges and opportunities. But to simply describe him as a businessman is to overlook his deep commitment to societal issues and patronage of the arts. Mr. Tateisi had many interests, ranging from literature and theater to medicine, sports and even fine dining, and was an accomplished painter and musician.
It was Mr. Tateisi's personal commitment to serve society that always inspired him to move forward, often into unexplored areas. He took what he learned from these experiences and incorporated his knowledge into business to stimulate corporate growth. In few words, then, one might describe Mr. Tateisi as a person who was dedicated to making new-even unimaginable-ideas a reality.
Responsibility and independence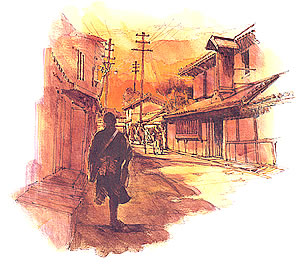 Kazuma Tateisi was born in the city of Kumamoto in western Japan on September 20, 1900, the first son of Kumanosuke and Ei Tateisi. The Tateisis were makers of traditional sake cups that were popular as gifts.
Kazuma lived a normal life until his father's death on March 26, 1908. Without Kumanosuke the family business quickly declined, leading Kazuma's mother Ei to open a boarding house. Although he was only in his first year of elementary school, Kazuma delivered newspapers to supplement the family income. His grandmother, who looked after the children while her daughter-in-law was at work, instilled in Kazuma a sense of responsibility and discipline, and taught him the value of loyalty and independence.
In spite of the hardship he encountered, Kazuma was a mischievous child who enjoyed having a laugh. Reflecting on his youth, Mr. Tateisi once said, "I loved playing and making new friends, which helped me to overcome some difficult times. And while I wasn't always well-behaved, I think my experiences as a child helped me develop strong social skills and a good imagination."
Early work experience and the development of trouser press
After graduating from Kumamoto Technical College (presently Kumamoto University) in 1921 with a degree in electrical engineering, Kazuma acquired a job as an electrical engineer for the Hyogo Prefectural Government. The following year, a friend recommended him for a position at Inoue Electric Manufacturing Co., where he worked on the production of an induction type protective relay based on an American prototype. Kazuma would later apply the knowledge and specialized skills he acquired during this project in establishing OMRON Tateisi Electronics Co. (presently OMRON Corporation).
The Wall Street Crash of 1929 precipitated a worldwide recession that hit Japan the following year. It was around this time that, in response to a conflict of opinion with his superiors, Kazuma submitted his resignation to Inoue Electric and decided to go it alone. He set up a company in Kyoto, Saikosha, to produce his own invention-a trouser press for home use-and threw himself into sales, cycling as far away as Osaka to meet potential customers.
In addition to the trouser press, Kazuma developed a knife-grinder, which he sold from a stall at Toji Temple near Kyoto station. The difficulties Kazuma endured in trying to promote his products taught him the importance of effective advertising and product demonstrations as well as securing sales channels and establishing favorable terms and conditions for business transactions.
HIGHLIGHT
Quotes from Kazuma 1: "Don't say 'I Can't', but rather, 'How can I?'"
OMRON's corporate culture can be summarized by founder Kazuma Tateisi's favorite phrase, "Try it first." Mr. Tateisi always said, "Don't just say 'I can't.' Try and find a way to do it." He believed that the words "I can't" were essentially the same as "I give up," and that it is only through determination and persistence that people grow. Mr. Tateisi often said "Taking on challenges and finding solutions to difficult questions is what being an engineer is all about." It was precisely this approach to challenges that allowed OMRON to grow into the company it is today.