Welcoming robots to your shop floor? Choose the right one!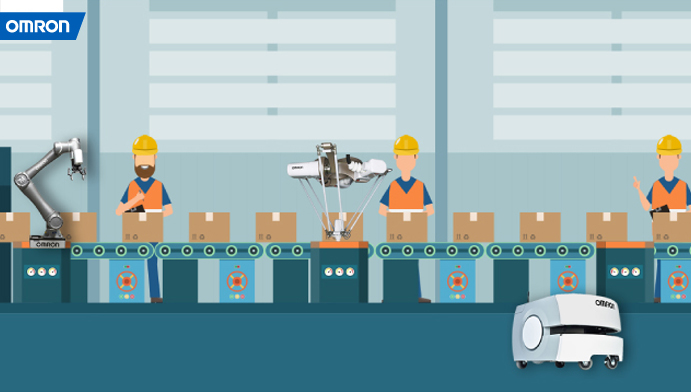 En-route to a networking event in Delhi, one of my colleagues from a non-engineering background curiously inquired about the difference between an industrial robot and a cobot (collaborative-robot) and how do we typically suggest manufacturers which one to go for since Omron has the unique distinction of having both robots and cobots in our product range. I smiled, as I couldn't recollect the last time someone had asked me an equally interesting question. I took a moment and explained to her how industrial robots at sprawling factories such as automotive are kept in enclosures and connected to all the possible safety solutions to eliminate any inadvertent contact with humans and how cobots work alongside the human workforce (almost) sans any enclosures. The common thread is the symphony and harmony between humans and robots/cobots – and this is what fascinates me the most.
Robots vs Cobots
While robots have been around for almost 5 decades, cobots are relatively new with only 15 years of history. It is a known fact that robots require some isolation considering the payload capacity, the tools that they wield (like welding guns, etc.) and speeds at which they operate whereas cobots and humans gel their capabilities complementing each other to solve complex challenges. Cobots are usually lighter, compact, easy-to-operate, and easy-to-train and can be turned mobile too (watch integration of Omron mobile robot and cobot). Industrial robots, on the other hand, have more sophisticated functions designed for complex applications and thus require specialist programming knowledge. For example, consider a biscuit manufacturing line – while cobots' built-in vision and isolating skills could assist a human tasked at filtering out damaged biscuits, the speed of a parallel robot would come really handy in placing the good biscuits in assortment trays.
Safety matters
Industrial robots are generally connected to safety solutions like sensors, laser scanners, light curtains and door locks to eliminate human contact. While cobots are equipped with sensors and force limiters to make them safe around humans, they still require a degree of safety certification. For example, the tool that the cobot is holding may not have any safety sensors of its own and this fact needs to be taken into consideration while commissioning the cobot. One example that comes to mind immediately is the Omron mobile robot which is certified safe to work alongside humans by itself. But, when it is paired with a cart, the cart also needs to have its own sensors to make sure that the entire set is safe. This activity may require specific safety assessments to be carried out.
Who stands where?
Some of the bigger manufacturers in the automotive and FMCG sectors have been the early adopters of robotics (both robots and cobots) with a sizeable lead over MSMEs who are still grappling with the shortage of skilled staff and technology know-how which in turn affects their quality and flexibility. There is enough optimism indicating a better road ahead for MSMEs in the long run as the sector holds immense potential for augmenting the domestic production base of the country which is where the new India is headed towards.
The closing note
Whether you need the high-speed of a robot or amicability of a cobot, innovation and engineering are here to stay. The final word for embracing robotics on your manufacturing line will come after understanding the specifics of your production, calculation of ROIs and of course the willingness to encourage a harmonious relationship between humans and machines.
---
---
---