Purchasing & Procurement
Purchasing Policies
To improve lives and contribute to a better society
OMRON group fulfills social responsibility by promoting comprehensive global Sustainable Procurement including environment as well as compliance with laws and regulations. We also realize valuable products and services and aim for improving customer satisfactions by always procuring best "Items and Services" in whole QCDS (Quality, Cost, Delivery and Service)
To realize it, we established a group purchasing policy which consists of "Basic Policy" "Management Policy" and "Supplier Code of Conduct" when implementing purchasing activity.
We will contribute to realize a sustainable society through supply chain by integrally innovating with suppliers.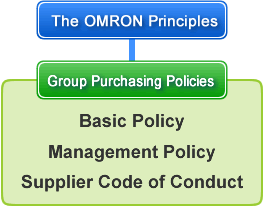 Basic policies
OPEN:

Procurement based on an "open" policy and principle of free competition

Provided they share the same philosophy, we are willing to provide any supplier, regardless of nationality, company size, previous business relationship or lack thereof, and any other status with an opportunity to join us based on the principles of free competition. Positive and excellent suggestions and presentations are welcome.

FAIR:

Importance on partnerships that are based on fairness and equality.

In procuring component materials and services, we will select suppliers in a fair manner by not only taking into consideration product quality, price, delivery period, environmental conservation, technologies and healthy business management, but also by adding such items as compliance with laws, ordinances, and social standards.

GLOBAL:

Reliable global partners

From an international perspective, we will procure outstanding materials, parts and services from sources all over the world, in the optimal regions.
Management Policy
ECOLOGY:

Procurement activities that contribute to reducing adverse impact on the global environment.

We will actively use materials and parts that do not contain hazardous chemical substances, and promote "green" procurement that contributes to reducing any adverse impact on the environment.

COMPLIANCE:

Strict compliance of applicable laws, regulations and social standards by maintaining a high level of morality.

we will strictly observe laws, ordinances and social standards related to procurement and purchasing, and build partnerships with our suppliers. Moreover, we will appropriately manage and protect suppliers' confidential and personal information which we had obtained through our purchasing and procurement activities.
Supplier Code of Conduct (renewed in 2019)
For details, please see the "OMRON Group Sustainable Procurement Guideline".
A) LABOR

1) Freely Chosen Employment 2)Young Workers 3)Working Hours 4) Wages and Benefits 5) Humane Treatment 6) Non-Discrimination 7) Freedom of Association

B) HEALTH and SAFETY

1) Occupational Safety 2) Emergency Preparedness 3) Occupational Injury and Illness 4) Industrial Hygiene 5) Physically Demanding Work 6) Machine Safeguarding 7) Sanitation, Food, and Housing 8) Health and Safety Communication

C) ENVIRONMENTAL

1) Environmental Permits and Reporting 2) Pollution Prevention and Resource Reduction 3) Hazardous Substances 4) Solid Waste 5) Air Emissions 6) Materials Restrictions 7) Water Management 8) Energy Consumption and Greenhouse Gas Emissions

D) ETHICS

1) Business Integrity 2) No Improper Advantage 3) Disclosure of Information 4) Intellectual Property 5) Fair Business, Advertising and Competition 6) Protection of Identity and Non-Retaliation 7) Responsible Sourcing of Minerals 8) Privacy

E) MANAGEMENT SYSTEMS

1) Company Commitment 2) Management Accountability and Responsibility 3) Legal and Customer Requirements 4) Risk Assessment and Risk Management 5) Improvement Objectives 6) Training 7) Communication 8) Worker Feedback, Participation and Grievance 9) Audits and Assessments 10) Corrective Action Process 11) Documentation and Records 12) Supplier Responsibility

F) OTHERS

1) Securing product safety 2) Business Continuity Plan 3) Protection against information leaks 4) Prevention of network security threats 5) Export control management 6) Prohibition of providing improper benefits to antisocial forces (organized crime groups) 7) Employee health management system (EHMS)
OMRON Group Sustainable Procurement Guideline
We made and implement "OMRON Group Sustainable Procurement Guideline" which combined a group purchasing policy including "Basic policy" "Management Policy" and "Supplier Code of Conduct".
* Renamed from "CSR Procurement Guideline" and its contents were also renewed in Nov/2019
Supplier Inquiry
OMRON's policy expresses our spirit to contribute to progress and development of humanity and society through our highly satisfactory products and social actions. We welcome suppliers who can cooperate with us in producing more reliable products.
If you are interested in our business, we kindly ask you to contact us by inquiries form.
Technical questions on products are not accepted here.