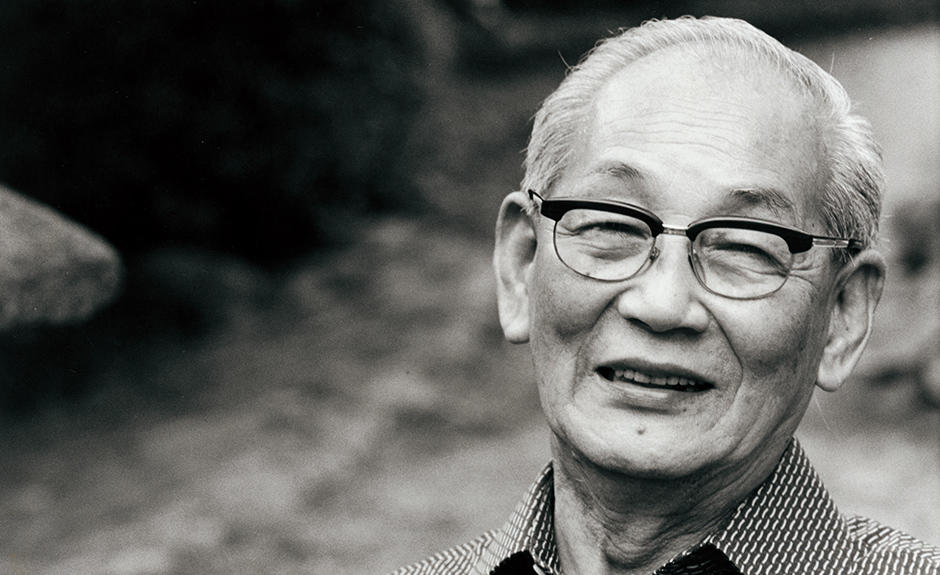 OMRON Taiyo : Embodying the Corporate Motto and Respect for All
A Visionary's Perspective - Unraveling the Innovations and Corporate Management Philosophy of OMRON Through the Thoughts of OMRON's Founder, Kazuma Tateishi : Episode 8
In this series of articles with 8 episodes, we trace the thoughts and speculations of OMRON's founder, Kazuma Tateishi, a rare technologically minded executive, and looks at the background to his growth and business philosophy. In this eighth and final installment, we will introduce Kazuma Tateishi's belief in human potential and his lifelong pursuit of the "the public nature of business", which led him to create "OMRON Taiyo" (*1), the first welfare factory in Japan where there was no working environment for people with disabilities to work in the society.
*1:The company's full name is "OMRON Taiyo Co., Ltd." and the word "taiyo" means "sun" in Japanese.
OMRON Taiyo, Established with the Spirit of the Corporate Motto and the Ever Challenging Mind
Nowadays, we see people with disabilities playing an active role in various workplaces. However, before the 1960s, there were not enough working environments for people with disabilities to work, even if they wanted to. It was during this time that OMRON Taiyo Electric Co., Ltd., (now OMRON Taiyo) was born as the first welfare factory in Japan where people with disabilities could work.
It was an encounter with a certain person that led Kazuma to take a positive approach to employing people with disabilities. That person was Dr. Yutaka Nakamura, a medical doctor who was engaging enthusiastically in the social participation of people with physically disabilities. Dr. Nakamura visited to see Kazuma in September 1971 and offered assistance in building and operating a factory specialized in the rehabilitation of the severely physically disabled.
Dr. Nakamura was passionate about promoting social participation of people with physically challenged through work and sports. In particular, he believed that getting a job was the most important for their independence. His passion can be seen in the fact that in 1965, he invested his own private funds to establish the "Social Welfare Organization, Japan Sun Industries". He became the chairman of the organization, devoting himself to vocational training for the severely disabled. His motto was "Even if there are persons (children) in the world with physical or mental disabilities, they should not have to face barriers at work".
Dr. Nakamura, who is also known as the "Father of the Japan Paralympic," was the first person in Japan to incorporate sports into the rehabilitation program for people with physically disabled and promoted them to play sports.
Thanks to his efforts, Dr. Nakamura was able to reintegrate 400 people with severe physical disabilities into society over a period of five years, but at the same time, he was troubled by the fact that only 10 percent, 40 people of them were able to work in the companies. The reason for this was mostly due to the mind of the companies that they cannot accept the people with disabilities and the difficulty of commuting.
That is when Dr. Nakamura came up with the idea of establishing a "welfare factory" later known as "factory with wheelchairs". This was a factory equipped with dormitories for both single and family members to live. People with severe disabilities could go to work without commuting. However, even he visited more than 200 companies from medium-sized to large asking for their cooperation, none of them accepted it. They were all reluctant because they thought it was too risky.
In such a situation, Dr. Nakamura visited Kazuma with this proposal. However, this was not easy for OMRON to accept. At that time, OMRON was already in the process of building three new factories, and it was right after the dollar shock that hit the Japanese economy. The company was not in a position to take on the project as a new venture.
Nonetheless, Kazuma sympathized with the philosophy of Dr. Nakamura, the founder of Japan Sun Industries, and decided to establish "OMRON Taiyo" bearing the names from the both organizations. This decision was based on the spirit of OMRON's corporate motto, "Contribute to a better society" and Kazuma's creed of never taking the easy way out and always taking on difficult challenges. He was particularly emphasized on the fact that this project was not a charity, but an opportunity for people with disabilities to work and for their independence by utilizing their abilities. He believed that a "better society" would be one where people with disabilities could work as others.
Profitable From the First Year by Covering Handicaps with Automation
At that time, there were not enough environment for people with disabilities to work. Therefore, Kazuma introduced the concept of automation, in which OMRON is specialized, into the OMRON Taiyo factory. In other words, "To the machine, the work of the machine." He then instructed engineers to create a production system that would make easier for people with physically disabilities to work. They and employees of Tateisi Electronics' Production Engineering Center worked together and created auxiliary equipment.
In this way, a system that can be operated by foot pedals for those with hand disabilities, or by elbow buttons for those with both hand and foot disabilities, was prepared. Improvements were made to suit the characteristics of each disability.
OMRON Taiyo was established in 1972 and began operations in April of the same year. The comapny was managed in a way that disabled workers were not given special treatment and they worked under the same conditions as in other factories. However, Kazuma knew that other factories also had deficits in the early days of their establishment, so he assumed this also will be deficits for a couple years.
Contrary to expectations, OMRON Taiyo achieved profitability as early as August of that year and the defect rate of deliveries was significantly lower than other factories. There were two reasons for this.
First, there was Dr. Nakamura's strong belief and guidance. Based on the idea of "Don't count what you have lost, make the most of what you have left". He did not over protect the disabled but encouraged their reintegration into society without giving them any special treatment. As a result, the severely disabled employees of OMRON Taiyo developed a spirit of autonomy, which clearly led to their good performance.
Second, there was the passion of the employees. Kazuma set the capital of OMRON Taiyo at 5 million yen instead of 50 million yen as the ordinary factories, he encouraged people with disabilities to become shareholders so that they would feel a sense of participation in the management of the company. For the first time, people who had previously been pitied as socially vulnerable, were in a position to work like others without any disabilities, get a monthly salary, pay taxes, and even participate in the management of the company by becoming as shareholders. This changed their mind, and they felt a sense of joy and motivation to work, which was another driving force behind the company's rapid growth.
There is an episode that people with disabilities who had been fed by taxes in the past, were emotionally moved to pay taxes. This shows how OMRON Taiyo made them happy through giving an opportunity to work. Some of them kept their first tax receipts as a memento.
Through this experience, Kazuma became convinced that the greatest happiness for the disabled is not to be generously protected by taxpayers, but to have a place to work and live independently.
Employment of People with Disabilities Expanded from OMRON Taiyo
With the creation of OMRON Taiyo, people with disabilities became taxpayers and joined the ranks of working people in both name and reality. It was truly an event that illustrated the Company Motto, "the public nature of business". In addition, the fact that the company succeeded in taking on a "welfare factory" taking high risks, which 200 companies were reluctant to do, is the result of the efforts of Kazuma, who always believed in the potential of people in his management.
As a result, the success and achievements of OMRON Taiyo have been greatly appreciated in the industry. Since then, Sony Taiyo Corporation, Honda Sun Co.,Ltd., Mitsubishi Shoji & Sun Co., Ltd., DENSOTAIYO CO.,LTD, OMRON Kyoto Taiyo Co.,Ltd., Honda R&D Sun Co.,Ltd., and FUJITSU FSAS & SUN LTD. have been established one after another, greatly increasing employment opportunities for people with disabilities.
Kazuma later said,
"My belief and conviction that I have gained from reflecting on my life is that 'People who do the most for others will become the happiest people'." It is natural that every human wants to be happy. However, if you try to make only yourself happy by pushing others away or dragging them down, you will never be happy. Instead, make your wife, husband, parents, brothers and sisters, friends and colleagues happy, you will also be happy in the midst of happy people without noticing. Afterall, happiness is not something that can be grasped directly. Making other people happy and seeing it make you feel happy. If everyone around you is happy, then naturally you will be happy before you know it. This will also lead to business. In other words, the priority is on the services that company provide and customers. Without this, there will not be prosperity for the company, and without prosperity for the company, there will be any mutual happiness. And here, at last, my life lessons and management philosophy perfectly matched."
OMRON Taiyo creates a business that makes people with disabilities and even also Kazuma himself happy. This leads to the prosperity of the company and contribution to the society, thus proving the concept of "the public nature of business".
Inheriting the philosophy of Kazuma, OMRON will continue to work toward the creation of happy lives for people all over the world based on our corporate motto, "To improve lives and contribute to a better society."
People who do the most for others will become the happiest people