Workstyle Transformation Project – Why is OMRON revamping its offices across Asia Pacific?
OMRON has completed 90 years globally, out of that OMRON has been working in the Asia Pacific region for 50 years. Throughout the years and across the regions, the organization has always believed in providing staff with a progressive work environment, led by principles to enable them to reach their full potential. With an unwavering commitment towards work ethics, employees in leadership roles have always thought about maximizing human resource output by understanding their needs whilst also examining the environment to understand the latest trends and concerns.  

Owing to the progressive management style, leaders recognized the dire need for revamping the office designs in the year 2020, to be in sync with current work practices. The onset of the pandemic propelled this need further, particularly with the popular adoption of the remote working format.

The Human Resources division led this Workstyle Transformation Project, with 'Communication & Collaboration (COCO) as the underlying theme driving the planning and implementation of the project. Employee input was prioritized in all things, right from policy changes to understanding their favorite snacks. 

The transformation was carried out with three core objectives:
1) Workplace transformation: to revamp the office designs to create a more engaging & vibrant work environment for all employees.
2) Workstyle digitalization: use of digital technologies to improve work process efficiency.
3) Work-life balance enhancement: to maintain policies that assist employees in achieving a better work-life balance to maintain a happy and well-motivated workforce to facilitate efficient working.
How are the new offices different?

- The new setup introduced staff to the concept of hot desking, this allows top management, as well as OMRON employees from various divisions, to sit shoulder to shoulder. The organization believes this will result in the breaking down of silos and improved engagement, resonance, and communication, demonstrating a commitment to open culture and diversity, equity, and inclusion.
- With attractive aesthetics and amenities, employees feel motivated and encouraged to spend time in the office, which OMRON believes is critical to strengthening team bonding.
- The revamped offices are more environmentally sustainable with the help of smart lighting in meeting rooms and phone booths. 
Here's how the new offices look: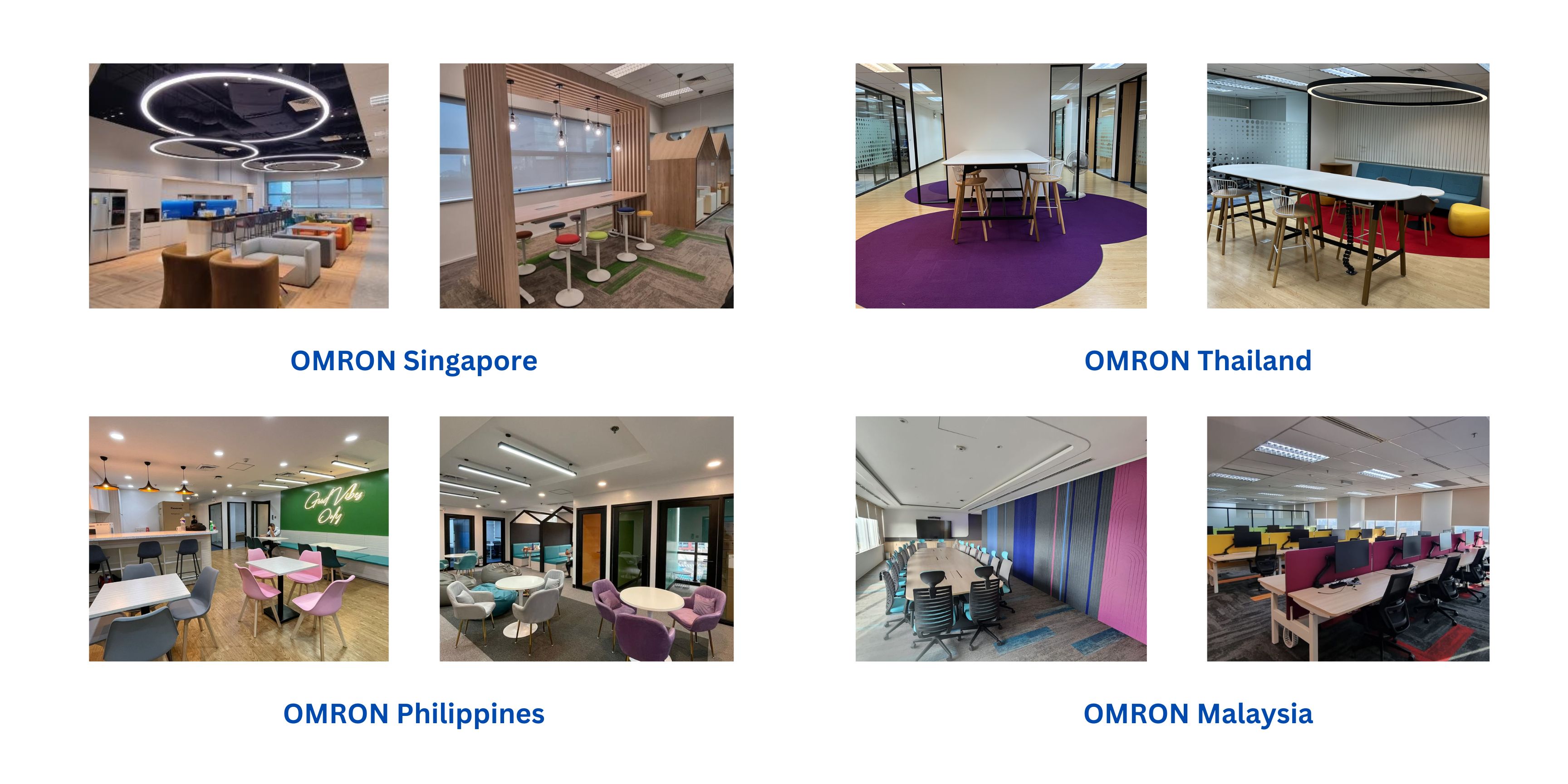 The transformation at OMRON Singapore, Thailand, Philippines, and Malaysia has been well-received by the employees and the management with the desired goals now falling within the realm of possibilities. 



---
---
---