OMRON Automation India's Trailblazing Thought Leadership in Dynamic Event Engagement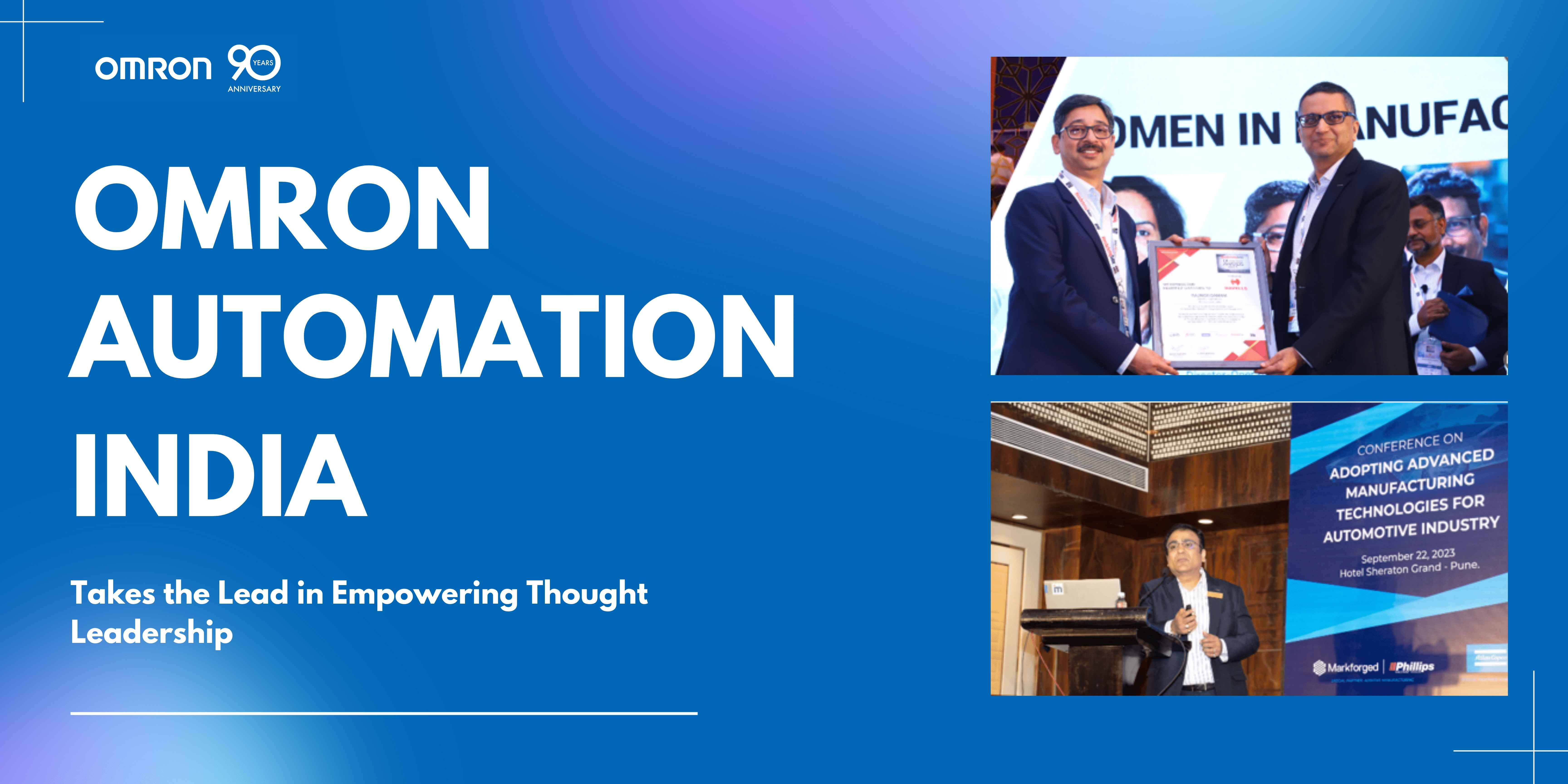 In an ever-evolving landscape, OMRON Automation India continues to be at the forefront of industrial automation, driven by a commitment to align with the dynamic needs of India's manufacturing sector. The organization consistently showcases its thought leadership through active participation in a diverse range of events, making waves in the industry:


1. Mototech 2023, September 22, Pune, India: An automotive industry focused conference, conceived to deliberate over the adoption of advanced manufacturing technologies. OEB came on board as "Automation Partner" and had a great opportunity to connect with car & part makers, machine manufacturers, players from EV components & battery segment and industry bodies. Mr. Bhavesh Mehta, Head – Sales, OEB, participated as a speaker for the session: "Smart Manufacturing: Fuelling the Automotive Growth Trajectory". An OMRON product showcase to display Robotics, Vision & Safety solutions and i-BELT was also arranged.
2. Manufacturing Today 11th Conference & Awards, Mumbai, India, Sep 27, 2023:  The conclave brought together professionals, industry experts, and technology providers to discuss the latest trends and developments in the manufacturing sector and to also recognize noteworthy achievements. OEB leveraged this platform by partnering as a "Knowledge Partner" to showcase its automation solutions, including Temperature Controller & Components Demo Kit (Timer, Relay and Temperature Controller). Attendees, hundreds in number and belonging to industries such as Automobile, Steel, Chemical, Logistics, IT & Technology, had the opportunity to interact with the OEB team and explore how automation can transform their businesses. Mr. Sameer Gandhi, MD, OEB, fecilitated  numerous winners and motivated them to continue to innovate.
3. Confederation of Indian Industry (CII)'s 7th edition of AUTOMOTIVE INDUSTRY 4.0 SUMMIT 2023, September 29, Delhi: Focusing on four themes "Integrated, Connected, Autonomous, and Digital", the annual event witnessed a good turnout from the automotive manufacturing and ancillary industries. Mr. Sameer Gandhi, participated in the session "Advances in Production Technologies – Readiness of Indian Ecosystem for Factories of the Future" as one of the key panelists. "Embracing the integrated solutions approach and not a piece-by-piece approach is the key towards transforming into a smart automobile factory. By seamlessly merging various automation technologies and processes, manufacturers can transform their facilities into smart automobile factories that enhance productivity, efficiency, and deliver better quality at a faster speed enabling them to gain overall competitiveness.", he said during the conversation. The team also put up a display of their robotics offerings for the automotive sector.
As OMRON Automation India continues to excel in various events, it reinforces its position as a thought leader and a driving force behind innovation in the industrial automation landscape. The company's dedication to dynamic event engagement underscores its commitment to staying ahead of the curve and actively contributing to the growth of the manufacturing sector in India.
---
---
---