At the IoT World 2022, OMRON Showcases Wireless Weather Sensor and IoT Gateway for the First in the U.S.

Global technology leader OMRON Corporation is showcasing its technology designed to solve labor shortages at the IoT World 2022 & The AI Summit Austin (November 2,3).
At booth #312, OMRON will exhibit IoT devices, a wireless weather sensor, and an IoT gateway for the first time in the United States. These collect accurate data, connect to the cloud with stability and create solutions to expand automation in our daily lives, which realize OMRON's long-term vision "SF2030*, empowering people through automation". Visitors can experience the realization of smart agriculture and cities through these products through visualization of current weather conditions/situations of the site and utilize data for accelerating efficiency to reduce manpower work. OMRON's Sensing & Control + Think technology and our 80 years of business with customers offer this solution with easier use to implement and reliable quality assurances.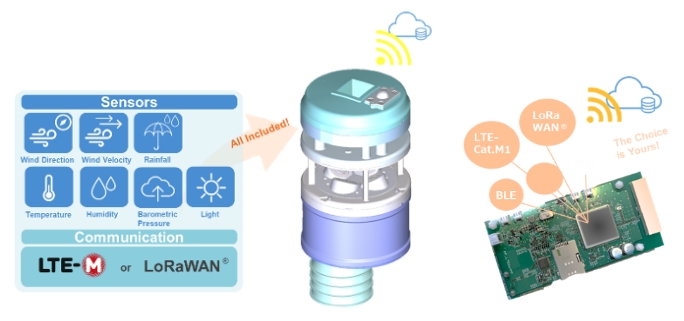 Products Image (Left: Wireless Weather Sensor, Right: IoT Gateway) *Under Development
OMRON will continue to create and globally provide solutions based on advanced devices and modules to solve social issues through its customers' products and services.
<Contents of Exhibition>
① Wireless Weather Sensor: Solution to Solve Climate Change Issue with Spot Weather Data and Realize a Resilient Society
Customers can monitor more specific and accurate data of weather/environmental conditions in real-time and remotely by applying only this one sensor. This sensor includes seven functions (temperature, humidity, light/illumination, wind speed, barometric pressure(pa), wind direction, rainfall) and network in one package, anyone, regardless of technical knowledge, can easily adopt this solution. Utilizing data lead to creating countermeasure to minimize weather risks and utilize for business opportunities.
Application
● Smart Agriculture
Create suggestions for the appropriate time to plant such as fertilizer, and water, and create an optimal environment for plants to grow autonomously. This result in improving the efficiency of manual work and reduce the workload. In addition, customers can prepare before the sudden high wind and other weather risks.
● Smart City
Give notifications and suggestions to the drivers before the heavy rain or storms. Drivers can be prepared beforehand and avoid the risk.
● Efficient Energy-saving Infrastructure
Predict the amount of power generated and control power generation efficiently. This leads to creating a countermeasure to maximize the use of energy and minimize energy loss.
② IoT Gateway: Accelerate adapting IoT solutions to our daily scenes, improve the efficiency that reduce manpower work
IoT Gateway builds a stable/reliable network that connects sensors/devices to the Cloud. OMRON has developed various lineups and hardware/software platforms that customers can easily and freely customize functions that leads to faster and easier development of IoT solutions. Customers can select an interface from four different patterns, networks, and power supply of each and customize the specifications based on their developing condition.
Application
● Agriculture
● Infrastructure
● Factory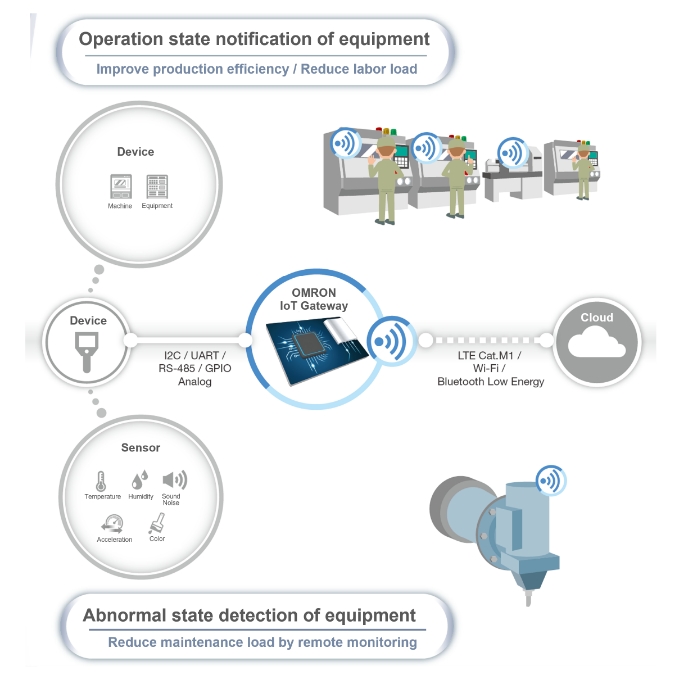 ● Transportation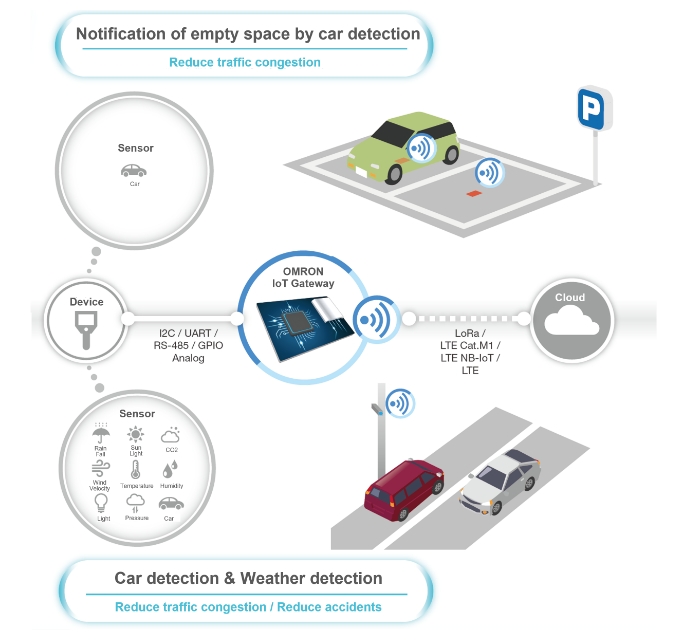 For More Information: https://components.omron.com/us-en/solutions/iot-gateway
<Exhibit Overview>
Date:
November 2, 2022, Wednesday (8.00am – 5.30pm)
November 3, 2022, Thursday (8.00am – 5.30pm)
Place:
booth #312, Austin Convention Center (ACC) 500 E Cesar Chavez St, Austin, TX 78701, United States
*SF2030(Shaping the Future): OMRON's Long Term Vision
About OMRON Device&Module Solutions Company
Since OMRON's foundation in 1933, we have continued to refine our technologies for safely and reliably connecting and disconnecting electricity and have contributed to people's daily lives and the development of society through devices such as high-performance relays and switches. For more detail:
https://components.omron.com/us-en/about/corporate
Contact from Media

OMRON Corporation
Brand Communications Department
Marketing Communications Group
Tel: +81-75-344-7175

Contact about our business

OMRON Corporation
Device & Module Solutions Company
Contact Us