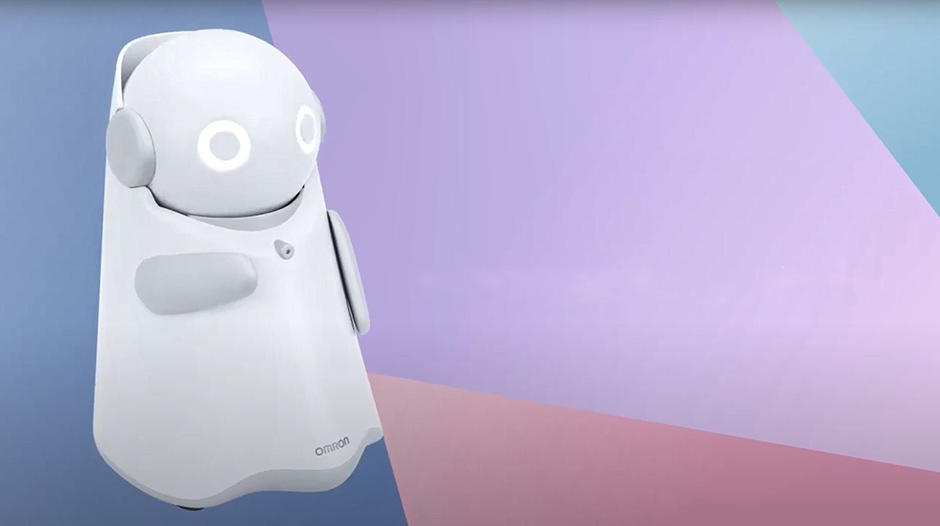 "New Normal" Railway Station Services by realizing "Station Automation"
Solving Social Issues during the COVID-19 Pandemic (6)
The outbreak of COVID-19 early this year has left lingering effects in every facet of our society. To prevent the spread of the virus, creating crowds around passenger support desks at train stations needs to be avoided, which has given rise to the need for non-face-to-face customer services to ensure the safety of both railway station staff and passengers. Since installing the world's first unmanned train station system in 1967, OMRON has long been involved in the provision of station operation systems and supported their implementation. Currently, OMRON is working closely with railway operators to conduct demonstration experiments to automate various station services. This article introduces OMRON's initiatives to realize "new normal non-face-to-face railway station services" in the "with-corona" era.
A Station Guide Robot Responding in Four Different Languages
A 30cm-tall object sits at the central ticket gate of Keio Railway Shinjuku Station--It's a station guide robot developed by OMRON SOCIAL SOLUTIONS Co., Ltd. (OSS). Capable of communicating with Japanese-speaking as well as foreign passengers, this tiny robot responds to all sorts of inquiries from passengers about train services (connections and fares), station layouts (where bathrooms are), and information about the vicinity via voice navigation and character and graphic displays.
Initially serving passengers in Japanese only, the robot now offers services in the four languages of Japanese, English, Chinese, and Korean, allowing passengers to ask questions in the language they choose on the touch panel. It has since evolved to incorporate an automated language identification function. Since the robot automatically recognizes their language and responds, passengers have only to speak to the robot and need not manually choose a language. These functions allow passengers to make inquiries in a non-face-to-face and non-contact manner.
Test trial at Shimo-kitazawa Station on Keio Railway Inokashira Line in March 2019, our robot changed the workplace to Shinjuku Station to deal with foreign passengers visiting Japan for the Rugby World Cup in September 2019. Our first station guide robot has since been busy interacting with an array of passengers.
OMRON Station Guide Robot at Shinjuku Station on Keio Railway Keio Line
Robots that Can Truly Substitute Human Staff at Railway Stations
Taking charge of this project was Tomomi Ogushi, who is affiliated with the Station Management Business Promotion Department of the OSS Social Solution Business HQ.
"We are proud of what we have developed. In addition to responding to various inquiries from passengers by speaking and showing characters and graphics on its display, our first station guide robot nods as it speaks and gesticulates by rotating its body and moving its arms. Capable of having natural conversations, it is quite lovable. Equipped with a voice-interactive artificial intelligence engine, it learns as it interacts with many persons until it becomes capable of having conversations with humans. Foreign passengers who used the service gave us compliments on its proper responses. Elderly persons and children seem to love the robot's adorable character design, and many of them speak to the robot. Working hard every day, it has become a brand new station service," comments Ogushi.
As might be expected, Ogushi's team had to go through a series of trials and errors as the robot needs to "hear" the voice of the person who is speaking to it in the ambient environment unique to train stations.
"To be sure, we were able to overcome the challenges primarily because we shared the same motive in developing station guide robots with our Planning and Development teams and external partners. Our goal was not to merely develop a basic station guide robot, but instead, we all wanted to create robots that could truly substitute railway station staff. We all fell in love with this idea and chased it. As a result, station guide robots were developed in fiscal 2018 and then put to trial operation at Shimo-kitazawa Station. Now, our robots are working at Keio Shinjuku Station and an another station."
Tomomi Ogushi
Station Management Business Promotion Department
OMRON SOCIAL SOLUTIONS Co., Ltd.
A Chatbot Answering Inquiries Sent via Smartphones
Meanwhile, railway operators are offering a broader range of services that users can avail themselves of without having to visit stations. Just send inquiries about station services, such as "Where should I change trains?," "I left something on a train," or "What are children's fares?," via a smartphone, and a chatbot will answer them instantly. This online chat conversation software uses AI specific to station services, which has been developed by OMRON with its ample knowledge in this field, and automatically replies to inquiries that users send via their smartphone. It is used for Sotetsu Line App, which is offered by Sagami Railway Co., Ltd.
When an inquiry is received via the app, the chatbot uses its interactive algorithm on station services to determine what necessary elements are missing or excessive in the user's text. The chatbot constructs an adequate response by asking the user for any piece of information that is deficient. Conventional chatbots often get stuck because they don't understand questions if put differently from what they expect. With deep learning and natural language processing techniques, however, their chatbot has successfully solved this issue.
Preparing for the New Normal Era
Both the station guide robot and the chatbot were initially developed with the aim of enhancing the general quality of diversifying station services, but they are attracting renewed public attention for their advantages in the new normal era; users can avail themselves of the services without having to interact with railway station staff or manipulating station equipment. OMRON will apply the technologies and knowledge gained through these demonstration experiments to not only station guide robots but also digital signage and next-generation station service equipment. OMRON will continue its various initives to achieve the further automation of station services.