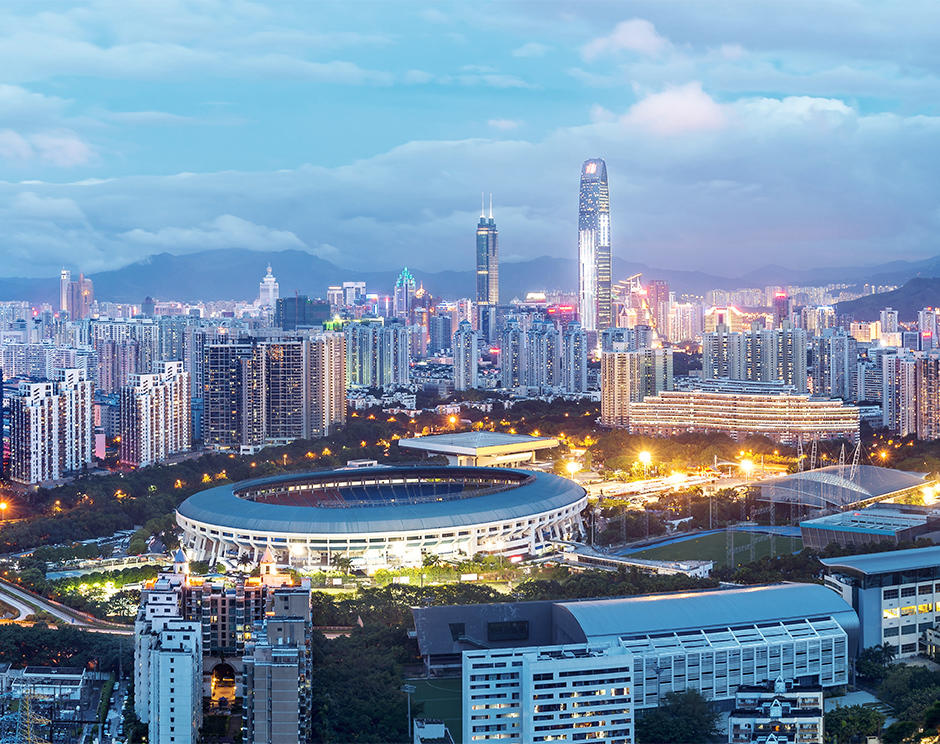 OMRON China Takes Up the Challenge: Supporting BYD, which has become one of the World's Largest Mask Manufacturers
Solving Social Issues during the COVID-19 Pandemic (3)
As COVID-19 raged through China in January 2020, the shortage of masks and other protective equipment quickly grew widespread. BYD, one of China's top manufacturers of electric vehicles, with more than 220,000 employees worldwide, announced that it would begin producing masks in late January, and embarked immediately on design of the production line. Today, BYD boasts a daily production capacity of 100 million masks, which it supplies to customers all around the world. This initiative was a first for BYD, and they worked together with OMRON to enable an early start to the production of masks, which were in short supply globally at the time. In this article, we outline how OMRON China approached this challenge, which demanded tremendous speed and scale to halt the spread of the virus.
BYD's main line of business is the manufacture of EVs and the batteries and electronic systems that are key EV components. Despite having no previous experience in producing masks, it was able to draw up 400 designs for the production facilities in just three days, and the facilities were developed and built in a further seven days. Less than a month overall saw the completion of a production line that runs 100 devices. By mid-May, daily production capacity had exceeded 50 million masks, and today, BYD has become one of the world's largest mask manufacturers with 1,800 production lines capable of turning out 100 million masks every day.
In advancing this massive project, OMRON faced two key problems. One was that the pandemic made it impossible to visit customers, talk to them in person about their needs, check how things were going onsite, and identify problems: all tasks that are a matter of course under normal conditions. The second problem was to ensure timely supply of the automation devices required for the production lines, when factory operations and logistics were subject to restrictions.
BYD's mask production lines use OMRON core technologies and industrial automation devices for the control of mask sheet tensioning, cutting, and packing. Because customer visits were not allowed, technical staff of the automation center, which works with customers to solve problems on the factory floor, joined forces with sales staff to provide attentive support through online video meetings and telework, enabling plans to be followed through and technical problems to be solved.
Products had to be delivered within three to five days from receiving a large order. Sales, production and logistics staff coordinated an emergency response that enabled these quick turnarounds to be met. When they were difficult to meet delivery deadlines due to component shortages resulting from factory closures among business partners, they solve such problems by finding substitute components in time to meet deadlines.
What assisted OMRON China's sales staff Hongyi Zhang navigate through the challenges of the pandemic was the OMRON core value of "A company has an obligation to serve society." This value expresses the conviction of OMRON's founder, Kazuma Tateishi, that serving society is what gives a company its true value, enables it to generate profits, and continue live upinto the future. This idea is carried forward today as one of the OMRON Principles.
BYD's masks have obtained CE marking in the EU, as well as Emergency Use Authorization (EUA) from the US Food and Drug Administration (FDA), and certification from the US National Institute for Occupational Safety and Health (NIOSH). Having satisfied the emergency epidemic prevention needs within China, BYD masks are now exported to Japan, the US, Italy, Brazil, and other countries and regions with severe epidemic situations.
Zhang has this to say: "BYD is now one of the world's largest mask manufacturers, and all of its production lines were made in-house. They produce N95 masks, KN95 masks, and flat masks, and can fill high-volume demands. OMRON controllers are used in all of BYD's mask production lines. We hope to contribute to society by helping to prevent the spread of COVID-19. We will continue to discharge our corporate social responsibility by putting the OMRON Principles into practice."
Hongyi Zhang of the Sales Engineer, OMRON China,
Who Was in Charge of This Project
Related Contents