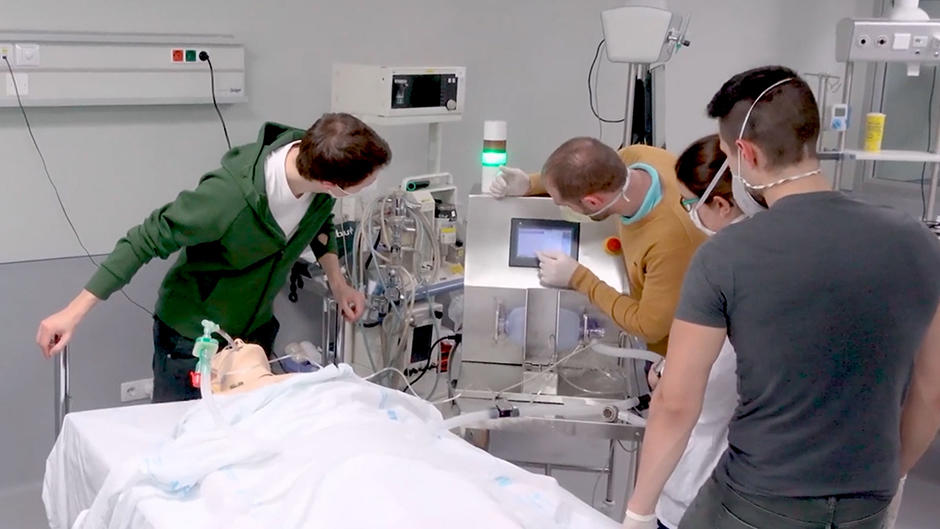 Members of OMRON in Spain contribute to an open ventilator development project
Solving Social Issues during the COVID-19 Pandemic (1)
As of June 15, 2020, more than 7.8 million coronavirus cases have been confirmed globally, and over 430,000 people have lost their lives to the infection. Many people have asked themselves what they can do to help. Employees of OMRON around the world, too, have been looking for ways to contribute to our global society's struggle against this terrible disease. This article tells the story of one such group in Spain, a country hit hard by the crisis, working to solve the social issues in countries that lacked sufficient ventilators.
It Began with a Single Engineer
When Raul Nicolas, Robotics Solutions Engineer at OMRON EUROPE, learned in mid-March about the rapid expansion of the virus and the seriousness of the situation in Spain, he began to look for something he could do to help his country. He found a non-profit project seeking to develop a new ventilator in a short amount of time. At that time in Spain, hospital ICUs were packed and many people were losing their lives due to a lack of the ventilators necessary for treatment. It was essential to increase the supply of ventilators as soon as possible to provide them to hospitals in need.
Raul thought using OMRON's factory automation (FA) technology, he could develop a high-functioning, reliable medical-grade ventilator which could measure air pressure and flow in real time to provide an appropriate amount of oxygen adding a machine learning feature. However, he was unsure whether a FA engineer with no experience in the field of medical devices such as himself could truly contribute. His concern quickly became a driving need to act, and when he shared his thoughts with three of his colleagues, they all supported his idea and threw their hats in the ring.


From left Raúl Nicolás, Roberto Ruiz, Julián Carrillo, Marcos Larralde
A Ventilator Developed with FA Technology
As cases in the country spiked, Raul and his three colleagues from OMRON joined the project from March 23, commuting day and night to the university. The project involved specialists from fields such as medicine, mechanical engineering, law, computer, design, and data analysis and all are collaborated to build the project. The four OMRON employees' main task was to help university project members with the design, development, and programming of FA devices. They also provided the group with premade FA devices and necessary electronic components. This intense focus and collaboration led to the development of a new ventilator in a record time of only two weeks. After successfully passing tests to ensure that all regulations had been followed and confirm the device's safety, it became the first medical device of the pandemic to be approved by the Spanish health authorities. Mass production of the ventilator was readied to not only help patients in Spain, but also in other countries where ventilators were in short supply. Currently, the ventilators are being introduced for testing in South American countries where COVID-19 is raging, and more than 50 units have already been donated to Ecuador. OMRON's group company in Brazil is also studying ways to supply them in that region.
About their efforts, Raul says: "I was initially anxious as to whether we, FA engineers could meaningfully contribute to a project aimed at developing a medical device. It was OMRON's corporate motto "To improve lives and contribute to a better society" that pushed us forward despite our concerns. I realize now more than ever that it's at times like these when companies have gone above and beyond to make that contribution."
Raul and his three colleague's efforts are a testament to OMRON's dedication to making a contribution to society. The actions of individuals can lead to solving social issues that transcend national borders. OMRON will continue to act in accordance with our corporate philosophy in order to fulfill our role as a responsible member of this global society.