At RE+ 2023, OMRON Showcases EV Charging Solution of Autonomous Charging and Energy Management Module for the First Time in the U.S.
OMRON Corporation is showcasing its solution designed to realize carbon neutrality at RE+ 2023 in Las Vegas (September 11th-14th). At booth #16040, OMRON will exhibit for the first time demonstrations of EV Autonomous Charging Solution using ToF sensor and Energy Management Module that can accurately measure and manage power usage for EV chargers and demand response systems. These solutions will contribute to widespread of EV charging services and in addition, we will exhibit sensing devices and high-capacity relays with low heat generation that will contribute to the spread of clean energy.
Image of EV Charging Solution of Autonomous Charging
(Left: Solution image, Right: TOF Sensor) *Under Development
RE+ is an exhibition that reflects an ongoing entrepreneurial approach to renew best practices across the clean energy landscape as the marketplace evolves. In OMRON's long-term vision "Shaping the Future 2030(SF2030) *1, we focus on creating value and solution for "achieving carbon neutrality". To leverage its Sensing & Control + Think technology*2 and 90 years of business with customers, we create solutions with easier use to implement and reliable quality assurances. In addition to solution for widespread of EV charging service, we will exhibit a wireless weather sensor and an IoT gateway. Combining them realizes collecting accurate data, connect to the cloud with stability, and create solutions to expand automation in our daily lives.
OMRON will continue to create and globally provide solutions based on advanced devices and modules to solve social issues with customers and continue to contribute to the development of society.
<Contents of Exhibition>
① EV Autonomous Charging with ToF Sensor: (Under Development)
Using ToF sensor and AI based solution realizes autonomous chargers to detect and plug the charger into the port of the EV. This automated solution could shorten the time of charging and provide a more convenient and hands-free charging experience.

② Energy Management Module: (Under Development)
It can remotely control the use of power and measure electricity usage. The compactness of module enables easier to install in individual EV chargers, distribution boards, and other applications. In addition, energy management functions can be added by simply installing this module.

③ Wireless Weather Sensor: Collect Spot Weather Data and Realize a Resilient Society: (Under Development)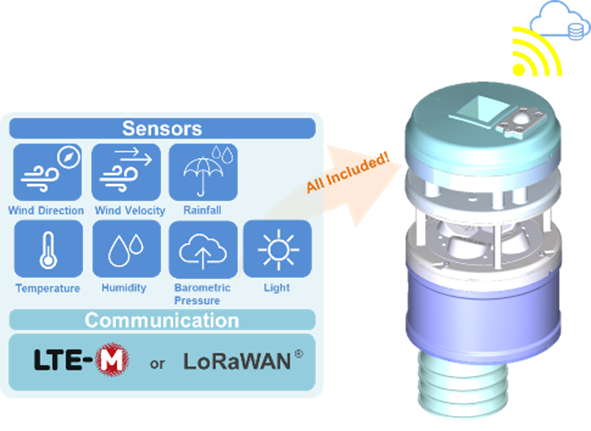 It is a compact and high-performance weather IoT sensor that can observe seven elements every minute: air temperature, humidity, atmospheric pressure, rainfall amount, wind direction, wind velocity, and illuminance. It can visualize on-site weather conditions using the high-performance weather IoT sensor and communicate weather changes as quickly as possible through wireless communication, so it can be used for corporate safety measures and productivity improvement in energy infrastructure, agriculture, construction, drones, logistics, sports, electric power, food retail, apparel, and other industries.
Application
④ IoT Gateway: Accelerate adapting IoT solutions to our daily scenes, improve the efficiency that reduce manpower work: (Under Development)

IoT Gateway builds a stable/reliable network that connects sensors/devices to the Cloud. OMRON has developed various lineups and hardware/software platforms that customers can easily and freely customize functions that leads to faster and easier development of IoT solutions. Customers can select an interface from four different patterns, networks, and power supply of each and customize the specifications based on their developing condition.
Application
● Agriculture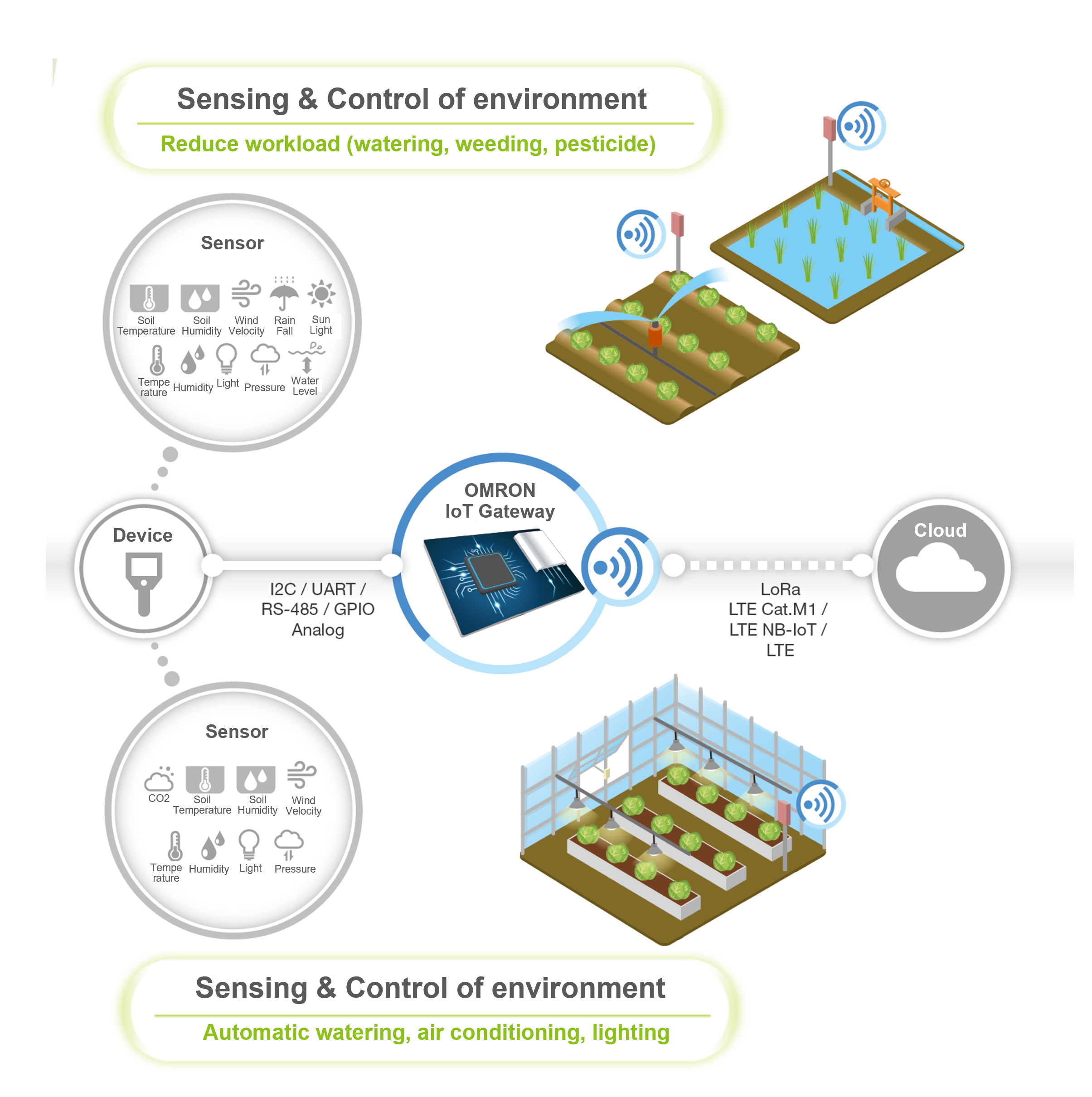 ● Infrastructure
● Factory
● Transportation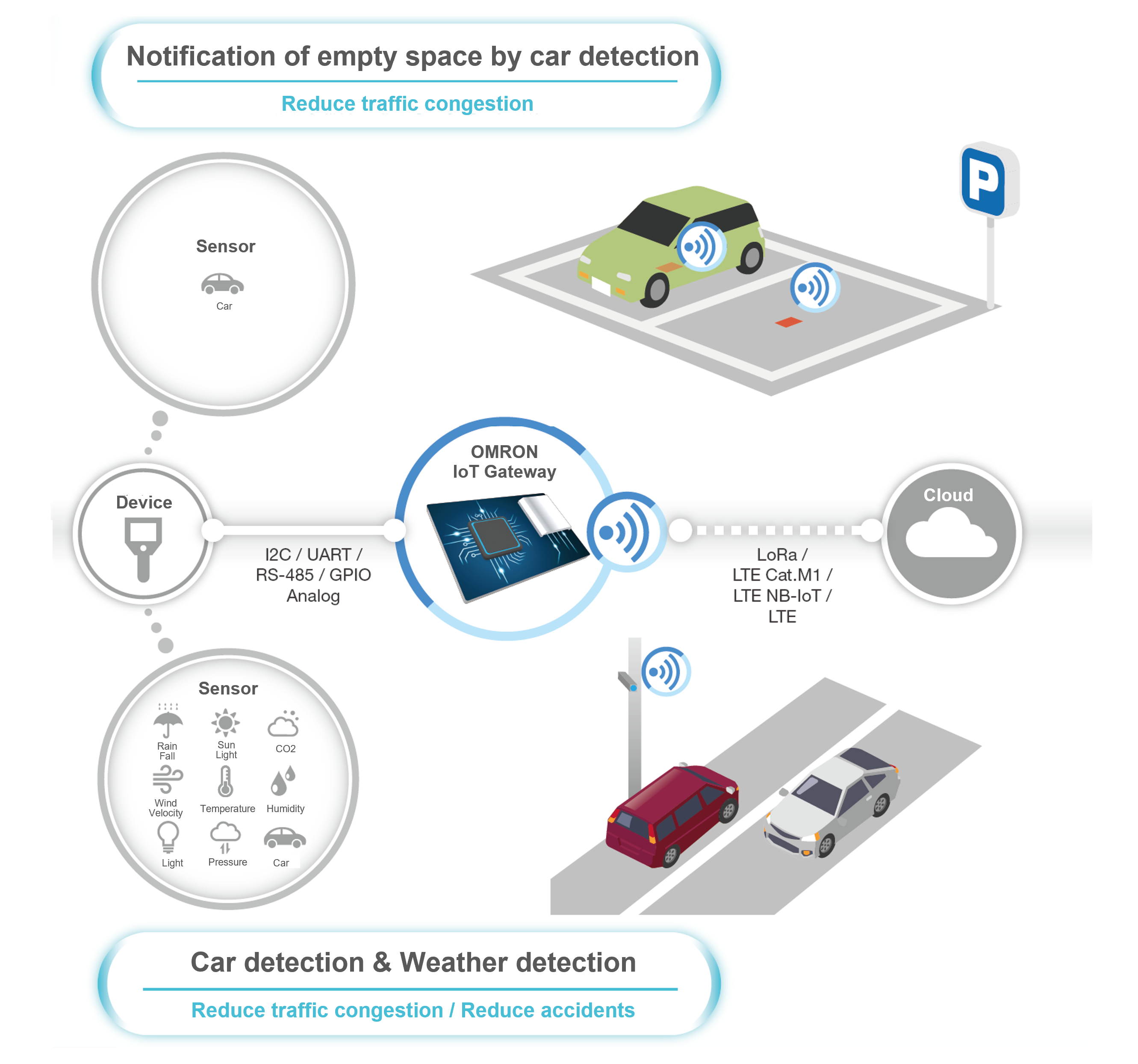 For More Information: https://components.omron.com/us-en/solutions/iot-gateway
⑤ High-capacity AC/DC Relays:
OMRON's technical expertise resulting in high-capacity relay with low heat generation contribute to widespread of clean energy application including PV inverter and Energy Storage System.
For more information: https://components.omron.com/us-en/solutions/relays/pcb-power-relays
<Exhibit Overview>
Date:
Tuesday September 11, 2023 (8:00am – 5:00pm)
Thursday September 14, 2023, Thursday (8:00am – 5:00pm)
Place:
booth # 16040, The Venetian Convention and Expo Center, 201 Sands Ave, Las Vegas, NV 89169
Website:
https://spi23.mapyourshow.com/8_0/exhibitor/exhibitor-details.cfm?exhid=8800440
*1 SF2030(Shaping the Future): OMRON's Long Term Vision
https://www.omron.com/global/en/sf2030/?utm_source=home&utm_medium=main&utm_campaign=global&utm_content=2022040101

*2 Sensing & Control + Think technology: OMRON's core techonology
https://www.omron.com/global/en/technology/sensing/
About OMRON Device and Module Company
Since OMRON's foundation in 1933, we have continued to refine our technologies for safely and reliably connecting and disconnecting electricity and have contributed to people's daily lives and the development of society through devices such as high-performance relays and switches. For more detail: https://components.omron.com/us-en/
About OMRON Corporation
OMRON Corporation is a leading automation company with its core competencies in Sensing & Control + Think technology, and is engaged in a wide range of businesses including industrial automation, healthcare, social systems, and device & module solutions. Established in 1933, OMRON has about 30,000 employees worldwide, working to provide products and services in around 120 countries and regions. For more information, please visit https://www.omron.com/global/en/