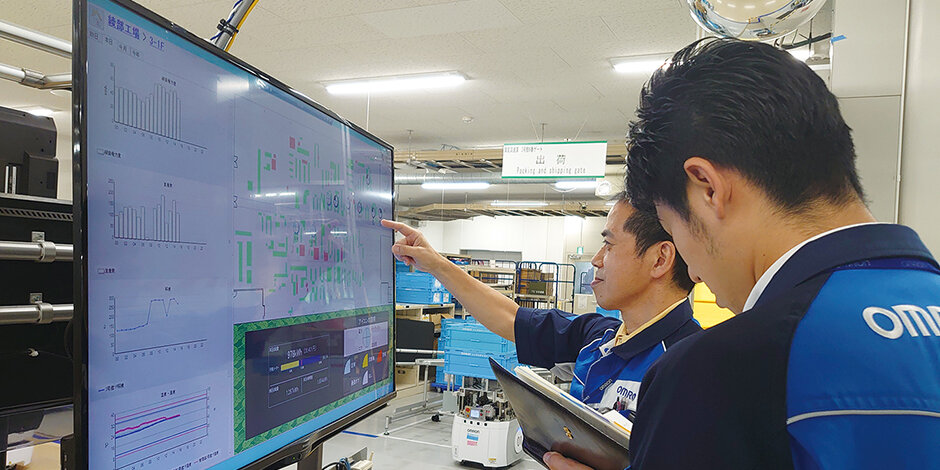 Leveraging EP100 Membership to Double Energy Productivity by 2040
Aiming to Achieve Carbon Neutrality
OMRON HEALTHCARE Corporation, which is responsible for the healthcare business of the OMRON Group, has started operation of a new production line and office for "energy productivity improvement" at its Matsusaka Plant (Matsusaka-shi, Mie Prefecture), a domestic production site for blood pressure monitors and thermometers, in April 2023.
What is the "energy productivity improvement" that the Matsusaka Plant, which aims to realize an environmentally conscious manufacturing plant, is working on in cooperation with the control equipment, social systems, and electronic components businesses to promote carbon neutrality? The following is a reprint of an article that appeared in the April 4 issue of Weekly Economist in Japan, titled "OMRON to Join EP100 and Double Energy Productivity by 2040.
The future of the global economy is increasingly uncertain, what with the energy crisis triggered by Russia's invasion of Ukraine, uncontrolled inflation, and the U.S.-China standoff coming to a head. While Japanese manufacturing businesses are expected to bring their production back home to maintain and increase their international competitiveness, they have no time to lose in achieving decarbonization amid concerns over rises in energy prices and power supply shortages. As a viable solution to this, enhancing "energy productivity" at production facilities is attracting much attention. Read this in-depth story to learn about OMRON's pioneering initiative to enhance energy productivity.
Establishing Energy Productivity Enhancement as Part of Field Production Engineering
OMRON Corporation has delivered innovative products and services that help to resolve social issues in its four business domains, including industrial automation and healthcare.
By offering automation solutions to production shopfloors and society in general, this Japanese electronics company has made its presence felt.By including "achievement of carbon neutrality" in the list of social issues to be addressed under the long-term vision Shaping the Future 2030 (SF2030), OMRON is working together with its customers, i.e., manufacturing businesses around the world, to "realize sustainable manufacturing."
After the Kyoto Protocol went into effect in 2005, OMRON became the first in the world to develop and distribute products that make decarbonization possible, such as the CO2 visualization system, which automatically analyzes the room for improvement in energy consumption for facilities and equipment. As OMRON conducted a variety of demonstration tests at its production factories, it noted that productivity and quality improvement are closely related to the efficient use of energy. By combining its control devices to visualize and control energy use, OMRON has established production engineering that increases "energy productivity." Now, it provides customers with the knowledge and know-how in production engineering that it has amassed in the form of "energy productivity" solutions. As the energy crisis escalates in concert with the growing momentum for decarbonization throughout the world, OMRON's solutions are attracting serious attention from global manufacturing businesses for their capability to increase both productivity and energy efficiency.
Not Just for Energy Saving but Higher Productivity and Quality
"Energy productivity" is an indicator of greenhouse gas (GHG) emissions at a company's sites, and is calculated by dividing sales, amount of value added, etc. (numerators) by absolute energy consumption (denominator).
Improvement in this indicator means increases in both production and energy efficiency by way of higher productivity and quality, rather than a mere reduction in energy consumption (see the figure). Measures to enhance the energy efficiency of production equipment have tended to be put off out of concerns about their impact on quality and production - the two most important parameters on production shopfloors - but OMRON has long been working to increase "energy productivity" by venturing into controlling production equipment in an innovative manner.
For example, at their Ayabe Factory in Kyoto, where 20,000 different specifications of products are manufactured in variable volumes, they introduced collaborative robots to the assembly process of sensors (one of their typical products), successfully reducing energy consumption while boosting productivity by 25%. They also installed an original energy management system called "Environment-ANDON" to visualize and analyze power consumption at each production line, thus honing their energy visualization and control technologies for more than 10 years. As a result, they have increased shipments by more than 35% in value terms while reducing power consumption on production lines by approximately 15% over the past 10 years. These initiatives have been highly evaluated by production engineers and business managers from other companies and gained extensive recognition among manufacturing businesses in the country.

Becoming the First Manufacturing Business in Japan to Join EP100
Having long committed to this cause, in November 2022, OMRON joined EP100, an international corporate initiative in which companies seek to double the energy productivity of their operations. The initiative is led by the Climate Group, an international environmental non-profit organization headquartered in the U.K. OMRON was the fourth Japanese company in general and the first Japanese manufacturing business to join the EP100 initiative. Upon joining the initiative, OMRON declared its goal of "doubling energy productivity" by 2040, specifically, to increase the amount of sales per Gigawatt Hour (Gwh) by 100% compared to 2016 levels by 2040.
EP100 has a membership of over 120 leading companies from around the world. OMRON's participation is significant in spreading this initiative globally, as enhancement of energy productivity at production factories will only become increasingly important on the back of the global drive toward decarbonization.
Meanwhile, OMRON has advanced its proprietary technologies and know-how through the i-BELT on-site data utilization service. Boosting the energy efficiency and productivity of customers' shopfloors, this innovative solution has been offered to over 100 companies at home and abroad since 2017.
It is worth mentioning that OMRON provides this "service" to its customers and business partners, in the belief that "enhancing energy productivity" is the "ground zero" of the initiative to decarbonize shopfloors. In order to accelerate the decarbonization initiative throughout the value chain, OMRON is generous enough to share its knowledge and know-how on production engineering - the very source of its competitive advantage - without keeping them in-house, instead utilizing them for co-creation with customers and partner businesses.
By joining EP100, OMRON makes no secret of its objective to invite more companies to join the initiative through the provision of its unique technologies and solutions. As such, OMRON's leadership in this field is eagerly expected.
While expectations are growing that the global economy will return to a growth trajectory as we shift to a new normal, stable energy supply - a prerequisite for economic activities - is facing a crisis. This is why OMRON's next move and outcomes are attracting even greater attention, as it seeks to realize sustainable manufacturing together with its customers and business partners.
"Environment-ANDON" visualizes utilization and energy consumption at production factories for comparison, analysis, and monitoring of measured data and, if necessary, issues warnings.
INTERVIEW
Realizing Sustainable Manufacturing by Facilitating Energy Productivity Enhancement
We at OMRON are striving for the sustainable development of society through business. As one of the key initiatives in this regard, we began energy-saving activities, including reducing CO2 emissions at our factories, and obtained know how and patents on energy productivity enhancement. Our Industrial Automation Business, for instance, is aiming to realize its vision of "Enriching the Future for People, Industries and the Globe by Innovative-Automation" by delivering its technologies, products, and services to customers.
The i-BELT on-site data utilization service, which is being offered to many customers, is another value that came out of OMRON's corporate philosophy management, which has allowed us to proactively respond to social changes. We deliver solutions to customer issues in the form of service, work hand in hand with customers until a desired outcome is reached, and eliminate bottlenecks. This is how we provide benefits to them.
Last year, OMRON became the first among Japanese manufacturing businesses to join EP100. We hope that we will continue to be the front-runner in resolving issues affecting manufacturing businesses across the globe, including rising energy prices and the high cost of achieving carbon neutrality. To this end, we are implementing new solutions for energy productivity enhancement at our Matsusaka Factory in Mie, where we produce healthcare products. Going forward, we will spread our solutions to other OMRON factories to make greater efforts to realize sustainable manufacturing.
Hideaki Takiguchi
IAB Advanced Solutions Division
Weekly Economist (published in the 4/4/2023 issue of "IR Planning")
Related Contents