OMRON Launches New Integrated Solutions for Industrial Robots
March 30, 2016
OMRON Corporation based in Kyoto, Japan, will launch a new series of industrial robots on April 1, 2016, in 39 countries around the world. This release includes 49 best-in-class robots developed by OMRON Adept Technologies, Inc. These have been integrated with OMRON's family of sensors, safety components and award-winning NX/NJ series machine automation controllers to simplify the introduction of robots in a production environment.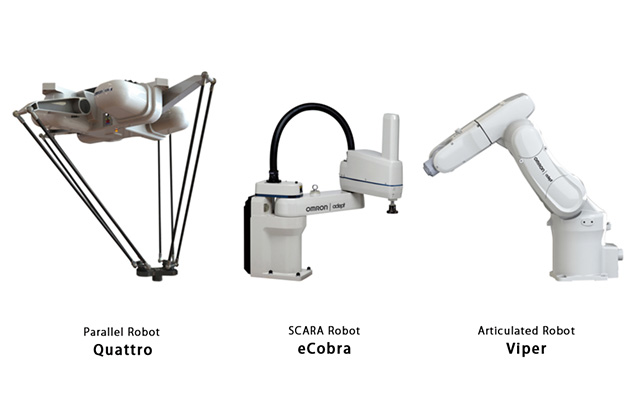 OMRON's unique combination of software and control architecture addresses the factory automation challenges from producing a high variety mix of products with short product lifecycles that require rapid production line changeovers. The common controls, integrated software architecture and development environment meet current and future needs for ease of process design, flexible operation and predictable maintenance. The flexibility and agility of our solutions is ideal for industries such as food and beverage, automotive products and high technology.
This global launch demonstrates OMRON's ongoing focus on innovative solutions that advance manufacturing and productivity through integration of robots with sensing, control, motion and safety capabilities.
Key Features
Provides industrial robot models achieving both high-speed performance and reliability:
The release of the 3 robot families (SCARA, Delta and Articulated) brings both high-speed performance and reliability to the mechanical side of the OMRON solutions. All the robots can be controlled by a common integrated development environment which enables flexible use of robot types in line with required applications.

Enables comprehensive linkage with control products, such as PLCs:
OMRON industrial robot solutions seamlessly link all robots with the machine control environment managed by the Sysmac automation platform. This approach improves the total throughput of the most demanding production lines overtaking the limitations of the traditional framework that uses conventional robots.

Integrated software environment facilitates design and development:
The "Automation Control Environment" (ACE) contains useful application-oriented wizards that significantly minimize the amount of programming codes. The users have access to a powerful 3D emulation tool that significantly reduces the time to validate new automated processes. Vision-guided robotics applications are completely supported by the ACE PackXpert for packaging lines.
About OMRON Corporation
OMRON Corporation is a leading industrial automation company that leverages its core sensing & control technologies to expand into businesses, such as control components, electronic components, automotive electronic components, social infrastructure, healthcare, and the environment. OMRON was established in 1933, and has around 39,000 global employees, offering products and services in over 110 nations and regions. In the industrial automation business, OMRON is contributing to making an affluent society by offering automation technologies which drive innovation in manufacturing as well as products and customer support. For more detail, refer to https://www.omron.com/
Contact (media):

Arihiro Yokota, Haruka Kumazawa
Corporate Communications Department,
OMRON Corporation
Tel: +81-75-344-7175