OMRON to Launch Rotary Backlock FPC/FFC Connector for Efficient Cable Mounting; Sharp "Click" Confirms Latch Engagement
FOR IMMEDIATE RELEASEAugust 28, 2013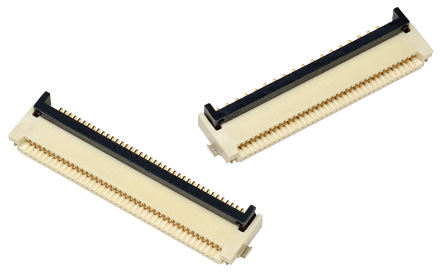 Kyoto, Japan -- OMRON Corporation (TOKYO: 6645, ADR: OMRNY) today announced the planned launch of its new XF3M rotary backlock FPC (Flexible Printed Circuit)/FFC (Flexible Flat Cable) connector on September 2, 2013. This new FPC/FFC connector features a rotary backlock mechanism in which a rotary slider for securing the FPC/FFC cable is mounted independently from the FPC/FFC socket. This results in improved cable connection efficiency and more reliable lock action. The connector has a height of 2.0 mm and a depth of 6.4 mm (when locked).
FPC/FFC cables are increasingly used to connect LCD panels to printed circuit boards or to connect two printed circuit boards in a wide range of products and equipment, such as industrial equipment, home appliances, printers, LCD TV sets, and mobile devices. This has led to increased demand for connectors applicable for these cables.
With conventional rotary lock connectors, the rotary slider is positioned at the FPC/FFC socket. The drawback of this is that lifting an FPC/FFC or applying excessive force may cause the rotary latch to disengage. The new OMRON XF3M solves this drawback by employing a rotary backlock mechanism in which the rotary latch is located on the opposite side of the socket. This mechanism also enables the socket to be constructed with a four-sided housing that securely holds the FPC/FFC cable for enhanced mounting reliability. A sharp "click" on engagement makes it easy to confirm that the latch is completely locked. These features add up to improved work efficiency for cable mounting.
Features
The four-sided housing construction of the FPC/FFC socket prevents displacement of the cable.
A sharp "click" makes it easy to ascertain that the FPC/FFC cable is securely locked in position.
Available in two types -- 0.5 mm and 1.0 mm pitches.
Halogen free.
The molded parts use LCP (Liquid Crystal Polymer) resins. Its halogen-free construction makes the XF3M environmentally friendly.
Sales Target
3,000,000 units/month
Factory in Charge
OMRON Sanyo Co., Ltd.
Ratings and Specifications
Connector Specifications
| | |
| --- | --- |
| Pitch | 0.5 mm, 1.0 mm |
| On-board profile | 2.0 mm |
| Depth | 6.4 mm (when locked) |
| Applicable FPC/FFC thickness | 0.3±0.05 mm |
| Contact type | Dual (upper and lower) |
Ratings and Specifications
| | |
| --- | --- |
| Rated current | 0.5 A AC/DC |
| Rated voltage | 50 V AC/DC |
| Contact resistance | 50 mΩ max. (at 20 mV DC max., 100 mA max.) |
| Withstand voltage | 250 V AC for 1 min. (leakage current: 1 mA max.) |
| Insertion tolerance | 20 times |
| Ambient operating temperature | -30 to +85°C (with no icing or condensation) |
Materials and Finish
Housing
LCP resin (UL94V-0)/natural
Slider
LCP resin (UL94V-0)/black
Contacts
Spring copper alloy/nickel substrate (1.5 µm)
Gold-plated contact section (flash)
Hold-down clips
Copper alloy/tin-plated (1µm)
About OMRON
Headquartered in Kyoto, Japan, OMRON Corporation is a global leader in the field of automation. Established in 1933, and headed by President Yoshihito Yamada, OMRON has more than 36,000 employees in over 35 countries working to provide products and services to customers in a variety of fields including industrial automation, electronic components, social systems, healthcare, and the environment. The company has regional head offices in Singapore (Asia Pacific), Beijing (Greater China), Amsterdam (Europe, Africa, and the Middle East), Chicago (the Americas), Gurgaon (India), and Sao Paulo (Brazil).
For more information, visit OMRON's website at https://www.omron.com/
Sales Inquiries

Product Management Section
Connector Division
OMRON Electronic and Mechanical Components Company
Tel.: +81-44-812-3432

Contact Us