OMRON Digital Thermometer Wins iF Product Design Gold Award
- HEM-1010-E Blood Pressure Monitor Also Recognized -
FOR IMMEDIATE RELEASEApril 10, 2007
Tokyo, Japan - OMRON Healthcare Co., Ltd., a wholly owned subsidiary of OMRON Corporation (TSE:6645; ADR: OMRNY) today announced that its i-Temp digital thermometer (model MC-670-E), which will debut in Europe this October, won a Gold Award at the iF Product Design Awards 2007. In addition, the Company's SpotArm i-Q132 digital blood pressure monitor (model HEM-1010-E), to be launched in the region this June, was recognized with a general prize.
The prize-winning thermometer is the European version of model MC-670, which went on sale in Japan in November 2004. Sharing many features with the MC-670 - a flat tip that allows users to hold it comfortably in the armpit, a large, easy-to-read LCD and a sleek body that fits easily in the hand - i-Temp will be released in Europe, the Middle East and Africa this October. The only gold winner in the Medicine/Health care category, i-Temp was highly regarded by iF judges for its large LCD, which is designed for easy reading by users of all ages.
MC-670 designer Fumie Shibata of Design Studio S said, "Thermometers are everyday household tools, so ease of use was my primary goal. I wanted to design a thermometer that is easy to hold, fits snugly under the armpit and features a display that is easy to read. OMRON wanted the thermometer to express the concept of 'a mother's love', offering the maternal warmth and trust that people need when they are ill."
The SpotArm i-Q132 digital blood pressure monitor is the European version of a model that was released in Japan in September 2006. Featuring a cylindrical cuff ergonomically designed to ensure that users maintain proper posture for accurate measurement, SpotArm i-Q132 can record blood pressure data taken in the morning and evening to calculate an average value, helping users detect 'morning hypertension'*.
This year's iF Gold Award is the latest in a long list of accolades presented to OMRON in recognition of the company's outstanding product design. As well as a previous iF award for its Ear Thermometer (model MC-510), OMRON Healthcare alone has won the coveted Japanese Good Design award 31 times in the past. In its other businesses, OMRON has received Good Design awards for the user-friendliness and aesthetic appeal of its railway ticket gates and industrial automation products, among others. This international acclaim reflects the company's long-standing commitment to incorporating Universal Design (UD) principles into its products as it strives to realize the 'best matching of machines to people' and contribute to society through its business operations.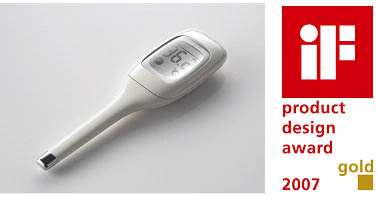 OMRON i-Temp Digital Thermometer (MC-670-E)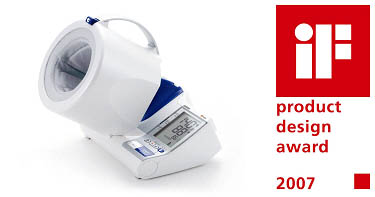 OMRON SpotArm i-Q132 Blood Pressure Monitor (HEM-1010-E)
About the iF Product Design Awards
The iF Product Design Award is presented annually by Industrie Forum Design in Hannover, Germany. With a history dating back to 1953, it is one of the world's most prestigious design awards. Industrial products from all over the world compete for awards in 12 categories, including health care, consumer electronics and office supplies. This year, 2,293 products from 35 countries competed for an award. Of the 756 products that went home winners, the 50 that scored highest in shape, performance, creativity, safety, environmental friendliness were honored with a gold award at the annual awards ceremony, held in Hannover on March 15.