OMRON launches i4 series SCARA robot to automate high-speed and high-precision assembly and transportation processes with easy installation
OMRON Corporation (Headquarters: Shimogyo-ku, Kyoto, Japan; President & CEO: Yoshihito Yamada) announced today that it will start selling a new industrial robot, the i4 series SCARA robot, which automates high-speed, high-precision assembly and transportation with easy installation, on January 22, 2021. The i4 series consists of an i4H medium to large sized, high-performance model and an i4L that is compact and suitable for lightweight applications. By seamlessly integrating and controlling the "i4 series" robots and the robot-hands (End Effector*1) and other peripheral devices; the interlocking of each device is enabled and complicated tasks which could not be done with conventional SCARA robots are now automated. OMRON will continue to contribute to the innovation of manufacturing sites by providing customers with a total solution that incorporates the industry's best product lineup of control equipment and industrial robots.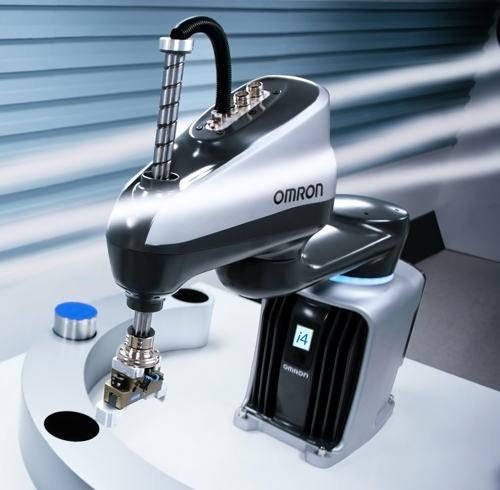 ["i4 series" SCARA robot]
In manufacturing, expectations for automation through the introduction of robots are increasing due to the new global health concerns in addition to the conventional need for automation due to labor shortages. SCARA robots are relatively easy to adopt and can automate high-speed work environments. However, since robots are controlled by different controllers from those of peripheral devices, it is difficult to interlock them closely with each other. In addition, in order to execute complicated work, the robot's end effector mount may become heavy and the robot's transportable weight is insufficient. As a result, in the past assembly and transportation work that can be automated by robots has been limited.
The i4 series SCARA robot enables customers to build highly productive equipment by integrating and controlling the end effector and peripheral devices at high speed and with high precision with a "Robotic Integrated Controller*2". Since it supports 15kg payload, a heavy end effector can also be mounted, enabling assembly and transportation processes which could not be automated with SCARA robots in the past. In addition, with embedded highly visible displays and LED lights, the i4 series enables immediate identification of the operation status and presence of troubles and its contents from a distance, and the troubleshooting function prompts the operator to perform appropriate operations to maintain an optimum equipment status at all times, thereby contributing to stable operations.
OMRON is currently committed to bringing innovation to manufacturing sites under the strategic concept of "innovative-Automation" that consists of three "i's, "integrated (control evolution)," "intelligent (intelligence)," and "interactive (new collaboration between humans and machines).
With the introduction of the i4 series SCARA robot family, OMRON will continue to accelerate "innovative-Automation" with customers by providing a highly efficient SCARA robot solution which increases fast and precise operations.

Key Features
High Speed and High Accuracy
By supporting a payload of up to 15kg and incorporating EtherCAT communication inside the robot arm, EtherCAT devices can be added to the end effector section in cooperation with a variety of handling and OMRON's Robotic Integrated Controller, enables high-speed, high-precision assembly operations and material handling. For example, in the past, when a flexible robot hand is required for multi-product production and a multi-functional task, the mechanism at the tip of the robot hand becomes complicated, the robot hand becomes heavy and the transportable weight is insufficient., The number of input and output points of control signals is insufficient, and wiring are is more complex. OMRON's i4 robot series can now solve these previous issues.


Easy Integration
The robot control box and cables are fully integrated into a stylized base, minimizing the robot's footprint. Wiring is also simplified and can be easily introduced into a variety of equipment, regardless of whether it is newly installed or existing. In addition, programming can be easily built with the "Sysmac Studio" integrated PLC programming software. Simulation technology enables verification of equipment performance at an early stage of equipment design, therefore enabling mechanical designers to be responsible for equipment specifications and enabling electrical designers to be responsible for controlling and programming equipment in parallel. As a result, the production equipment achieves high efficiency, prevents mistakes during facility installation, and achieves short-term integration.


Maximize Uptime
Users are able to control and mitigate any unplanned downtime by utilizing the best built-in interactive maintenance features. It comes with an operational light indicator which is present on all models to simplify troubleshooting. The i4H comes equipped with an on-board display. The user can take appropriate action by simply observing the color that is displayed on the robot.


Satisfying Flexibility Needs
The i4 series will meet various customer needs and improve the overall performance of the production line. The robot is an optimal cost which enables a more flexible production line expansion with an extensive lineup of arm lengths and mounts. The i4 series consists of the i4H, a medium-and large-size, high-performance model, and the i4L, which is compact and adaptable to light-weight applications. The compact i4L series offers Ethernet connectivity that can be used with traditional simple controls and can be adapted to a wider range of applications. It offers simple integration within a compact design and footprint. Installation is also flexible since the robot can be mounted on a horizontal surface (table mount) or a vertical surface (wall mount) without the need for adaptors and brackets. It can be used in a flexible layout and can be easily introduced not only for designing new facilities but also for existing facilities.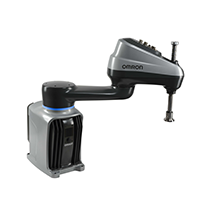 i4H series
・15kg maximum payload capacity
・ 650mm,750mm,850mm reach options
・ A standard 210mm or 410mm long quill option
・ All models can be mounted to the floor, wall, or inverted for ceiling.
・ EtherCAT connection
・ Multi-color LED lighting ring indicators and display with excellent visibility
・ IP65, Cleanroom, ESD, USDA Certification options*
※April 2021 release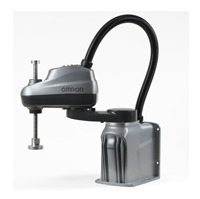 i4L series
・ 5kg maximum payload capacity
・ 350mm,450mm,550mm reach options
・ A standard 180mm quill, 350mm long quill for 550mm reach length models.
・ Floor-mounted and wall-mounted, interface panel selected from bottom and rear depending on installation position.
・ EtherCAT * or Ethernet connectivity
・ Multi-color LED light dome with excellent visibility
※ August 2021 release


*1End Effector: The device mounted onto the robot hand. The customer can select various types of end effectors based on the task to be completed.
*Robot Integrated Controller: A controller which integrates and controls the robots and equipment.


About "innovative-Automation"
As a leader in industrial automation, OMRON has extensive lines of control components and equipment, ranging from image-processing sensors and other input devices to various controllers and output devices such as servo motors, as well as a range of safety devices and industrial robots. By combining these devices via software, OMRON has developed a variety of unique and highly effective automation solutions for manufacturers worldwide. Based on its reservoir of advanced technologies and comprehensive range of devices, OMRON set forth a strategic concept called "innovative-Automation" consisting of three innovations or "i's"--"integrated" (control evolution), "intelligent" (development of intelligence by ICT), and "interactive" (new harmonization between people and machines). OMRON is now committed to bringing innovation to manufacturing sites by materializing this concept
About OMRON Corporation
OMRON Corporation is a global leader in the field of automation based on its core technology of "Sensing & Control + Think". OMRON's business fields cover a broad spectrum, ranging from industrial automation and electronic components to social systems, healthcare, and environmental solutions. Established in 1933, OMRON has about 30,000 employees worldwide, working to provide products and services in around 120 countries and regions. For more information, visit OMRON's website: http://www.omron.com/
About OMRON Robotics and Safety Technologies, Inc.
In October 2015, OMRON Corporation acquired Adept Technology Inc., a U.S. based leader in robotics, as part of OMRON's acceleration of its "Complete Automation Solution" strategy for its Industrial Automation Business, which provides automation solutions for the manufacturing industries. In 2019, OMRON Robotics and Safety Technologies was formed as a merger of OMRON's safety and robotics businesses to provide comprehensive solutions for automation and safety. The company aims to contribute to realizing a new manufacturing environment where people and robots work safely in harmony.
Contact (media):

Brand Communications Department
OMRON Corporation
TEL: +81-75-344-7175

Contact (product information):

OMRON Robotics and Safety Technologies, Inc.
Email: ORT-Marketing@omron.com