Development of a "respiration rate sensor" that enables construction of a detection system that monitors unattended children and pets in cars
OMRON Automotive Electronics Co., Ltd. (Head office: Komaki City, Aichi Prefecture, President: Katsuhiro Wada, OAE below) is a subsidiary of OMRON Corporation (Head office: Shimogyo-ku, Kyoto City; CEO: Yoshihito Yamada) responsible for automotive business. OAE has developed a "respiration rate sensor" that uses radio waves to detect the presence of an occupant in a vehicle more accurately than by capturing subtle chest movements that occur when a life form breathes.
This sensor can accurately detect objects with subtle body movement, such as a child who is deep asleep, by a technology that captures smaller body movements as compared to the conventional ultrasonic method. For example, by combining this sensor with the "Onboard driver monitoring sensor" *1 announced in 2017, it only detects subjects that cannot vacate the car on their own, such as children, pets, and adults who have lost consciousness. It is possible to build a system that sets off an alarm only in necessary cases.
OAE will start offering samples of the "respiration rate sensor" to automakers in the fall of 2019, aiming for mass production at the end of 2021.
Respiration rate sensor
In recent years, leaving children alone in vehicles has become a social problem that frequently results in infant deaths from heat stroke in vehicles with high temperature environments. Under these circumstances, the Euro-NCAP, a vehicle safety evaluation organization in Europe, announced that it would include a system for detecting a child left alone in vehicles as an item for safety evaluation from 2022*2. Therefore, automakers are developing a detection system that detects children and pets left alone in vehicles and informs drivers and their surroundings. OAE will provide sensing devices to auto manufacturers such as "respiration rate sensor" and "driver watch onboard sensors" to accelerate the construction of a detection system for monitoring unattended occupants.
OAE will continue to contribute to the realization of a safe, secure and comfortable car society by promoting the development of sensors that monitor safety inside and outside the vehicle, making use of the core technology "Sensing and Control + Thinking".
Product name
Respiration rate sensor
Appearance
Use
Detection of the presence and position of the occupant in the vehicle
(Breathing movements of the chest)
Installation location
ceiling of the

vehicle
Max range
Maximum detection range
~2m *Target value
Detection accuracy
respiratory rate±

2bpm(stopped) *Target value

Size
W50*D50*H20mm *Target value
Power consumption
0.5W(Average) *Target value
Start of production
End of year 2021 *Target timing
Combination of sensors that reliably identify the occupants who require rescue
Scene
respiration rate sensor
(radio wave)
Onboard driver monitoring sensor
(camera)
Detect occupants
Occupancy detection
Deep sleep
(little movements or no movements of the occupant)
○
×
Covered by an object
○
△
Lying on the floor
○
△
Type judgement
Child/Adult/Pet Child seat
×
○
Sudden change of health condition /health
×
○
○:Detectable △:Detectable except under certain conditions such as backlighting or total darkness ×:Undetectable
Rescue solutions proposed by OMRON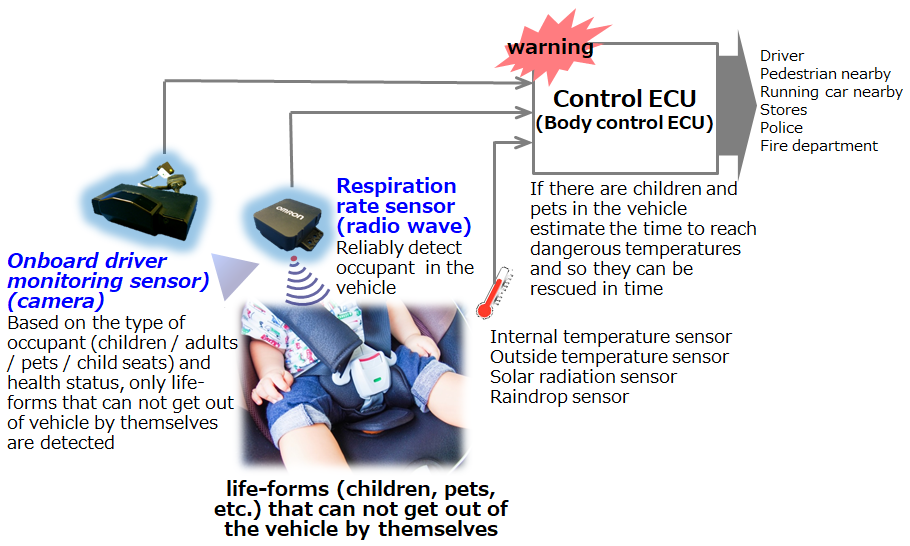 *1 Announced in September 2017 "Onboard driver monitoring sensor" to determine if the driver can concentrate on driving"
https://www.omron.com/media/press/2017/09/c0927.html
*2 From Euro-NCAP "Road Map 2025" (announced in September 2017)
About OMRON Corporation
OMRON Corporation is a global leader in the field of automation based on its core technology of "Sensing & Control + Think." Established in 1933, OMRON has about 35,000 employees worldwide, working to provide products and services in 117 countries.
The company's business fields cover a broad spectrum, ranging from industrial automation and electronic components to automotive electronics, social infrastructure systems, healthcare, and environmental solutions.
For more information, visit OMRON's website: https://www.omron.com/.
Contact (media):

Brand Communications Department
OMRON Corporation
Tel: +81-75-344-7175

Contact (product information):

Corporate Planning Department
OMRON Automotive Electronics Co. Ltd.
TEL: +81-568-78-6181