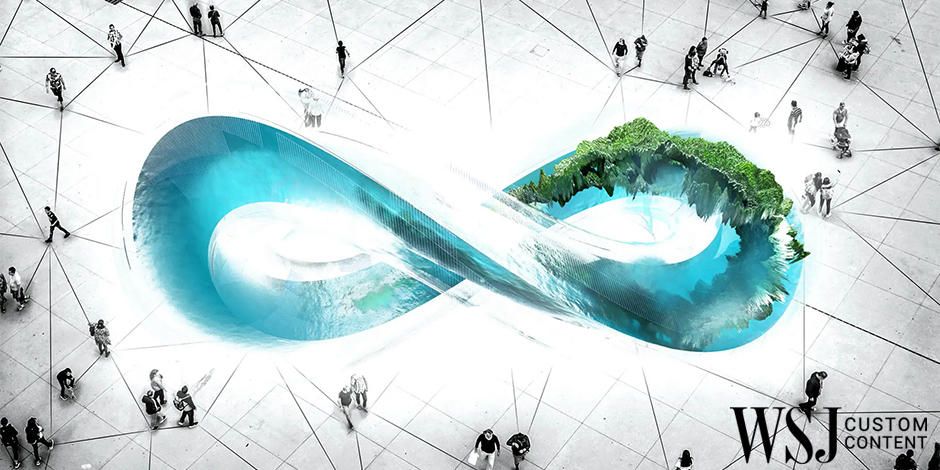 Inventing the Sustainable Future
Written by The Wall Street Journal Custom Studios, 2022

Amid rising concerns about climate change and inequality, a global technology leader is forging a new vision of "social design innovation" that fosters sustainability and empowers humanity.
Scenes of beaches clogged with PET bottles and marine life entangled in plastic bags bring grim reality to an ongoing crisis in plastic pollution. More than 8 million tons of plastic waste enters the oceans every year--and nearly half of that comes from packaging such as wrappers and bags.
Eco-friendly alternatives such as thinner plastic and biodegradable materials offer a solution. But these materials often shrink, tear or become scorched in sealing, due to low thermal tolerance. Japan's OMRON, an innovator with nearly nine decades of experience in developing automation solutions for society, has risen to the challenge. Its AI-driven Perfect Sealing machine enables intelligent temperature controls to resolve the sealing conundrum in alternative packaging solutions.
Perfect Sealing is a leading example of how the Kyoto-based tech manufacturer is driving a new paradigm of "social design innovation" that tackles pressing social and environmental issues through imaginative research and development.
"Until now, OMRON has been thought of as a product manufacturer, creating value through performance and quality. From now on, we will focus on social design innovation," says OMRON CEO Yoshihito Yamada. "Perfect Sealing for example, is a solution born out of a wish to address a social issue of marine plastic waste, which is threatening the overall health of humankind."
Venerable history, sustainable future
OMRON is able to drive this bold vision of the future thanks to a storied past inventing technologies that bring comfort and convenience to people in everyday life, without their even realizing it.
Anybody who has measured blood pressure with a home device, held a commuter card over the subway turnstile, or tapped a credit card to a chip reader for grocery purchases, has likely been touched by OMRON innovations in advanced sensors, switches, relays and inverters.

"To create social value through businesses and continue to contribute to
society - this is our corporate mission that will forever remain intact."


Since its founding in 1933, the Kyoto-based tech manufacturer has become a $5.7bn giant by pioneering technologies that make machines and devices in homes, factories, cars, hospitals and train stations more intelligent. Its leadership in advanced sensors is today turning it into an essential player in the Internet of Things (IoT) revolution.
The social design innovation model is built on these sturdy historical foundations. Its conceptual framework is a new long term vision called Shaping the Future 2030 (SF2030). This blueprint charts a course for sustainable growth by tackling challenges such as climate-related disasters, widening inequalities and rapidly aging populations.
Concretely, says Mr. Yamada, this means a mindset pivot from a "product-value perspective" to an essential-value perspective based on continuous pursuit of higher performance. It's a "new socio-economic system" that first identifies society's needs and works backward to forge groundbreaking solutions.
"During the SF2030 period, we aim to evolve an essential-value perspective," he says. "This allows us to see what customers want through the solution to social issues and what we need to enrich society."
Essential value in action
OMRON has a record of technological breakthroughs that balance the art and science of improving people's lives. In driving SF2030, the company can point to key product innovations that drive business models from an essential value perspective:
Using OMRON's pioneering emissions monitoring system, companies working toward carbon-neutrality can assess the carbon dioxide output of their operations and analyze ways of reducing their energy use.
OMRON's Wearable Blood Pressure Monitor and remote patient-monitoring services enable doctors to remain in control of patient care and help to prevent cerebrovascular and cardiovascular emergencies.
In an era of climate change and devastating natural disasters, cities are deploying OMRON sensors in rivers for real-time flooding information and evacuation alerts as typhoons and heavy rains hit.
HeartGuide, a Wearable Blood Pressure Monitor Launched in 2019.
Automation that empowers people in society
Automation is often cast as a mindless mechanism of efficiency and growth. OMRON instead sees it as an intelligent, collaborative force that empowers humans to achieve their highest potential--fostering a society in which nobody is left behind.
This vision of automation is a pillar of SF2030 and more broadly underpins OMRON's plans to refashion itself as a social design innovator--reimagining the role of business not as a factory of products but of ideas.
Harmonious human-machine interaction lies at the heart of OMRON's Sensing & Control + Think technology, defined by Mr. Yamada as "human-friendly automation technology that unlocks human potential to the fullest on factory floors."
To demonstrate how this might work, OMRON engineers have spent several years perfecting a table-tennis-playing robot, called FORPHEUS. Bristling withlatest robotics technology and AI technology, FORPHEUS can size up its human opponent's abilities and emotions and adjust its own skills accordingly.
While tracking its opponent's facial expressions and heart rate, it makes split-second decisions about the power and placement of its returns. The robot isn't playing to win. Its ultimate objective is to motivate its human opponent to play better.
"By making optimal combinations of these different modes of automation for each different setting," Mr. Yamada says, "we will implement 'automation that empowers people' in society to help humans to give their best performance."
From uncertainty to opportunity
During the global pandemic, OMRON demonstrated how even the most wrenching uncertainty can lead to opportunities for social design innovation.
For example, OMRON has developed mobile sterilization robots with ultraviolet lamps that kill bacteria, germs and viruses efficiently--a safe contactless solution for sanitization in settings as diverse as airports, hospitals, offices and schools worldwide. The UV-equipped robots were inspired by OMRON's deep experience developing factory floor solutions based on the group's Sensing & Control + Think technology.
In telemedicine, OMRON is driving global innovation by rolling out remote patient monitoring services with corporate partners in the U.K., U.S., Singapore, India and Brazil. These services are tailor-made for the health insurance systems and clinical needs of different countries.
Remote Patient Monitoring Services Launched Globally.
These innovations that served society during the pandemic can serve as a springboard for OMRON's next phase as an incubator of ideas and products to build a sustainable, inclusive society.
"To create social value through businesses and continue to contribute to society," says Mr. Yamada. "This is our corporate mission that will forever remain intact."
Custom Content from WSJ is a unit of The Wall Street Journal Advertising Department. The Wall Street Journal news organization was not involved in the creation of this content.