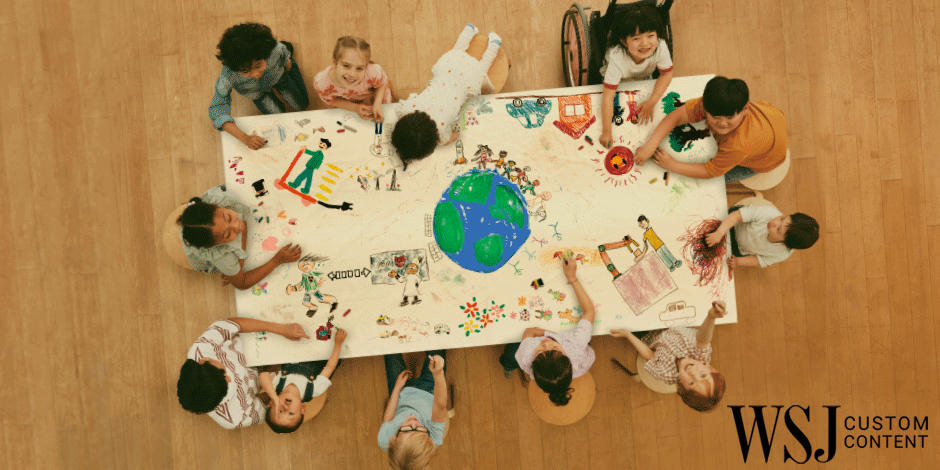 A Global Innovator's Vision to Shape a Diverse and Inclusive World
Written by The Wall Street Journal Custom Studios, 2022

Technology pioneer OMRON sees its "reason for being" as a mission to benefit society through inclusive vision and groundbreaking solutions. The group's Americas operations highlight an inspiring global footprint.
Shawn Jeffers clearly remembers the day 20 years ago when he received an unexpected phone call that blossomed into a vibrant friendship for people with intellectual and developmental disabilities.
The call was from a senior executive at OMRON, asking if there was any way the Japanese company could help Little City, an Illinois community for the disabled that Jeffers runs as executive director.
Normally, it's Mr. Jeffers who hits the phones, lobbying powerful entities for donations and other help for his center that empowers residents to lead a meaningful life. Here was a leader at a global corporation extending a friendly hand--because the group's North America division was based minutes away from Little City.
Mr. Jeffers could not have been more surprised. "OMRON actually reached out to us, asking proactively if there was a way that they could help," he recalls. Soon OMRON staff--from engineers to executives--were befriending Little City residents as volunteers and looking for ways to employ them.
While the neighborly outreach might have been unusual for Mr. Jeffers, it aligns with a proud tradition of social empowerment and inclusivity that dates back to OMRON's beginnings in 1933, under founder Kazuma Tateishi's vision of "at work for a better life, a better world for all."
Fostering a global neighborhood of empowerment
Many companies speak about social commitment. OMRON strives quietly to prove its social value through initiatives and technologies that make a concrete difference in creating a better world--with a proven record of achievement.
From its very foundations, under Mr. Tateishi's visionary leadership, OMRON believed its very "reason for being" to be the improvement of society through innovation. Today this ranges from robotics that empower people with disabilities to automation that fosters the wellbeing of fast-aging societies.
Now this vision of empowerment for humanity is transforming into forward-looking strategies to foster diversity, equity and inclusion (DEI) across global society, under a new long-term corporate strategy called Shaping the Future 2030 (SF2030). This action plan to empower all people to achieve their dreams is personally led by OMRON CEO Yoshihito Yamada--who sits on the Valuable 500, a global consortium of CEOs advocating for inclusion of disabled people in business.
Prioritizing DEI and its power to generate social change is reflected in each facet of OMRON's SF2030 program. Over the next 10 years, OMRON's corporate objectives include ensuring that employees with disabilities comprise at least 3% of the company's global workforce, including 28 overseas bases; raising the ratio of women in management above 18% on a global basis; and achieving 100% participation by global managers to undergo training to leverage the capabilities of diverse human resources.
"Our corporate motto is to 'improve lives and contribute to a better society,'" says James Eberhart, president and chief operating officer of OMRON Management Center of America, Inc. "And we drive our operational strategies to create a better world for all."
James Eberhart, president and chief operating officer of OMRON Management Center of America, Inc.
Inspiring talent in every corner of humanity
Parallel stories that span decades and continents attest to OMRON's global commitment to empower all members of humanity. As unlikely as it might sound, OMRON's friendship with Little City has deep roots in Japan in the 1970s.
Fifty years ago, Mr. Tateishi's belief that people with disabilities can play a vital role in society
led to the establishment OMRON TAIYO, considered the world's first factory designed to employ people with disabilities alongside non-disabled colleagues.
The guiding principle was, and remains today, that people with disabilities "need a chance, not charity." That belief was emphatically validated when OMRON TAIYO turned a profit in its first year. The plant continues to be a vital part of OMRON manufacturing operations--with disabled people as its core workforce--marking its 50th anniversary in April.
In line with this tradition, the OMRON Foundation funded a center for employment to help train Little City residents for meaningful jobs--and challenge stereotypes and perceived limitations of people with disabilities.
Real connections through virtual volunteering
Personally invested in contributing broadly to society, Mr. Eberhart has made community volunteer efforts the No. 1 non-financial target of OMRON's Americas region, encouraging workers to volunteer on company time.
One initiative OMRON employees have embraced with passion is a virtual volunteer program for residents at Marklund, a non-profit organization that empowers individuals with profound disabilities through residential, therapeutic and education services.
At the height of the Covid crisis--when Marklund residents were grappling with anxiety and isolation--OMRON workers conducted remote group education sessions that brought joy to both residents and volunteers. One particular success was a group for residents of Latino background, underscoring the diversity of the community bonding.
"I loved that OMRON offered a Spanish group session, and had an employee who was able to read and interact with our clients who are more familiarized with Latin culture," says Kayla Atkins, community integration/personal support professional (PSP), Marklund. "Residents adored this group. They smiled, stayed alert and giggled the entire time. Not many people realize how something small can make such a genuine impact on our residents' lives."
Bilingual readings, led by Yolanda Bolaños, senior manager human resources, Latin America, Omron and Mark Sadie, Vice President of Marketing, Industrial Automation Business, Omron, reached a broad group at Marklund residences.
For OMRON, the life-enhancing enrichment goes both ways: "We've seen that when individuals are really passionate about a cause, they make more meaningful impact as volunteers," says Mr. Eberhart. "We want to reinforce to our employees that they can create more opportunities to support the causes that individually motivate them."
A Brazilian journey of diversity and excellence
Individual motivation at the highest levels of leadership is inspiring OMRON's Brazil operations to make an impact in the group's push to promote diversity and inclusion in its workforce.
OMRON Brazil president Weberson Martins personally leads a charge to surpass the firm's global targets for women in management, as well as employing people with disabilities. His team's achievements highlight the global breadth of OMRON's strategies to promote a diverse world.
Weberson Martins, president at OMRON Brazil.
"When global management said the target ratio for women in management across the world was 18%, I said, 'Please, let's increase this. I want to contribute more,'" Mr. Martins says. Today, four of the five members of OMRON Brazil's senior management team are women, and across OMRON Brazil women represent 32% of line management.
"It's not just a matter of inclusion," says Mr. Martins. "It's a matter of business--business creates more social value with a more diverse team."
Team OMRON. From L-R; HR director Michelle Matoso, finance director Amanda Silva, president Weberson Martins, operations director Isabella Mairink, and head of legal & compliance Simone Pacini work together at the company's plant in Jundiaí, São Paulo.
Through this proactive vision, OMRON Brazil has placed people with disabilities in roles including administration, finance, sales, operations and the factory floor, where OMRON's own robotic technology assists both disabled and non-disabled employees.
"Less than a year ago, under 1% of our workforce was made up of people with disabilities," he says. "We've raised that to 4%, surpassing OMRON's global target."
Toward a vision of essential value through commitment and technology
In a fundamental way, the diversity and inclusion initiatives of OMRON's Americas Region harmonize with the group's broader mission to be a Social Design Innovator. By partnering with centers for the disabled, and building its own diverse team, OMRON embodies its business vision of fostering an "optimized society"--moving from "product value" to "essential value."
"Taking a fresh look at social and industrial issues will allow us to reframe what customers want and how we can enrich society," says CEO Mr. Yamada. "We need to perceive value not from the product alone, but from the essential value that it provides."
For OMRON, essential value lies at the intersection of technology and caring. Little City residents employed at OMRON sometimes see company products and feel a sense of thrill and achievement to play a role in a global journey.
"At Little City's health clinic," says Mr. Jeffers, "individuals point to our OMRON-made blood pressure monitors and health devices and say, 'I'm a part of that.'"
This content was prepared in partnership with The Trust, the in-house creative consultancy at The Wall Street Journal Barron's Group.