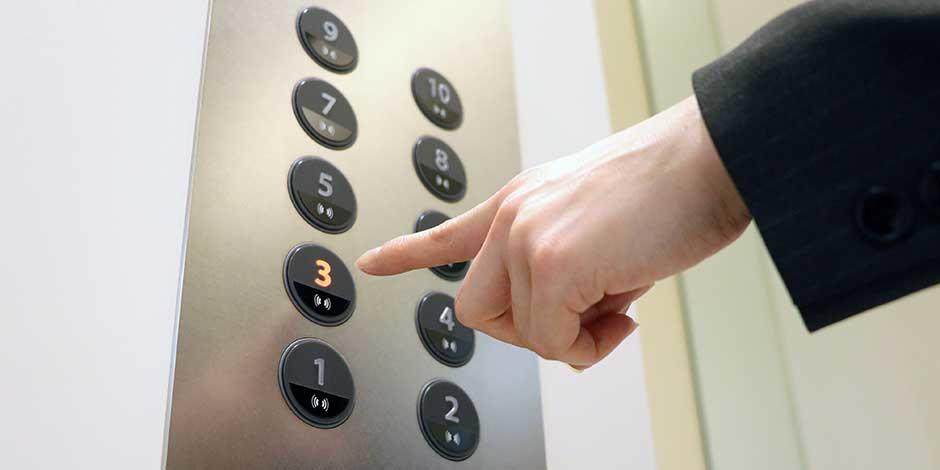 Touchless Technology Enhances Safety and Reliability of the "New Normal"
- The Story behind the Joint Development of Hybrid Elevator Switch in Partnership with Customers -
The COVID-19 pandemic has changed the face of the world in many aspects. One such change to our everyday lives is the spread of contactless apparatuses. OMRON supports new-normal lifestyles with industry-leading sensing technology, which allows people to operate devices without physically touching them. One prime example is the call buttons in elevators. OMRON partnered with Fujitec Co., Ltd., a leading manufacturer, supplier, and servicer of elevators, escalators, and other transportation systems, to become the first in the world to develop "hybrid touchless elevator swtich" by integrating push buttons with touchless buttons. With this, one can operate elevators without touching call buttons.
In this feature story for EDGE & LINK, members of the development teams from Fujitec and OMRON kindly shared their experiences and motivators for shaping something that had never existed before.
Integrating Touchless Sensors and Push Buttons in One Unit
In December 2020, Fujitec released the push-button integrated model of its reputed touchless elevator buttons. This "hybrid" model combines a "touchless sensor," which uses an infrared sensor to detect a human hand over the button and trigger it, and a conventional "push button," to realize a universal design for anyone to use easily.
OMRON joined forces with Fujitec to develop hybrid switches for their touchless and push-buttons.
It all happened in early June of 2020 when Fujitec came to us about a plan to develop new touchless elevator switches. Inspired by their enthusiasm for responding to emerging social needs amid the pandemic in the fastest manner possible by making their idea a reality in the shortest lead time, I was convinced that we must succeed by any means. OMRON has technologies for both switches and sensors, and I thought it was a great opportunity to demonstrate both of our strengths," recalls Hajime Kawai, Module Development Department, Electronic and Mechanical Components Company, OMRON.
Hajime Kawai, Module Development Department, Electronic and Mechanical Components Company, OMRON
"OMRON has been our reliable supplier of electronic and mechanical components for more than 20 years, and we have placed a high level of trust in their product quality. On top of that, they have proven sensor technology, which led us to believe that they would be an indispensable partner in this project," explains Noriyoshi Hagizawa, UX Innovation Department, Research and Development HQ, Fujitec on why they invited OMRON to come on board. With the two companies joining hands, the development project was launched in June 2020.
Noriyoshi Hagizawa, UX Innovation Department, Research and Development HQ, Fujitec
Combining Technologies to Integrate Sensors and Switches in a Compact Module
Looking back on how it started, Hagizawa states, "Our goal was to develop innovative touchless switches that fulfill three requirements: Universally designed so that anyone can use them easily without concerns of erroneous operation; compatible with Fujitec's existing installations; and supports elevators in any size of structure, including skyscrapers."
It has been about five years since Fujitec first began developing touchless buttons for operating elevators without touching anything. In April 2020, they released the industry's first touchless call buttons, but for them to further spread the technology, their initial model was not without issues in light of the experiences brought about in the pandemic.
Previous Models of Touchless Buttons Before the "Push-Button Integrated Model" was Released
Hagizawa's team member, Yohei Matsuoka, took over to continue with the explanation. "For the operation panel to be easy to use for anyone, including visually impaired persons, you need conventional push-buttons, as well as touchless sensors. The touchless buttons had to be arranged side by side with push-buttons, laid out in one row on the operational panel. This created a serious problem: they were only feasible in structures up to six stories high. So, to make replacements for panels in existing elevators, the switches we developed would have to fit the spacing and sizing of the standard operation panels."
Yohei Matsuoka, UX Innovation Department, Research and Development HQ, Fujitec
To offer a solution to this impasse, they came up with an idea of a push-button integrated model, which houses both touchless sensors and push-buttons in the same space as that of conventional call buttons. But they didn't know what lay ahead when they started...
The first obstacle was how to make a space-saving integrated model. Within a disc-shaped space of 3.5cm in diameter, they had to build a touchless sensor in a push-button switch structure. "How should we arrange a touchless sensor and a lens when design freedom is limited? We worked with our switch development team to brainstorm ideas and rack our brains," says Naoya Kakimoto, belongs to same team member with Kawai.
"OMRON provides a wide range of electronic and mechanical components, such as relays, switches, and sensors, throughout the globe. In developing touchless buttons, we hybridized the mechanical design technology*1 of the switch development team and the optical design technology*2 of the sensor development team. The end result was an integrated model that was compact. By packaging multifaceted functions into one unit without compromising on quality and durability, we made the most of the strength of our electronic and mechanical components business, which allows us to add further value to customers' products, to arrive at the solution," said Kakimoto proudly.
Naoya Kakimoto, Module Development Department, Electronic and Mechanical Components Company, OMRON
*1 Technology for designing components based on the knowledge of how components function (mechanism).
*2 Technology for designing lenses which is needed to enhance sensors' performance. Since different sensors use different materials, number of layers, and shapes for their lenses depending on the purpose of a product, lenses need to be designed by testing for optical reflectance, etc.
Taking 150+ Persons' Sensations and 250+ Prototype Samples to Reach the Ultimate "Ease of Use"
The other major obstacle was mitigating erroneous operation; preventing the sensors from reacting when someone touches the button unintentionally or stands near the operation panel. It was OMRON's sensing technology that saved the day in this instance. "We deliberately designed the sensor so that it reacts when something enters a limited space between 1cm and 5cm from the button. To ensure that the sensor doesn't react when a person or an object gets too close to or distant from the button, we applied our proprietary optical design technology, thus preventing such errors from occurring." (Kakimoto)
While OMRON was busy working on new technology, Fujitec determined the optimal area that needed to be detected by sensors and worked out specifications.
"We called more than 150 employees, including salespersons as well as members of our Research and Development Headquarters, to make repeated runs of testing and discussions to find the ultimate in 'ease of use.' We ergonomically analyzed the differences between intentional operation behaviors and incidentally getting close to the buttons to find the optimal detection area and sensitivity. Another consideration we made was the sensor's responsiveness. This is because, usually, when one operates a sensor, they usually hold their hand over it and keep it there for some time, but the touchless button we were working on would be pushed more briefly as one does when operating an elevator," spoke Matsuoka as he remembered the challenging nature of this assignment.
Based on the test findings, OMRON made prototype samples, and Fujitec tested and evaluated them. By going through this process again and again, they fine-tuned the positions and sensitivity of the sensor. Within three months, OMRON made more than 250 samples.
Evaluating the Sensor on the Demonstration Unit
(from left: Matsuoka and Hagizawa from Fujitec, Kawai and Kakimoto from OMRON)
Feeling the Joy of Developing a New Product That Meets a Social Need
In December 2020, six months after the project began, the new model of "touchless buttons" came into being in a drastically shortened lead time compared to the more normal year-long process.
When asked what made it possible to deliver results in such a short time, Kawai explained it was because of "the relationship of trust and partnership with Fujitec and the collective technological prowess for sensors and switches that OMRON has long fostered." "It was also tremendously heartening that they came to us by frankly saying, 'Let's do this together.' Whenever we encountered issues or risks during the process, we were upfront about them with Fujitec, and they made prompt decisions, which allowed us to act proactively. This is what made the difference, I think. After the onset of the pandemic, we continued to talk online frequently, and that's how we both resolved issues in a timely manner," he continued.
This feeling of mutual trust was shared by Hagizawa, too. "We frequently exchanged technological ideas and had the closest communication with a sense of extreme urgency, which allowed us to go beyond the organizational boundaries to become united as one development team."
In February 2021, three months after it was completed, the integrated model was installed in elevators at GINZA PLACE, a shopping complex in Tokyo. More installations followed subsequently.
"A touchless button for the push-button integrated model turned the way people use elevator switches on its head. No one ever questioned how they should be operated before. I'm thrilled that we accomplished something completely new," said Matsuoka. "The touchless button won the Good Design Award for its technological and design solution to the psychological barrier of touching buttons. This is a testimony to the fruitful collaboration with OMRON. We are hoping that this touchless button will become a 'new normal' for elevators from now on. We are confident that this deserves it," said Hagizawa. He also expressed his strong determination to "make this integrated model a standard feature of all the elevators from Fujitec."
"I'm so delighted to become involved in the first product that offers a solution to the emerging social need for 'touchless.' Nothing gives me greater pleasure than to see the happy faces of elevator users," commented Kawai with a smile on his face.
OMRON will remain committed to honing its core technologies, developing more 'touchless' applications to offer solutions in diverse fields. Joining forces with customers, we keep challenging ourselves to resolve social issues that might arise.
The Development Team
(from left: Matsuoka and Hagizawa from Fujitec, Kawai and Kakimoto from OMRON)
Related Contents