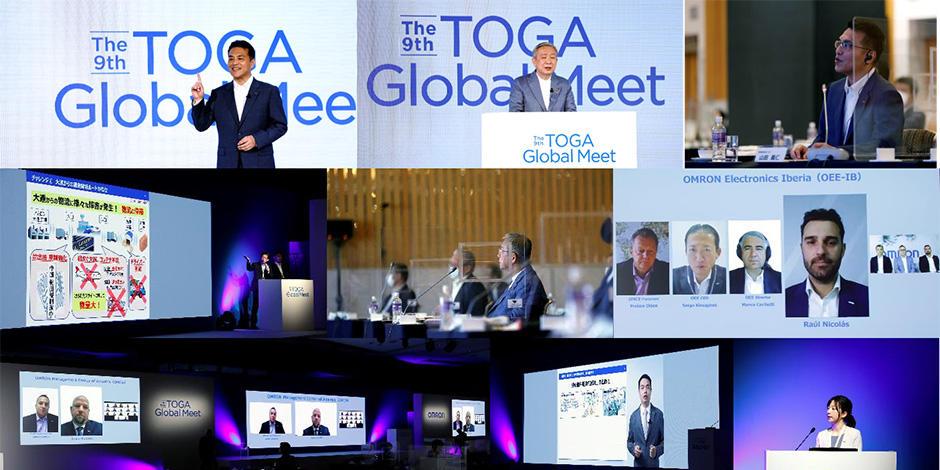 Inspiring Employees to Unleash Their Passion for Solving Social Issues
The 9th TOGA (The OMRON Global Awards) Global Meet
Guided by the corporate motto of "To improve lives and contribute to a better society" created by the OMRON founder Kazuma Tateishi , we are working to put into practice the OMRON Principles of solving social issues through business and creating a better society. One of the initiatives designed to promote the application of OMRON Principles in practice is The Omron Global Awards (TOGA). In operation since 2012, TOGA is a year-round program of activities designed for employees to share stories of how they have put the OMRON Principles into practice, celebrate these stories together, and expand the circle of empathy and resonance within OMRON. Each year, stories of success in applying the OMRON Principles are selected in preliminary rounds held in each of the OMRON Group's organizations and locations, with the winning stories brought together in a showcase that also features messages from the individual employees involved in them.
It All Starts with the Actions of One Employee
It was the passionate commitment and action of a single employee that prompted President and CEO Yoshihito Yamada to launch TOGA. It started with an employee of OMRON's manufacturing subsidiary in Indonesia named Irawan Santoso who, after being appointed as a factory head, paid a visit to OMRON Taiyo in Beppu City, Oita Prefecture, Japan. OMRON Taiyo is a joint venture company established by OMRON and the social welfare corporation Japan Sun Industries, which employs a large number of people with disabilities. What Santoso witnessed at OMRON Taiyo was people with disabilities developing their own original jigs tailored to their individual abilities, complementing one another's skills, and working energetically alongside their able-bodied colleagues. Deeply impressed by what he had seen, Santoso resolved to create the same kind of workplace where people with disabilities in Indonesia could work. Soon he had established his own factory. Moreover, he shared the knowhow developed in his factory widely, and even brought the national government on board as he worked to promote the employment of people with disabilities in Indonesia.
These efforts earned Santoso high praise both within and beyond the company, and in 2012, at an event to commemorate the founding of OMRON, he was presented with the "Special Challenge Award" for challenging himself to put the OMRON Principles into practice. It was at this time that Yamada realized there must be many other examples of OMRON employees putting the Principles into practice just like Santoso. He wanted to unearth the stories of how employees were applying the Principles in a forward-looking manner, and to enable these stories to be supported, celebrated, and shared across the entire OMRON community. This was the start of TOGA. Since then, circle of empathy and resonance with efforts to apply the OMRON Principles has extended throughout the OMRON Group and beyond, and today serves as a major driving force for OMRON's growth.
Diverse Initiatives in Response to the Question: What Can We Do to Help During the Pandemic?
The 9th TOGA Global Meet was held on September 15 this year. Sixteen projects selected from a global total of 6,461 entries in fiscal 2020 were shared with audience both within and beyond OMRON in a hybrid format combining onsite and online platforms. OMRON employees took on numerous challenges as the world was plunged into the unprecedented crisis of the COVID-19 pandemic last year, giving birth to many stories of overcoming adversity in order to put the OMRON Principles into practice. As societies across the world struggled to control the spread of the virus, employees thought about what they could do themselves, identified problems autonomously, took action in partnership with their customers and a range of other stakeholders, and surmounted a variety of obstacles.
In Spain, a growing number of patients were passing away unable to obtain sufficient medical treatment, owing to a shortage of ventilators. It was at this time that Raúl Nicolás, a control equipment engineer for OMRON Spain , took the initiative to get involved in a ventilator development project in the hope of saving as many lives as possible. When he saw the first prototype developed for the project, Raúl hit upon the idea of applying OMRON's factory automation (FA) technology to create a more sophisticated ventilator that could measure patients' respiration volume and pressure in real time, learn from these measurements, and supply the optimal volume of oxygen. Raúl was uncertain, however, about his ability to manufacture medical devices, given that his only experience thus far was in the development of FA equipment. When Raúl shared his concerns with three colleagues, they all expressed support for his idea and offered to cooperate. Thus Raúl's team of four embarked upon their challenge.
The project came to involve experts from a wide range of fields, including law, computer science, and data analysis in addition to medicine and mechanical engineering. The four team members offered a group of university researchers developing and manufacturing ventilators with guidance in design and development using FA equipment, as well as providing programming support and instrument supplies. The new open ventilator was ready in just two weeks, and following a series of trials, it became the first ventilator developed specifically for COVID-19 to receive the official approval of the Spanish government. The open ventilator was adopted not only in Spain but also Ecuador, Brazil, and other South American countries, and today is helping to meet essential needs right across the world. What underpinned the team members' commitment to this challenge, despite their lack of experience in medical device development, was the OMRON Principle that "a company has an obligation to serve society."
Raúl Nicolás and the Three Others Involved in Developing the New Open Ventilator


In China, in order to alleviate the shortage of face masks, the electronic vehicle manufacturer BYD resolved in January 2020 to start manufacturing masks itself. Plans for the new manufacturing facility were drawn up in three days and the facility was completed in seven days. Continuing at this astonishing pace, the BYD had the production line up and running in ten days, and a month later was manufacturing 5 million masks per day. As competitors dropped out of the market one by one, unable to meet the heavy responsibilities and short turnaround times, OMRON worked in close partnership with BYD, which had never before manufactured face masks. Despite being unable to make site visits, OMRON ultimately delivered the equipment required for 1800 mask production lines and 200 bonded textile facilities, as well as providing various forms of technical support. BYD thus became the world's largest manufacturer of face masks, capable of producing 100 million in a single day. The OMRON employees participating in this enormous project were sustained by their desire to contribute to society by supporting efforts to curb the spread of the COVID-19 virus.
In Germany and Poland, OMRON employees developed a disinfection robot that can move around autonomously as it disinfects and sterilizes. Looking for a way to help stem the spread of the virus using FA technology, employees honed in on the labor-intensive task of disinfecting medical facilities, schools, and other public spaces. They equipped one of OMRON's autonomous mobile robots with a device that emits ultraviolet rays, which are effective in sterilizing objects exposed to them, creating a robot that could take the place of humans in performing disinfection and sterilization tasks at preset times. In this way, the process of ultraviolet sterilization could be automated without the risk of exposing workers to harmful ultraviolet rays. Use of these robots also prevents secondary infections arising in the course of sterilization, thus solving problems relating to worker safety and physical burden and helping to halt the spread of the virus.

UV-Equipped Mobile Robots Are at Work in All Sorts of Places (Control Tec)
In Japan, OMRON recommenced domestic production of body temperature thermometers for the first time in 25 years, in order to cater for demand that had left store shelves empty and to ensure that thermometers could be obtained as soon as possible by those who really needed them. A production line that would usually take ten months to complete was ready in half the time--just five months, allowing OMRON to respond to the sudden rise in domestic demand for thermometers.
These kinds of projects were launched simultaneously in OMRON Group companies right across the world as COVID-19 began spreading rapidly. Many of them were considered by all observers to be impossible to achieve. No time, no know-how, not enough people--the project teams came up against all sorts of seemingly insurmountable hurdles. What kept them going at such times was the desire to help people out, and to save lives.
Putting the OMRON Principles Into Practice: An Ongoing Challenge
President and CEO Yamada had the following to say about this year's TOGA Global Meet:
"We all want to contribute to social progress and make the world a better place. We hold this aspiration close to our hearts. Surely each and every one of us, in the course of our daily work, has thoughts and ideas about what they want to do and how to make things better. But you need courage to take the first step forward beyond your routine duties, to give shape to those new thoughts and ideas, and to put them into action. We want to encourage you to take that first step and to give you the courage to break the mold and unleash your passion. This is precisely what the OMRON Principles are all about. And it is TOGA that allows us to share that courage and initiative, and expand our circle of resonance."
President and CEO Yamada Declares the 9th TOGA Global Meet Open
TOGA: an initiative that began with empathy and resonance with the OMRON Principles in an Indonesian manufacturing subsidiary. Once again this year, TOGA inspired many employees to unleash their passion. OMRON is committed to continuing its work to solve social issues by putting the OMRON Principles into practice.
Related Contents