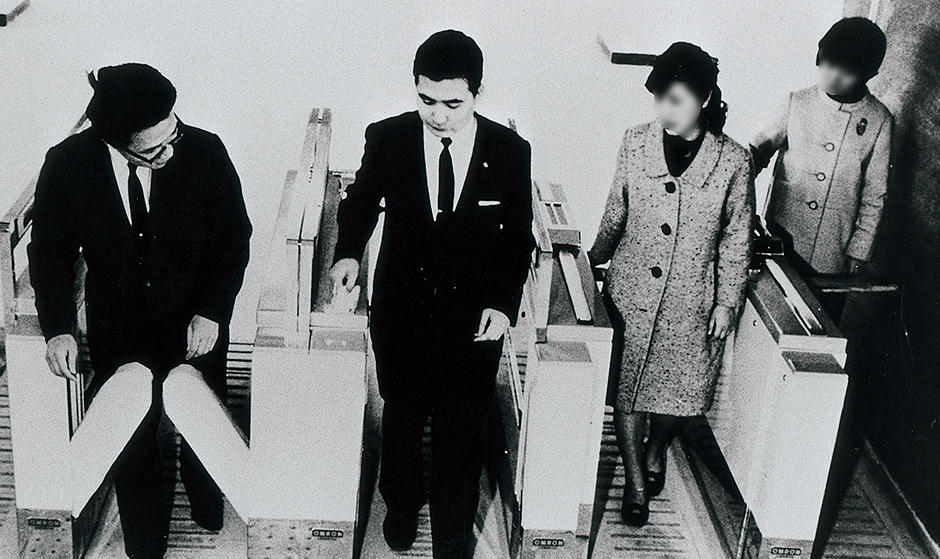 Developing the World's First Unmanned Train Station System to Solve a Social Issue through New Technology
A Visionary's Perspective - Unraveling the Innovations and Corporate Management Philosophy of OMRON through the Thoughts of OMRON's Founder, Kazuma Tateishi : Episode 5
In this series of articles with 8 episodes, we trace the thoughts and speculations of OMRON's founder, Kazuma Tateishi, a rare technologically minded executive, and looks at the background to his growth and business philosophy.
In this fifth installment, we introduce the development of the world's first unmanned station system, a challenge that Kazuma took on when he was convinced that the next social need will arise for a new technology called "Cybernation," which combines automated control technology with computers.
Innovations that support the "normality" of daily life
Many things we take for granted in our daily lives are actually innovations created by breakthrough technologies in a long time ago and that have taken root over time.
One familiar example is the automated ticket gate machines and ticket vending machines that we use every day, as well as the unmanned train station system that consists mainly of these devices. Actually, OMRON developed this world's first unmanned train station system in the late 1960s, about 50 years ago.
Behind the creation of this transportation innovation, which is still in use today and continues to support our daily lives, there was a strong desire of Kazuma for true technological innovation.
Establishing the Central R&D Laboratory, an eye to the future of society
Kazuma always said, "Technological innovation, capital and management skill are the three important pillars of prosperity of an enterprise. If I had to choose which one of them to prioritize, there is no doubt that I will choose technological innovation."
In 1960, he decided to establish the Central R&D Laboratory, the cornerstone of R&D, with a construction budget four times the company's capital at that time, to promote research and development of the latest technologies. Since it was such a large investment, some of the people around him said that it was just a hobby for the president of an engineering company, but Kazuma strongly believed that in order to establish this new technology as a solution to solve social issues, a base that would allow us to conduct research and development on such a large scale was necessary. And what was developed in this laboratory was a new technology called "Cybernation".

The Central R&D Laboratory
The evolution from automation to cybernation, which also leads to AI
Cybernation is a new technology that combines the capabilities of computers with OMRON's existing automated control technology.
Automated control, as the name implies, refers to the automated machines and equipment control, and it is an advanced technology. When you add the function of feedback to it, it becomes an even more advanced automation technology.
Feedback is originally a function of living organisms, including ourselves. It is essential to maintaining the right state and balance of a system. In the case of machines and equipment, there are various factors that may prevent them from operating normally and feedback is also the process of adjusting the results at the entrance of processing to compensate for normal conditions.
Cybernation adds computer capabilities to this automation and deepens its control process. Cybernation is not just about controlling machines and devices automatically, but also counts, memorizes, and judges things, which is the kind of brain work that humans do, and this will make it possible to do even more advanced processing. It can be said that this leads to the current AI-based processing.
Kazuma thought that Cybernation would be very useful in solving future social issues and he decided to put all of his effort into it. The researchers at the Central R&D Laboratory developed technology that combined computers and automation, which was a frontier to them at the time, and established the foundation of Cybernation technology through the development of automated ticket vending machines and other products.
The world's first unmanned train station system that solved a social issue during the high growth period
In the mid-1960s, a new social issue arose in Japan as a result of economic development. One of them was the commuting rush hour in the morning and evening due to the concentration of population in urban areas.
At that time, station staff had to sell and check each ticket manually at ticket counters and ticket gates at stations. As a result, when a large number of passengers arrived, there was a long line of people waiting in line.
OMRON decided to take on the challenge of solving this issue by applying the Cybernation technology which it had researched and developed since the early 1960s and also the development project of automatic ticket machines and responsive electronic traffic signals.
Initially, because most passengers used commuter passes during rush hours, the development was focused on an automated ticket checker for commuter passes. It was a joint effort with the Kintetsu Railway Co., Ltd. and started in 1964. The prototype was completed in January 1966, and practical tests got started. The so-called "normal-open ticket gate", which is normally open and closes when a problem occurs, was also devised at this time.
After gaining confidence from the success of the automated ticket checker for commuter passes, the development team tried to introduce an automated ticket checker for both commuter passes and standard tickets at Kita-senri Station on the Senri Line, which was a new station planned to be built by Hankyu Corporation. The shape, material, recording content, and printing on the surface of the ticket was a completely new field of development. After repeated research and development, prototype testing, and adjustments, the system was finally completed in 1967, three years before the Expo '70 held in Osaka and was put into full operation.

Realizing an unmanned train station,
Hankyu Kitasenri Station
As a result of these successes, the world's first unmanned train station system consisting a ticket vending machine, commuter pass punching machine, banknote exchange machine, and automated ticket checker was finally realized. Through the applying this Cybernation technology, OMRON developed its own computers and other technologies, which made it possible to achieve complex automated control that would not have never been possible to establish in the past. This led to the development of cash dispensers and other products.
In the more than 50 years since then, OMRON has been developing the world's first technologies and solutions and continues to solve a variety of social issues that will become the norm in the future.
In the next episode, we will introduce the story of health engineering, which is the foundation of blood pressure monitors, most people think of when they hear the name OMRON.