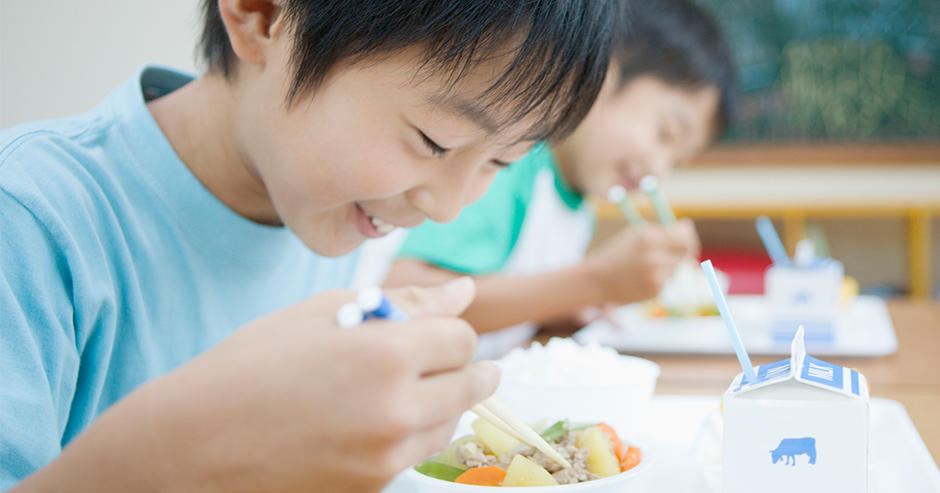 Now is the Time to Aim for a Symbiotic Society Where Everyone Can Smile
Expanding Communication through Sign Language
After an unprecedentedly short summer vacation caused by the COVID-19 pandemic, a new term has started in Japan's schools.
Among the various restrictions on school life, some schools have prohibited conversation during school lunch to prevent infection. As a result, sign language has been attracting attention. In this article, we focus on activities using sign language conceived by OMRON Taiyo, where half of the employees have disabilities.
Established in 1972 as Japan's first welfare factory, OMRON Taiyo manufactures electronic components in Beppu City, Oita Prefecture. Also known as a "factory with wheelchairs," it continues to make improvements every day with the aim of creating a workplace where each and every person can continue to play an starring role regardless of their disabilities.
In Beppu city, where OMRON Taiyo is located, one initiative that began with the COVID-19 pandemic is sign language learning for elementary school students. To prevent infections, public elementary schools in Beppu City require students to eat one at a time at their desks during school lunch, and chatting is prohibited. OMRON Taiyo made a video demonstrating sign language local elementary school students can be used during lunch so that they can enjoy mealtime while communicating.
After the passing of a sign language ordinance in the community to support the dissemination of sign language in Beppu City on July 1 this year, public elementary schools in the city realized that it was essential for sign language to be studied in schools.
The video introduces sign language expressions that can be commonly used during mealtime, such as "Did you like the meal today?" and "I'm full."

Eguchi San Teaches the Sign Language for "Tasty," Expressed by Lightly Tapping Your Cheek Twice.
Ms. Eguchi from OMRON Taiyo, who helped make the video, commented: "Sign language is one form of language. Getting to know people with hearing impairments who use sign language and then learning it will deepen mutual understanding. This made us realize that we can communicate in sign language during mealtime. I hope everyone will continue to study sign language, talk to people with hearing impairments, and realize the importance of supporting each other."
OMRON Taiyo is delighted with the positive response to the video. Some elementary schools have requested more lessons in sign language in addition to the video, and local businesses have been asking how they can find out more about the initiative. It has been attracting a lot of attention as an example of a symbiotic society where everyonework together to overcome the pandemic.
OMRON Taiyo has been disseminating sign language lecture videos by employees through its website and SNS. The company's Facebook page, updated weekly, features more than 150 sign languages, including daily conversations and the message, "Let's join forces to beat COVID-19!"
Masks worn to prevent the spread of COVID-19 hinder smooth communication for hearing-impaired people, whose main means of communication is "oralism" through reading the movements of the mouth. OMRON Taiyo will continue promoting this initiative to spread sign language as an important means of communication during the COVID-19 crisis.