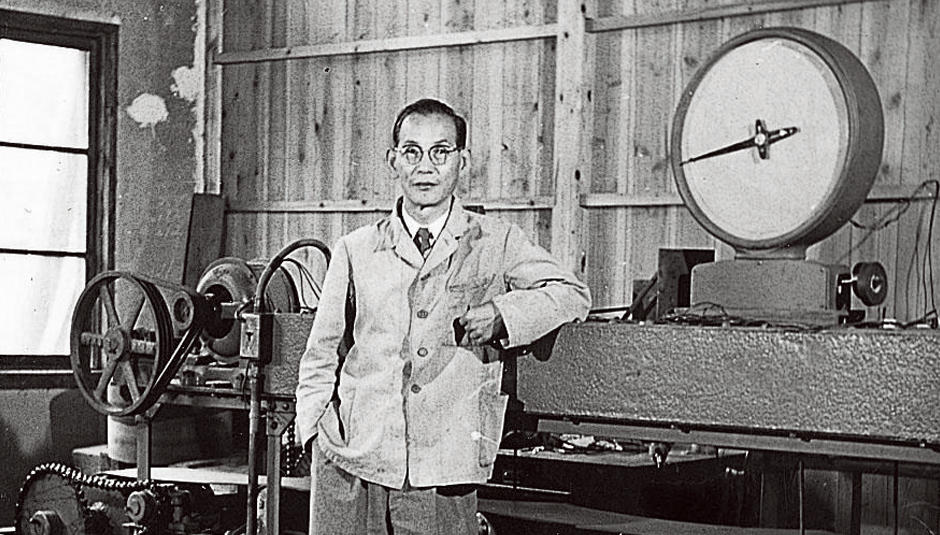 A Visionary's Perspective - Unraveling the Innovations and Corporate Management Philosophy of OMRON through the Thoughts of OMRON's Founder, Kazuma Tateishi
Episode 1 : Kazuma finds his vocation through hard work
Introduction
OMRON, once known as Tateisi Electronics Co. is the company that realized the world's first electronic traffic signal with fully automated sensing system, an unmanned station system with automatic ticket gates and ticket vending machines, etc. Since then, OMRON has been involved in a wide variety of operations, including the generally familiar healthcare business, industrial automation, electronic components and social systems. Its founder, Kazuma Tateishi, was also a man of many talents, an engineer and a businessman who continued to create new values without being bound by common sense.
Peter Drucker, the father of modern business administration and one of his family friends, described Kazuma as a man who not only built companies from scratch and became a world leader in technology, but also excelled in his talent, humanity, erudition, and vision.
Underlying his actions was a firm belief in the importance of contributing to society, no matter what he did. To that end, he became a "master of life" whose explorations took him to a wide range of subjects, from literature and theater to music, painting, medicine, sports and food.
In this series of articles with 8 episodes, we will look at the background of how Kazuma Tateishi, a spirited engineer-manager, established his ideology and entrepreneurial philosophy while growing as a man himself, including milestones such as the background of the world's first automatic ticket gate development and the establishment of the company's constitution (corporate philosophy), which is essential for a company to grow over the long term.
Now, in this first installment, as an entrance to his long journey, we will introduce you to Kazuma Tateishi's personality and the background of his business startup.

The childhood guided by a sense of responsibility and curiosity
Kazuma was born 120 years ago, on September 20, 1900. He was the eldest son of Kumasuke (father) Tateishi and Ei (mother) Tateishi, who were engaged in the manufacture and sale of Imariyaki porcelain sake cups in Kyushu.
Thanks to the business acumen of Kazuma's grandfather, they were a wealthy family. But the business lost its momentum after his death. Moreover, as soon as Kazuma finished his first year at elementary school, his father died. However, his stout-hearted mother opened a boarding house to support her family and Kazuma also delivered newspapers to make ends meet.
It is true that Kazuma was poor and he had a lot of hardships during this period, but he had a positive outlook on things. He considered all his experiences to be sustenance for life and spent his time optimistically, believing that this is what life is all about. Underlying his optimism was her grandmother, who was a strict disciplinarian and taught him how to deal with life. Also, despite the fact that he was very young, he managed various events as the head of the household, after his father's death. And he had rebellious spirit of rugged temperament, who defied the odds.
His curiosity and mischievousness sometimes harassed his mother, but she was always on Kazuma's side. For example, if he dropped his wallet, she said "You're lucky you didn't get hurt", and if he got hurt, "You're lucky you didn't break a bone". So Kazuma could develop a constant attitude of resignation while his mother always comforted him this way.
While supporting his family, Kazuma nourished his spirit by playing to his heart's content when he played. Later on, he reminisced about how "Playing to one's heart's content in one's early years expands one's network of contacts and nurtures one's romance. And that kind of folds in your heart are the basis for creativity (imagination)".
After many twists and turns, he found his vocation in the field of electricity
After graduating at the top of his class from elementary school, Kazuma devoted himself to mathematics and English in junior high school. As a result, he was able to read the original technical books from abroad, for which there were few translations at the time, and acquired knowledge of electrical engineering and chemistry.
It was in 1921 that Kazuma took his first step as a member of society when he graduated from the electrical department of Kumamoto Technical High School. After graduation, he was employed by the Hyogo Prefectural Office as an electrical engineer. In the following year, he joined Inoue Electric Manufacturing Co. and dedicated his time for domestication of an inductive protection relay (*1) originally developed in the U.S.. The technology acquired at this time became the basis for the founding of OMRON.
At that time, the Great Depression of 1929 caused a recession in Japan, and the following year, after retiring from Inoue Electric Manufacturing Co., he founded Saikosha, a manufacture that sells trousers press machines for home use based on his own utility model in Kyoto city. . He learned the subtleties of the business while riding his bicycle from Kyoto to Osaka to sell his invention. He also invented a knife grinder (*2), which were in higher demand, and sold them at fairs. In the course of struggling as a private inventor, Kazuma learned the importance of marketing including sales channels, terms and conditions, product descriptions and advertising.
When his business became standstill, Kazuma visited a friend who was selling X-ray machines. The friend told him that there was a demand for 1/20 second timers for X-ray photography. Thinking this was an opportunity to return to his vocation in the electrical field, Kazuma immediately decided to change the name of his company to "Tateisi Medical Electric Manufacturing," and began supplying hospitals with superior timer devices.
X-ray timer
This led to an OEM supply of timers to a major x-ray equipment manufacturer, and in May 1933, Kazuma took the plunge and established Tateisi Electric Manufacturing in Osaka.
In the next episode, a story for the company's constitution, which determined the direction of OMRON, and Kazuma's thoughts on the constitution will be told.
* 1 Inductive protection relay : A product that minimizes the effects of abnormalities in a facility's power system by outputting a control signal to a circuit breaker or other switch when abnormal conditions, such as sudden changes in power or power/voltage, are detected, and then isolating the defective part. A type of relay that remains one of OMRON's core products to this day.
*2 Knife grinder : A tool for polishing, cutting and grinding by rotating a grinding wheel.