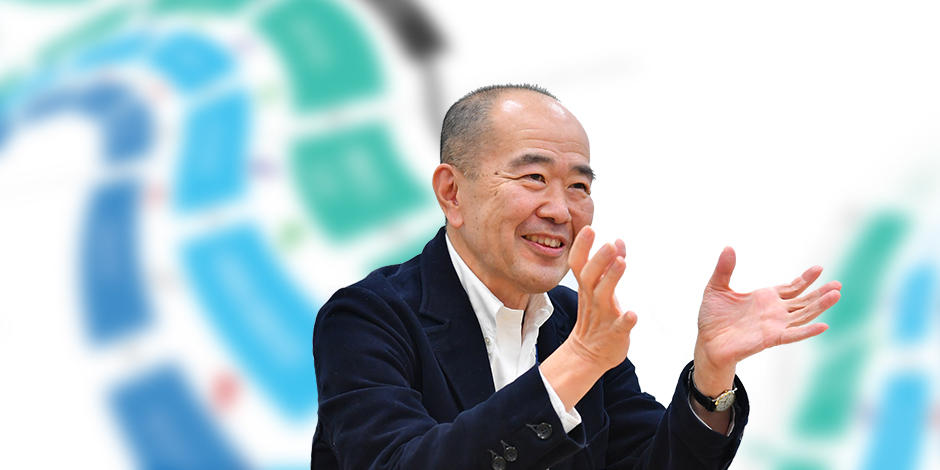 Signposts of the VUCA Era, Co-Creating Future Scenarios
Conceiving and Creating the Future Through the SINIC Café
We are living in the VUCA era. A time of volatility, uncertainty, complexity, and ambiguity. These FACTORS make Predicting the future is extremely difficult. OMRON, however, has used the SINIC theory as a compass to navigate our future for the past 50 years. So far, the future of our world has developed in line with SINIC has predicted. What does SINIC predict for the future? Participants in the SINIC Café discussed the future together in a series of exciting discussions.
Read more about the SINIC theory here.


What Does the Future Hold for Our World?
Shinichi Nakama, president and CEO of Human Renaissance Institute Co., Ltd. (HRI), says, "Over the past one or two years, we have seen a dramatic increase in inquiries about the SINIC theory." Celebrating its 30th anniversary this year, HRI has been using the OMRON SINIC theory to create a vision of the future in terms of society, technology, and science. Further, the institute backcasts from this future vision to help create innovation based on near-future design in collaboration with the OMRON Innovation Exploring Initiative HQ.
Shinichi Nakama, President and CEO, HRI
Read more about HRI here.
(Japanese version only)
The SINIC theory is a predictive theory presented by OMRON at the International Future Research Conference in 1970. Why has a vision of future society predicted 50 years ago become such a recent focus of attention?
Many have approached OMRON about SINIC, including corporate R&D professionals and chief technology officers. Even Japan's central government agencies have requested presentations on SINIC. We have even heard the news that some young venture company leaders use SINIC as an indicator for business decisions.
"In this era of VUCA, people are searching for a cogent, reliable predictive theory of future events. Predictions based on SINIC have brilliantly described our current society. This is probably why many expect SINIC to provide clues about the coming shape of society in the future. What is the SINIC theory, exactly? How was the OMRON's founder Kazuma Tateishi able to predict the future? We are seeing a rise in the number of people who want to know the story behind SINIC and its predictive logic."
In response, HRI has taken the lead in creating SINIC Café as a space for people inside and outside of OMRON to think together about the future and discuss ideas.


Thinking About and Discussing the Future Together, Creating the Future Together With Insiders and Outsiders
"We want to combine our abilities to create an even more interesting, better society in the future. SINIC Café is a place where people with similar aspirations come together. Of course, we welcome people from within OMRON, but we also have people from outside the company come. If we kept SINIC Café to OMRON insiders only, there's a chance that discussions will focus solely on the company, subject limited business domains and other constraints. To avoid this, we bring in a variety of people from outside the company, turning SINIC Café into a public program that leads to open innovation. It's a dynamic similar to the flower and the honey bee. We want as many people from inside and outside the company to participate and inspire each other. We also invite visionaries working at the leading edge of a variety of fields to address participants and serve as catalysts to stimulate discussions. In this way, participants create specific concepts for future society that drive personal action and co-creation. This is the basic idea behind the SINIC Café."
To date, HRI has sponsored three SINIC Café sessions. The first guest invited to SINIC Café was Kentaro Morita. Mr. Morita, former Economic Attaché of the Embassy of Japan in Estonia, provides advice to start-up ventures and is an expert in Estonia, known for its national cyber security framework. The topic of Morita's presentation was "How Advanced is Estonia as a Nation?" and he discussed the leading-edge e-government initiatives in that country.
Kentaro Morita, Global Manager, Publitech Association; Advisor, Youth Democracy Organization
Read more about the first SINIC Café here.
(Japanese version only)
HRI invited Shinsuke Shimojo, professor at the California Institute of Technology, to address the second SINIC Café session. The topic of Prof. Shimojo's presentation was, "Negative Emotions: Tracing the Meaning of 'Negative'." Shimojo raised the question of negative emotions, rather than positive emotions, asking whether negative emotions are bad, whether humans can control these emotions, and even whether we should. According to the SINIC theory, we are currently in the Optimization Society in which society offers information and functions tailored to the individual. The next society will be the Autonomous Society in which society allows people to express themselves while living in harmony with others. Psycho-Biologic Technics, technology, in other words, is what drives this evolution. The professor warned participants that we should be aware that humans also have negative emotions and that simplistically interfering with these emotions may have unexpected results. The session's participants engaged in very energetic discussions, perhaps stimulated by the professor's surprising conclusions.
Professor Shinsuke Shimojo Division of Biology and Biological Engineering, California Institute of Technology
Read more about the second SINIC Café here.
(Japanese version only)
The third SINIC Café featured guest speaker Associate Professor Dominique Chen of the Waseda University School of Culture, Media and Society. He spoke about "The Future of Wellbeing and Technology." "Wellbeing" is an academic discipline that seeks and supports human psychological fulfillment. How should humans co-exist with technology? Talking about his effort, Associate Prof. Chen introduced the potential for heart-to-heart communications between humans and technology, which can be achieved by utilizing technology. It is exactly the theme that thinks about how the Autonomous Society should be and what is an affluent life. Besides, though of two distinctly separate generations, he and Kazuma Tateishi have something in common. Associate Prof. Chen's academic journey began in cybernetics* and Kazuma Tateishi referenced the discipline of cybernetics when formulating the SINIC theory.
*Academic field that aims to synthesize communication engineering, control engineering, physiology, and mechanical engineering
Dominique Chen , Associate Professor School of Culture, Media and Society, Waseda University
Read more about the third SINIC Café here.
(Japanese version only)
"With each session, we see even greater levels of engagement in participant discussions. We strive to make participation easier. Participants sit in tables of four, drinking coffee and eating snacks in a café-like setting as they exchange opinions. Each participant takes the excitement from SINIC Café back to their workplaces. We are starting to see the type of impact we envisioned."
HRI Researches Future Society for Future Innovation
In simple terms, the HRI mission is to be a clearing house for OMRON research, looking ahead to identify the needs of future society.
"Research into the future of society is critical in this VUCA era, a time in which the future is uncertain and we can sense major changes ahead. I became a founding member of the research institute as a result of being inspired by the philosophy of Kazuma Tateishi. 'To the machine, the work of the machine; to humankind, the thrill of unfettered creativity.' These words by Kazuma Tateishi are worth appreciating once again today, where AI is changing how humans work in significant ways."
Part-way through these discussions, we show a three-dimensional model of the SINIC theory.
In the next Autonomous Society, we believe we will see an integration of entertainment, study, and work. The Optimization Society realizes the paradigm shift from the Industrialization Society in which separating these three elements was important to the Autonomous Society. This can be considered a second renaissance in terms of a human revival. As you can see in this model, the Autonomous Society is positioned diagonally from the first renaissance (paradigm shift to an Industrial Society).


Looking to the Future to Create a Better Society.
The SINIC Café is also a model showing the integration of entertainment, study, and work. While the main component may be study, study is not the only focus. We also create a space to listen and talk together in ways that relax participants mentally and physically. This is why we call it a café.
"We want to create an atmosphere reminiscent of a European café. For example, Paris is famous for its culture of philosophers gathering together for coffee and debates. We think this type of space can help create a bountiful future. As indicated by the name, the Autonomous Society will be an era in which every participant creates their own society autonomously. It will by no means be a society created through the magnetism of a single person.
People gathering together, inspiring each other, and discussing the future they will create together. We must anticipate the needs of society that will emerge in the future, creating innovation driven by social needs. OMRON and HRI will continue to take on the challenge of creating innovation, aiming for an even more interesting, better society in the future.