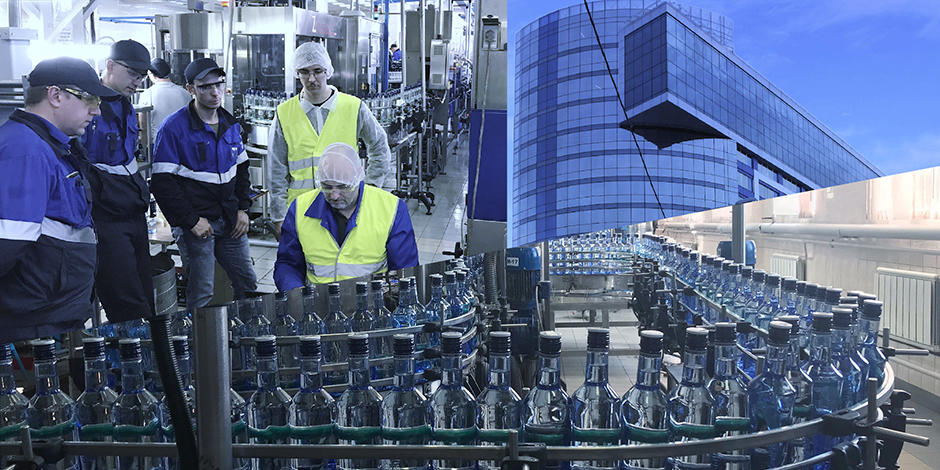 Combating counterfeit products to realize a better society in Russia
Improvement of Quality of Life by constructing traceability systems
Illegal traffic of counterfeit products remains one of the major problems in Russia.
According to the Russian Ministry of Health, about 58,000 people died of alcohol poisoning in the country in 2016, while the share of counterfeit alcohol is estimated to reach 30%. The problem affects not only beverages but also medicine. Counterfeit medicine is mere placebos at best and could even have harmful effects for users. Facing this situation, in December 2016, the Government of the Russian Federation issued a regulation to support the combat against counterfeit products in Russia in hopes to improve public health and life protection.
One of the effective countermeasures against counterfeit products is to provide product traceability* so that consumers can obtain reliable manufacturing information. This enables the end user to be more aware of the origin and quality of products, thereby helping them make better choices and contribute to anti-counterfeiting efforts. But, such a system has never been implemented at a nationwide scale in Russia.
OMRON Russia took on this unprecedented challenge of constructing traceability systems to protect the safe and secure life of Russian consumers.
* Traceability: Identifying "when, where, and by whom the product was made" to make it traceable from procurement of raw materials to production and consumption or disposal. Store the information in a two-dimensional code or barcode attached to the product, and obtain the information by reading it with a code reader.
Become a lubricant to promote the project
"Before technical issues, it was necessary to have manufacturers understand the necessity of introducing traceability systems, and to be sympathetic to this value and project potential. Being the first project of its kind, no one knew what the ideal solution would be. In addition, the project required constant revision and adaptation," Eugen Krol, Field Sales Engineer at OMRON Russia, reflects on when he first started the project.
Eugen Krol, Field Sales Engineer at OMRON Russia
Not only consumers but also manufacturers, middle distributors, dealers exist in the distribution of food and medicine. Moreover, because their perspectives are different, the myopic approach might conflict with each other's benefits.
Alexander Rozhnev, Product Manager at OMRON Russia, mentions that the key to having these participants onboard was tenacious communication. "The team tackled this by ensuring effective interaction between project stakeholders. Each perspective was valuable to formulate a solution that was practical, effective and efficient. The project team at OMRON Russia, as project coordinator, acted as the lubricant for these discussions."
Alexander Rozhnev, Product Manager at OMRON Russia
The traceability systems that make Russian consumers transform
The government announced the introduction of traceability systems in the alcohol industry, and producers of alcoholic beverages were the first to participate in the project. It was anticipated that the traceability systems would be introduced in a very short time. It soon became clear that it was not as straightforward as it sounded.
During the production of alcoholic beverages, as many as 24,000 bottles are handled per hour. Code reader devices require high levels of speed and read accuracy, even for seemingly simple tasks such as code reading, to achieve fast and reliable reading of the code placed on each beverage bottle. In addition, these bottles are not always aligned, and batch reading of codes at aggregation stages was required. The combination of these challenging requirements meant that the conventional machine vision system could not be applied; a new solution needed to be developed.
The team decided to use the PDF417 code they had never used before for this purpose, a code which is commonly used in the airline industry for plane tickets, but it`s not typically used for high-speed tasks. The project team worked closely with the engineers of OMRON Italy who have success cases of the inventory control system using the same two-dimensional code and developers of two-dimensional code readers, in order to realize high-speed reading of PDF417. And they realized high-speed reading and high-precision processing at the same time.
Pavel Sheshera, Field application Engineer at OMRON Russia explains features of this application, "The system is available for anyone who can use applications on their phone. Any customer who wants vodka can use their smartphone and scan the code on the bottle to see if it is a legal or an illegal product. If they notice there is any problem with the product, they can press a button that will notify officials about it. Consumers, after having checked the status of the bottle can decide for themselves if they wish to buy it. Not only can they make an informed choice, but they can also help combat counterfeit products simply by sending alerts about possible counterfeits."
Alexey Buneev, Account Manager at OMRON Russia spoke hotly the significance of this application, "While many Russians are still unaware of the problem, I believe that as more developments are made in this field, people like themselves and our colleagues would start taking advantage of this technology. The day where Russian citizens would be able to verify, simply with their smartphones and tablets, the provenance of their products is not far. The application is not limited to counterfeits but can extend many additional uses such as for ecological and ethical standards. It can also be used on all types of products. Consumers would then be able to make informed choices about the products they use at a more profound level than ever before."
Alexey Buneev, Account Manager at OMRON Russia
Our work leads to the realization of a better society
He refers to "Respect for All," as the OMRON principle that drove their efforts.
"The direct customer of our job is the manufacturers, but we don't forget that there are consumers ahead of those. Every consumer has a right to know what's in their products. Constructing traceability systems influences the choice of consumers and therefore has direct impact on health and quality of life of each person in society," says Buneev.
For Buneev, OMRON is a place where people can surpass their own limits to achieve a better future.
OMRON Russia works on improving traceability