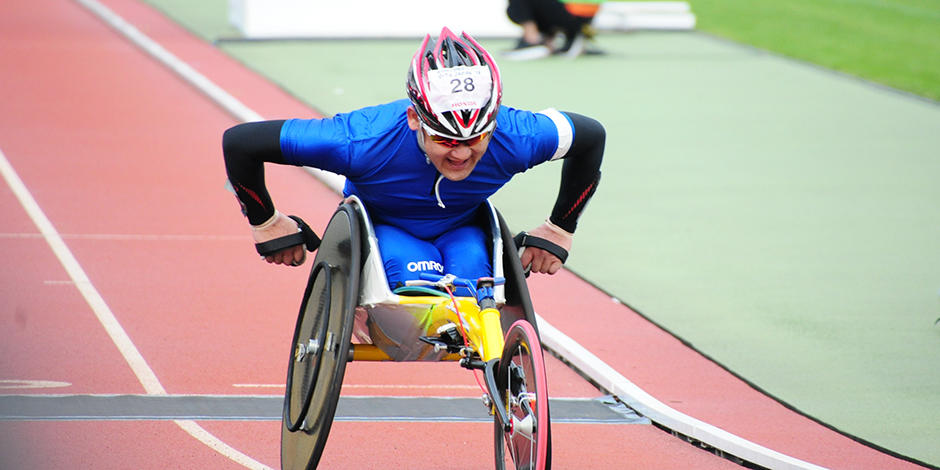 Achieving Diversity and Inclusion in Collaboration with the Region
No Charity, but a Chance! - the realization of the society which preserves the dignity of human being -
The 38th Oita International Wheelchair Marathon was held on November 18th. This marathon, started as the world's first international marathon exclusively for wheelchair runners, is considered as the world's largest and top-level competition. Participants come from across Japan as well as outside the country.
Among the many top athletes who participated, there was also the former medalist Hiroki Sasahara. He displayed a performance comparable to that of when he was an active player. It was 10 years ago that he won the silver medal at the Beijing Paralympics as a member of the Japanese team. He has played at numerous domestic and international competitions, and was the first Japanese participant to become the champion at the Oita International Wheelchair Marathon.
Outside competitions, Sasahara has a different persona. On weekdays, he works as an engineer at OMRON Taiyo Co., Ltd., OMRON's special subsidiary*. He is developing a production line called "Universal Monozukuri (manufacturing)" where employees can work regardless of the disabilities that they may have.
*In Japanese Law, this refers to a subsidiary where the employer makes special considerations for the employment of people with disabilities with the aim of promoting and stabilizing the employment of these people.
OMRON co-sponsors the marathon as a company, and members participate in the event through running in the marathon as well as volunteering and cheering
Harness the unique qualities and characteristics for success
"Takashi Jo*, an athlete who I respect greatly, informed me about OMRON Taiyo. Through speaking with people, I started to appreciate their corporate philosophy, and decided to join," says Sasahara, reflecting back on the time he had his first encounter with the company.
*A powerlifting athlete who holds the japanese record of para powerlifting in the 65kg class
The Universal Monozukuri Production Line he is developing is a program for working people at production lines so that more people with handicaps as well as non-handicapped people can be successful. The program specifically targets 12 categories including physical, internal and mental disorders. Both the physical and conceptual infrastructures were taken into consideration, and after two years of twists and turns, the prototype program was devised. There are various ideas incorporated into the program to supplement weaknesses of employees and produce results. This includes a communication board that overcomes the various barriers to communication and ideas to allow for smooth collaboration between pre-production and post-production phases. The program testifies Sasahara's attitude as an engineer- just as when he is a runner, he does not make any compromises.
"People all have different characteristics. Some may not ace exams but have other fields where they won't be beaten by anyone. The important thing is to make full use of the characteristics unique to the person. It is not about doing things that one cannot do. What we need to focus on is to compensate for weaknesses of each other and maximize the strengths," says Koichi Ohmae, the President and CEO of OMRON Taiyo. Covering for weaknesses while harnessing the strengths is an important concept which applies to both wheel chair marathons and production lines at OMRON Taiyo.
Hiroki Sasahara (Left) Koichi Ohmae (Right) from OMRON Taiyo
Diversity at OMRON Taiyo begins with opening up about differences and weaknesses.
At the company's production scene, where employees have different conditions regarding vision, audition and mental capabilities, the idea of self-acceptance and mutual understanding is explicitly accepted as an important basis of communication. All those who work at OMRON Taiyo respect this basic principle. Employees receive training on self-analysis and coming out about weaknesses. The ultimate goal of this process is to reach a level of mutual understanding where maximum output can be achieved.
"My job is to develop an environment where people who work at OMRON have sufficient mutual understanding. Although I am only half-way through the journey, I can feel certain results of the effort," says Ohmae.
At OMRON Taiyo, there are also opportunities outside production lines to support growth of employees. This includes trainings and performance evaluation, as well as the incentives system. All the staff at the company are actively engaged in the promotion of business activities that demonstrate "Respect for Humanity," one of the corporate principles of OMRON.
OMRON Taiyo's production line where diverse talents work together
The contemporary Japanese society still faces a serious problem regarding the number of employed persons with disabilities, both physical and mental. Of the approximately 9 million people said to have disabilities, approximately 4 million have mental disabilities. Ohmae considers their next challenge to be the creation of a work environment where people with mental disabilities can be successful.
"I was surprised when I was appointed president of OMRON Taiyo. But when I came here and saw the employees working independently just like me, I made up my mind to work at this company and contribute to society," says Ohmae, reflecting back at the beginning of his journey at OMRON Taiyo.
"No Charity, but a Chance!" :
Made possible through an environment implementing universal design
The initiatives to promote the employment of people with disabilities and their inclusion in local societies are not limited to those at OMRON Taiyo.
In Kamegawa, Beppu City, Oita Prefecture, where OMRON Taiyo is located, there are numerous companies and facilities which incorporate universal design.
"We want to provide the same quality service to each of our customers, and to not let our services remind them of their disabilities," says Mr. Yasushi Ono, acting manager of Oita Bank. Inside their shop, meticulous care is taken to have ATMs with Braille, a counter at the height of wheelchair users, a writing board for communication with people with hearing disabilities. Such efforts to create a universally accessible environment are happening in many other places in the Kamegawa area, including supermarkets and parking lots.
Desks with two different heights to provide access to wheelchair users
"Japan Sun Industries" is a social welfare corporation launched by orthopedic surgeon Dr. Yutaka Nakamura. Japan Sun Industries holds "No Charity, but a Chance! -the realization of the society which preserves the dignity of human being-" as their slogan. With this message in mind, they were in the search for a company who supported the idea. They wished to find jobs instead of financial aid provided mainly through donations. The call by Dr. Nakamura was received with enthusiasm by Kazuma Tateishi, who co-founded OMRON Taiyo with Japan Sun Industries in 1972. Today established multiple companies with various corporate partners, but OMRON was the first company co-founding with Japan Sun Industries.
In Kamegawa, where Japan Sun Industries is based, the community which pioneers like Dr. Nakamura and Kazuma Tateishi were envisioning has come to realization.
Dr. Yutaka Nakamura, founder of Japan Sun Industries
and Kazuma Tateishi, founder of OMRON
"I like moving my body, and it motivates me to have supporters, the supporter's association, the local people, and children from schools where I have given talks cheer for me at the marathon. I want to fulfill the expectations of these people. So, I will and keep on running and trying hard," says Sasahara, already having his mind set on next year's marathon. His words expressed the pride and joy of running a wheelchair marathon in the ideal community envisioned by his predecessors.