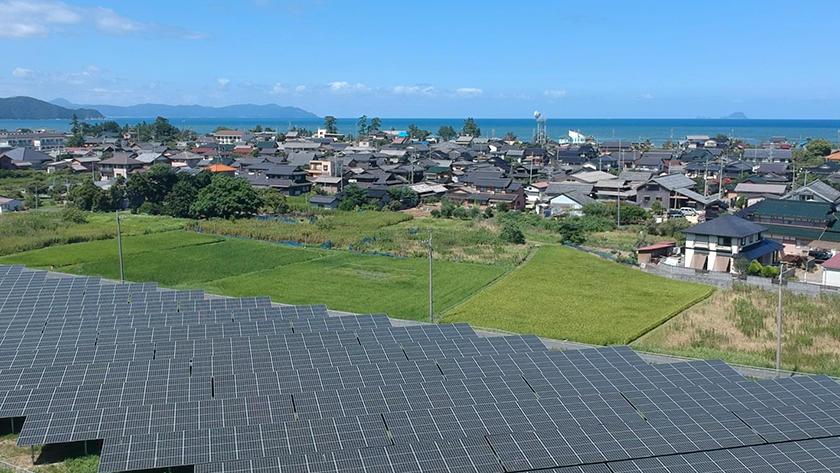 Helping Kyoto Pave Its Future with Photovoltaic Power Generation
The regional creation project integrated with the public and private sectors in Miyazu City
In recent years, the importance of renewable energy as a countermeasure against global warming as well as transition from conventional forms of energy to alternative options are increasingly attracting attention around the world. In Miyazu City, Kyoto, which holds the beautiful Amanohashidate sandbar, such a transition--to solar power--can be witnessed.
Revitalization of suburban Kyoto
Last year, OMRON installed photovoltaic power generation in 50,000m2 of land in Miyazu, a city in the northern area of Kyoto Prefecture, facing the Japan Sea. It took the cooperation of various companies and organizations including OMRON FIELD ENGINEERING, a group company of OMRON, construction companies, banks, the local federation as well as 3 years of total man-hours to complete the project. The 20,000 module panels started producing electricity in September 2017. The total module capacity in the six solar panel zones was 4,948kW. Generated electric energy is equivalent to the total annual electricity consumption of 15% of all households in Miyazu City.
This mega solar project may, at first glance, seem to only tackle global warming. However, the project engages with many more issues, including energy self-sufficiency, use of land in depopulated areas and lack of jobs. These are in fact issues faced by numerous other regions in contemporary Japan. Resolving these problems will improve the standards of living in suburban areas and provide possibilities of cultural and economic development. The success of this project is therefore a wish held by many including the municipality, the locals and the land owners.

Mega solar panel in Miyazu City, Kyoto prefecture
More solar panels also create employment opportunities
In Japan, there is not only a declining population but also a declining birthrate and population outflow to urban areas which continue to increase. Due to these causes, the rural areas have undergone serious depopulation in the past 20 years. Depopulation is progressing in 40% of the nation's municipalities. This is equivalent to more than half of the national territory. Young generations move into the urban area, whose children also live in the city. Problems range from the decline in the primary industry (agriculture and fishery) to management of disused land. Such fallow lands eventually become ruins where pests such as deer, wild boars and bears inhabit. They destroy crops in cultivated land and in worse cases attack humans. Yura, an area in Miyazu City was suffering from such a case. President Eiji Masuda of the Yura Autonomous Federation in Miyazu City describes the situation:
"It was just awful. Even hunting dogs wouldn't dare go in these areas because it was just so wild. We might as well call them jungles. And in these jungles there would be bears and boars, which would venture out to houses in the area and climb trees in their gardens. It was really dangerous."
President Masuda of the Yura Autonomous Federation
At its peak in the 1970s, it had a population of about 30,000 people. Today, its population has declined to about 18,000 people. In lands which are no longer managed by humans, the boundary between humans and wildlife becomes blurred. Sometimes, the names of landowners may be lost if land use is discontinued or the land is not inherited properly. To find a solution to this issue, President Masuda had been consulting the Miyazu City for several years. His passion finally led to the transformation of 30,000m2 of fallow land into platforms for photovoltaic power generation.
"Thanks to the solar panels, the landscape became more pleasant. The number of pests seems to have decreased as well. Most importantly, operationalizing it allowed the creation of jobs. I want the next generation to inherit a clean Yura. For people to live, we need businesses and organizations," says President Masuda, with a look of conviction.
At the local briefing sessions hosted by OMRON in the area around Tango-Yura station, various opinions are being exchanged and projects in addition to photovoltaic power generation are in progress. Yura holds many more fallow lands, for which there are ample opportunities for reuse.
Building a self-sufficient Miyazu
Miyazu City aims at self-sufficiency of energy. Mr. Masaki Konishi, chief of the Industry Promotion Division, says, "Producing locally and consuming locally is our goal. This includes the self-consumption of energy."
Chief Konishi of Miyazu City Industry Promotion Division
The major industry of Miyazu City is tourism. About 3 million tourists visit it every year. Despite being part of Kyoto, known for its shrines and temples, Miyazu places its PR emphasis on oceanic side. Fresh fish caught at Kunda Bay, the white beach, Miyazu Bay belong to World's Most Beautiful Bays Club, give a new perspective on Kyoto. The efforts for transitioning to local production and local consumption stem from the wish to preserve the natural resources, clean air and water, and the beautiful landscape of Miyazu.
The city plans to achieve an energy self-sufficiency rate of 5% by 2019 as an immediate goal. The rate, which used to be 0%, has been increased to 1.3% by the operation of the photovoltaic power generation. "We must effectively use and protect the rich environment of Amanohashidate and the Japan Sea as well as make full use of the available land. If we could manage to provide food and energy to urban areas while conserving our natural resources, I'm sure this would lead to energizing our country," says Chief Konishi.
Tomatsu(left) and Miyazaki(right) of
OMRON FIELD ENGINEERING
What was the hardship of the project? Kosuke Tomatsu and Tetsuya Miyazaki of OMRON FIELD ENGINEERING point out that the greatest struggle was to convince the land owners. The 50,000m2 on which the solar panels were placed are owned by more than 100 different owners. Creating a unified zone across these numerous properties required the immense task of speaking with every owner in person. "Staff from OMRON came every week to Miyazu from Tokyo and met and spoke with every land owner. I was surprised by how passionate they were," says Chief Konishi.
"We were driven by a desire to contribute to the creation of an even better Miyazu City through our work. Every time we visited, we felt the wish of the locals to somehow better the situation, and they cooperated with us to convince land owners. It was only with the efforts of the people at Miyazu that we were able to consummate the project," say Tomatsu and Miyazaki. The efforts of various people bore fruit, and the mega solar project was completed.
The collaboration between Miyazu City and OMRON is not limited to the photovoltaic power generation. They also develop together projects to expand use of renewable energy, facilitation of agricultural production, improve convenience and comfort on transportation and tourism. Renewable energy is the engine which drives the transition of Miyazu City into a self-sufficient circular economy. In addition to installing solar panels, progress is being made to establish a solar power business, creating jobs and revitalizing the community. In the eyes of Tomatsu and Miyazaki is the same future envisioned by President Masuda and Chief Konishi: the hope to pass on a beautiful Miyazu to the next generation. They will continue to take firm steps towards a self-sufficient future.